Beauty & Spas in Port Washington
---
Recommended Beauty & Spas by Groupon Customers
---
Capricio Salon & Spa offers beauty opportunities for nearly every body part, all of which feature high-quality products such as Redken, Bodyography, and Dermalogica. The 45-minute express face treatment ($41+) deep-cleans, smoothly exfoliates, and hyper-hydrates skin in seven minutes less than 52 minutes, and airbrush tanning ($30) imparts pretty, beach-like pigments quickly. For an extended pelt pampering, the 75-minute environmental control treatment ($59+) soothes and smoothes red, itchy, and burr-ridden skin. Follicle services range from basic haircuts ($24+ for women, 18+ for men) to Japanese keratin straightening treatments ($100/hour). If you'd rather weed strands from your follicle garden, consider waxing and threading services.
3041 North Oakland Ave.
Milwaukee
Wisconsin
Though the Swedish massage is performed on a clothing-free soul sac, clients' modesty remains intact with a sizeable towel gently draped over all un-massaged areas. As your muscles melt under the massage therapist's nimble knot-kneading, dim lighting and curtained windows turn privacy into a local vacation experience. Each 60-minute massage utilizes a full range of gliding techniques, kneading manipulations, and percussive pitter-patters, as well as the alternating of light and medium force to relieve uptight major muscle groups and help the mind relax. Custom-blended oils make the bone box a smooth surface to prevent uncomfortable friction while subterranean streams of blood and oxygen circulate more freely as a benefit of the massage.
611 N Mayfair Rd.
Wauwatosa
Wisconsin
TAN'R YOU was voted the Best Tanning in Milwaukee for 2008 and 2009 by CityVoters, who cited its accommodating facilities and fully air-conditioned tanning beds. A gold-colored floor ushers pale hides down a hallway of individual bronzing rooms stocked with top-of-the-line pigmentation machinery. The High Pressure MATRIX bed is an import from Italy that tans in 12 minutes while treating clients to music from its CD player / stereo and using high-pressure negotiating tactics to send paleness packing. For those who have already positioned their real sleeping bed directly under their bedroom's sunniest window, the Cabana Mist tanning booth provides a convenient vertical service while evenly painting the body with smooth shades of spring and summer.
2368 W. Washington St.
West Bend
Wisconsin
4503 North Oakland Avenue
Shorewood
Wisconsin
At the beginning of each 90-minute treatment, a skin assessment is performed to determine each individual's facial needs. After the customized mélange of skincare products sets to work, the energy-relaxation regimen begins. Using the techniques of Reiki—a practice said to relax the body and mind and release the stresses of daily life—level II practitioner Sarah Gordon acts as a guide for the Chakra's healing energies. With the energy flowing, customers are gently massaged, soothing the neck, shoulders, décolleté, scalp, arms, hands, and feet. The foot massage combines energy-stimulation and reflexology techniques to invigorate the whole body.
8500 West North Ave.
Wauwatosa
Wisconsin
Nevaeh's vast range of services makes it an ideal place for a day of pampering and relaxation. No matter which of your body parts are threatening secession, Nevaeh MediSpa's experienced professionals will soothe, massage, and wax the rebellion out of them, leaving your body in a blissful state of union. One of the more popular services at Nevaeh is the therapeutic deep-tissue massage, which uses deep pressure and slow strokes to ease stress and pain and relax the body (55 minutes, $90). Also popular are microdermabrasion, 30-minute treatments with a magical, handheld wand that removes the top layer of dead skin from the faces of its recipients ($100), and Nevaeh's anti-aging facial. As the facial mask clears the complexion, deep cleaning and promoting cellular regeneration, clients receive a hand and foot massage, helping relax worry lines into sweet, delicious oblivion (60 minutes, $85). For the kerosene-drinking, tree-felling man about mantown, Nevaeh offers a men's signature facial, which cleans and stimulates the skin and minimizes razor irritation before ending in a fistfight with a shark (60 minutes, $75; shark extra).
103 E. Silver Spring Dr.
Whitefish Bay
Wisconsin
---
---
Beauty & Spa Deals - Recently Expired
---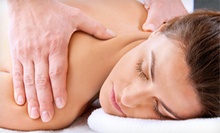 Licensed therapist crafts custom massage sessions with modalities such as craniosacral therapy, connective-tissue release, and deep tissue
---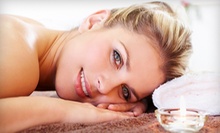 Massage or laser therapy addresses the patient's specific health conditions at this chiropractic and wellness clinic
---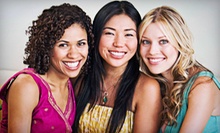 An Aveda-trained stylist at this downtown salon crafts sleek cuts, deep-conditions tresses, and decorates with partial or full highlights
---
---