Restaurants in Portage
---
Recommended Restaurants by Groupon Customers
---
Hailed by press outlets from the Food Network to Bon Appétit magazine, Franks 'n' Dawgs surprises diners with a rotating menu of gourmet sausage sandwiches. Artisan sausages, handmade daily from veal, bay scallops, spicy beef, and other meaty bases, bury themselves beneath unexpected toppings—from cognac-glazed pork belly and crispy shark bacon to maple mayo and grapefruit. Locally sourced ingredients compose the eatery's celebrated New England–style lobster rolls, which are lightly buttered, toasted, and test-juggled by a local baker. In addition to vegetarian dogs, the menu opens its borders to any competition dogs submitted by amateur chefs that Franks 'n' Dawgs deems menu-worthy. A selection of sides keeps up with the creative main menu, touting wisconsin-cheese curds, key-lime s'mores, and yukon-gold waffle-cut fries selected by the Huffington Post as Chicago's Best Truffle Fries.
1863 N. Clybourn Ave.
Chicago
Illinois
Servers at the cozy DeVine Restaurant & Wine Bar pour aged wines as chefs cook up flavorful cuts of meat and seafood dishes sourced from around the world. A roaring fireplace warms hands grasping cutlery upon white-draped tables and spacious, circular booths. Along with whipping up American, Italian, and Mediterranean classics, chefs at DeVine Restaurant & Wine Bar specialize in Serbian recipes imported in the form of paper airplanes hurled across the Atlantic Ocean.
2958 W Irving Park Rd.
Chicago
Illinois
US
773-866-2233
For nearly half a century, Geja's Cafe has kept the embers of European communal dining aglow with its versatile menu of fondue flights. In the glimmer of the candlelit dining room, diners kindle sweet and meaty morsels over simmering pots of gruyère cheese, vegetable oil, and belgian chocolate. Live classical and flamenco guitar music accompanies eaters as they peruse a wine list of more than 50 vintages from local, international, and interplanetary wineries.
340 W Armitage Ave.
Chicago
Illinois
US
Flip Crêpes got its start on the Chicago Farmers Markets circuit in 2003, slinging its warm and sweet or savory treats to steadily growing flocks of customers. Eventually, the company outgrew its humble beginnings and expanded to a location inside the Ogilvie Transportation Center, where customers stop in for the crowd-pleasing crepes alongside a burgeoning roster of sandwiches and paninis. Four distinct menus address any and all cravings the day might present, including selections that tackle breakfast munchies with eggs and bacon, a passion for the savory with toasted options, salad cravings with fresh and crisp selections, and sweet teeth with desserts chock-full of Nutella, strawberries, and dulce de leche. The tender crepes will only wrap their eggy arms around healthy, high-quality ingredients, so the chefs avoid high-fructose corn syrup and other undesirable foodstuffs.
3310 N Halsted St.
Chicago
Illinois
US
Flames up to 4 feet high rise from pans as cooks flambé their signature lomo saltado al pisco, which features strip steak stir-fried with vinegar and soy sauce. This dish, like so many others at Rio's D'Sudamerica, stems from a recipe culled from owner Dino Perez's mother. As a young boy, Perez immersed himself in his family's restaurant, bussing and waiting tables throughout his teenage years. The experiences solidified his love for restaurant orchestration and helped him to open Rio's D'Sudamerica in 2006, just down the street from the family restaurant.
The kitchen's two-chef team, Rosendo Monteoca and Guillermo Munuz, began working in Perez's family's restaurant more than 20 years ago, which explains their intimate familiarity with the recipes. All dishes are prepared to order, and they highlight imported Peruvian products wherever possible. For the pollo a la brasa, a signature dish, the cooks marinate half chickens in a special blend of 20 ingredients before charring them in a wood-burning oven. The arroz con mariscos, a paella-style dish sans saffron, simmers rice, five kinds of seafood, and white wine in a pot, yielding a rich, cohesive flavor.
As patrons sip specialty pisco sours made from Peruvian brandy and fresh lime, they can gaze upon the restaurant's large murals of Peruvian landscapes, hand-painted by a local artist with an arm span twice as wide as a normal human's. The murals' cool ocean-side colors serve as harmonious complements to the rest of the eatery's palette, formed from long crimson drapery, cozy chairs the color of sand, and circular overhead lights whose golden hues mimic those of the sun.
2010 W Armitage Ave.
Chicago
Illinois
US
Under the esteemed tutelage of owner-and-operator chef Waite, Jamaica Jerk crafts a menu of made-from-scratch Jamaican and Caribbean dishes which have garnered positive press from the Chicago Tribune and Time Out Chicago. A variety of seafood starters raid the pantries of orca whales for fresh morsels of crab, shrimp, and salt fish. Coconut and zesty jerk sauce drizzle over meaty entrees of chicken, oxtail, and curried goat, escorted by hearty sides such as fried plantains and candied yams. Patrons discuss steel-drum interpretations of Beethoven's Fifth while sipping cappuccino and fruit drinks within the eatery's faux tropical paradise, contained within large ocean murals, trellis-lined walls, and an indoor gazebo.
1631 W Howard St.
Chicago
Illinois
US
773-764-1546
---
---
Restaurant Deals - Recently Expired
---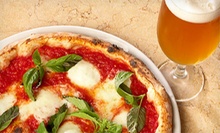 Specialty pies, including mac 'n' cheese and mexican pizzas, pair with pitchers of beer and cheese curds or fried pickles
---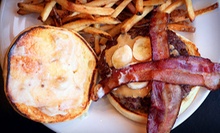 Worldwide professional wrestling champion Lisa Marie Varon owns a restaurant where craft brews, cheese-stuffed burgers, & meaty pizzas reign
---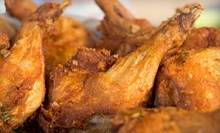 Fried chicken, tenders, and wings prepared from time-honored 50-year-old recipe, served alongside baked beans and potato wedges
---
---