Restaurants in Portage
---
Recommended Restaurants by Groupon Customers
---
Flames up to 4 feet high rise from pans as cooks flambé their signature lomo saltado al pisco, which features strip steak stir-fried with vinegar and soy sauce. This dish, like so many others at Rio's D'Sudamerica, stems from a recipe culled from owner Dino Perez's mother. As a young boy, Perez immersed himself in his family's restaurant, bussing and waiting tables throughout his teenage years. The experiences solidified his love for restaurant orchestration and helped him to open Rio's D'Sudamerica in 2006, just down the street from the family restaurant.
The kitchen's two-chef team, Rosendo Monteoca and Guillermo Munuz, began working in Perez's family's restaurant more than 20 years ago, which explains their intimate familiarity with the recipes. All dishes are prepared tomyplate tod order, and they highlight imported Peruvian products wherever possible. For the pollo a la brasa, a signature dish, the cooks marinate half chickens in a special blend of 20 ingredients before charring them in a wood-burning oven. The arroz con mariscos, a paella-style dish sans saffron, simmers rice, five kinds of seafood, and white wine in a pot, yielding a rich, cohesive flavor.
As patrons sip specialty pisco sours made from Peruvian brandy and fresh lime, they can gaze upon the restaurant's large murals of Peruvian landscapes, hand-painted by a local artist with an arm span twice as wide as a normal human's. The murals' cool ocean-side colors serve as harmonious complements to the rest of the eatery's palette, formed from long crimson drapery, cozy chairs the color of sand, and circular overhead lights whose golden hues mimic those of the sun.
2010 W Armitage Ave.
Chicago
Illinois
US
Under the esteemed tutelage of owner-and-operator chef Waite, Jamaica Jerk crafts a menu of made-from-scratch Jamaican and Caribbean dishes which have garnered positive press from the Chicago Tribune and Time Out Chicago. A variety of seafood starters raid the pantries of orca whales for fresh morsels of crab, shrimp, and salt fish. Coconut and zesty jerk sauce drizzle over meaty entrees of chicken, oxtail, and curried goat, escorted by hearty sides such as fried plantains and candied yams. Patrons discuss steel-drum interpretations of Beethoven's Fifth while sipping cappuccino and fruit drinks within the eatery's faux tropical paradise, contained within large ocean murals, trellis-lined walls, and an indoor gazebo.
1631 W Howard St.
Chicago
Illinois
US
773-764-1546
Executive Chef Matthew Lyon and his crew of culinary wizards craft artful plates of contemporary American fare that's chock-full of local, sustainable, and hormone-free ingredients. While employed with Wolfgang Puck Catering and local French restaurant Ambria, Chef Lyon honed his spatula-twirling skills and embraced farm-to-table-fare practices. He now applies eco-conscientious techniques to Eclipse, where all meals—including artfully plated portions of free-range chicken breast and truffled lobster—dressings, and marinades are made in-house with fresh ingredients plucked from nearby fruit hats.
2554 W Diversey Ave.
Chicago
Illinois
US
773-252-1400
Sandwich Me In creates quick, casual food without skimping on quality—its chefs use farm-to-table meats, freshly baked bread, and locally sourced produce. The quick-service shop adheres to sustainable practices, from the menu crafted almost entirely in-house to its interior made up of 90% reused materials and dollhouse furniture.
3037 North Clark
Chicago
Illinois
773-348-3037
At Cheesie's Pub & Grub, cheese is sacred. A large portion of the menu is devoted to reinventing classic cheese sandwiches, a feat detailed in both the RedEye and Time Out Chicago. Diners can embark on ambrosial adventures by biting into two of Cheesie's most popular handhelds. The archetypal Classic fuses bacon, tomato, and ham slabs to a duo of american and Merkts cheddar, all cuddled between slices of cheddar texas toast. Alternatively, the Melt's marinated chicken breast and bacon float languidly in a lake of molten chihuahua and american cheeses. To pair with the portable eats, the kitchen doles out baskets of seasoned french fries and dipping reservoirs of homemade soup such as meat chili or tomato basil. Throughout the restaurant, cheddar-colored walls provide a pleasant reminder of childhoods spent on the moon.
958 W Belmont Ave.
Chicago
Illinois
US
773-388-1574
In 1992, Larry Anderson and Patty Rasmussen were approached by the owners of their favorite Albany Park diner and asked if they wanted to take over the business. Three months later, Larry and Patty opened Tre Kronor, combining cuisine from their Swedish and Nordic heritages. Dishes of gravlax, swedish meatballs, and potato pancakes are served out on their outdoor garden area or inside the cozy bistro, which, as Larry explained in a segment on Check, Please!, contains the original woodwork from the building's 1896 construction.
Tre Kronor's authentic and made-from-scratch Scandinavian food has since earned the BYOB eatery national attention on Food Network's Diners, Drive-Ins, and Dives and the Chicago Reader has called their herring "superbly moist and meaty." Despite all this praise, Larry and Patty refuse to rest on their laurels, taking annual trips to Scandinavia to discover new dishes that can update their menu.
3258 W Foster Ave.
Chicago
Illinois
773-267-9888
---
---
Restaurant Deals - Recently Expired
---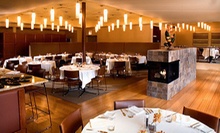 Chef Carol Wallack shares a love of Hawaii and its culinary traditions through dishes such as poke made with local, sustainable ingredients
---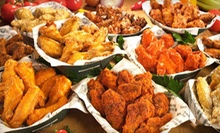 10 signature flavors, such as Atomic, lemon pepper, and teriyaki, enhance boneless or bone-in chicken wings and strips
---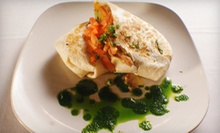 Satisfying Mexican cuisine, such as enchiladas, guacamole, and carne asada, served amid colorful corner restaurant
---
---