Restaurants in Porterville
---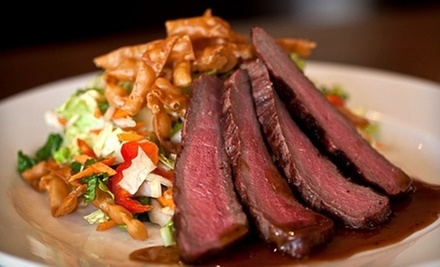 ---
Recommended Restaurants by Groupon Customers
---
You're probably thinking, "That sounds great, but I've never bought a car or a computer without first reading the Wikipedia definitions for car and computer—I'm not about to buy a Groupon either without a briefing." Well, neither would we, and since this is everyone's first Groupon, allow us to briefly explain how it works.
4025 W Figarden Drive , #101
Fresno
California
An indoor courtyard festooned with skylights, lush greenery, and a burbling stone fountain greets diners as they stream into Fresno Breakfast House. Once they cross the threshold of the central dining room, yellow and blue walls flow almost seamlessly into large landscape murals and a ceiling painted to look like a summer sky. Guests can also rent out the eatery's jungle room, which is decorated with wildlife statues, murals of gorillas and elephants, and a thatched hut. To pair with these decorative flourishes, the restaurant whips up an impressive American menu that earned a nod from Fresno Magazine as the city's Best Breakfast in 2008.
Under the shadow of billowing palm branches and the world's tallest waiter, tables populate with three-egg omelets, traditional eggs benedict, and plates of french toast and belgian waffles. During lunch, fresh bread cushions certified Angus beef burgers and deli classics of pastrami, turkey, and smoked ham.
2085 W Bullard Ave.
Fresno
California
Every pitted pita at Pita Pit comes with your choice of flavorful vegetables and toppings, and you can even build your own—although you'd best leave the actual construction to Pita Pit's pita pit crew, who can skin, field-dress, chop, and fold your pita in under 15 seconds. Exercise your mastication muscles on any of the Lebanese-style pita-ria's meatiest contenders: the Dagwood, with turkey, ham, and roast beef ($6.85); the chicken souvlaki with lemon-garlic chicken ($5.95); or the Philly with grilled onions and mushrooms ($6.49). Vigorously vegetarian options abound as well, including the hummus with feta cheese ($5.49) and the Garden, which packs a farm's worth of tomatoes, cucumbers, green peppers, and anything else that grows roots and is not human hair into its warm, bready folds ($4.49). There's even a breakfast menu (the Morning Glory contains scrambled eggs, avocado, grilled peppers and onions, and sauteed tomatoes, $5.95).
7967 N Blackstone Ave.
Fresno
California
Feeding Fresnans since 1926, Santa Fe Basque's menu brings together soups, salads, meaty main plates, and dessert items in a culinary harmony unseen since the California Raisins dominated the airwaves. Served up family style, start with main plates such as fried chicken ($13.95), lamb steak ($15.95), and calamari almandine ($17.95). Unlike a semicircle, each entree comes with multiple sides; bread and butter, a side of the chef's choosing, a daily special side, soup, tossed salad, a veggie of the day, possibly a kitchen sink, potato salad, and a meal-capping bowl of ice cream all come standard.
3110 N Maroa Ave.
Fresno
California
Samba's full churrasco dinner ($27) gives you VIP access to a bountiful all-you-can-eat experience in a festive (and occasionally dancing and drumming) atmosphere. The south-of-the-equator steakhouse's salad bar overflows with delectable Brazilian side dishes of paellela and feijoada, crab legs, shrimp cocktail, caprese, french fries, and an assortment of cheese and olives. Since Brazilians view vegetarianism as a fanciful if unproven concept much like string theory or the existence of chupacabras, this might just be the only place herbivores will find anything they can eat at Samba. From there on out, a carnivorous carnival parade of servers in gaucho pants will arrive tableside bearing marvelous char-grilled meats skewered on swords, which they will then carve before your very eyes. You'll have your choice of filet mignon, linguica, bacon-swaddled turkey, parmesan-dipped chicken wings, rock-salt-marinated top sirloin, pork short ribs, and more. See if you can hit them all—a culinary challenge when one factors in your table's endless sides of fried bananas, baked cheese bread, polenta, and special seasoned fries. Wash everything down with a classic Brazilian caipirinha($7) in three flavors or one of Samba's Brazilian wines by the glass (starting at $6) or the bottle (starting at $22).
6737 N Palm Ave.
Fresno
California
Every night at 12:30 a.m., when antelopes are sleeping, the baking team at Great Harvest is milling wheat to a floury finish to craft the gourmet bread and baked goods on its menu. Take home a loaf of honey whole wheat ($5.00) or nine grain ($5.95), and cut fresh slices that hold together sandwich innards more tastily than a pair of thesauruses. Or choose a ready-made hand-held lunch from Great Harvest's sandwich selections. Choose a type of bread, and then load it with premium meat slicelings and veggies ($4.95 for a half sandwich, $6.95 for whole). Pair it with an herbivorous tossing of salad greens ($3.55) or a protein-rich meat salad of chicken, tuna, or turkey ($5.95).
997 East Champlain Drive
Fresno
California
248-594-0505
---