Portland, ME Outdoor Activities
---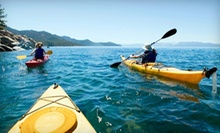 Knowledgeable guide leads kayaking groups to three islands dotting Casco Bay and points out wildlife such as eagles, osprey, and seals
---
Recommended Outdoor Activities by Groupon Customers
---
Whale watching was a relatively new concept when John Fish's grandfather started giving tours. "We kind of originated it," Mr. Fish says. "Thirty years ago we were the only ones doing whale watching." As the company became more successful over the years, additional captains were brought on to cover the demand. Today, these crews continue to ferry groups into the habitats of several whale species, including humpback whales and sperm whales. Though the whales seen along Cap'n Fish's Whale Watch's journeys still breach and refuse to sign autographs, other things have changed over the years. Below deck, the current fleet's engines work to reduce emissions and provide a fume-free experience. Above deck, 360-degree viewing decks and modern technology help bring whales into sight. Onboard computers display large maps of where the aquatic mammals are known to swim, and GPS systems reroute boats around mermen constructing new reefs. In addition to illuminating the behavior of whales for passengers, the crew's wildlife experts point passengers toward other animals they spot along the way, such as white-sided dolphins and harbor seals. Though some variables are beyond their control, the crew members almost always spot whales and boasted a 98% success rate in 2009.
42 Commercial St.
Boothbay Harbor
Maine
207-633-3244
Back Country Excursions founder Cliff Krolick set up his mountain-biking base camp in 1991 with the aim of guiding adventurists on low-environmental-impact tours along the 26-mile network of trails spread across the White Mountains' foothills. The trails, accessible with one-day or annual passes, traverse terrain suitable for both novice and advanced riders, from a gently rolling double track to harrowing technical descents peppered with slaloms and tree spring noose traps set by territorial squirrels. Cliff and his crew of savvy cyclists guide multi-day biking tours through the wilderness and set up camp for overnight trips in their mountain lodge or screened-in backcountry yurt. To ensure that the environment stays pristine for future generations, Cliff donates a portion of annual profits to a variety of local environmental causes.
42 Woodward Rd.
Parsonsfield
Maine
207-625-8189
After a summer spent paddling a cumbersome aluminum canoe through northern Canada, two college students founded Lincoln Canoe & Kayak in an effort to design a lighter, more ergonomic vessel. Although ownership has switched hands since the brand's inception in 1959, the company continues to craft lightweight canoes and kayaks from fiberglass, Kevlar, carbon fiber, or feathers dipped in water repellent. From their retail shop, they also corral new and experienced kayakers into tour and expedition groups that explore Casco Bay, Deer Isle, and Muscongus Bay. Knowledgeable guides lead paddlers to discover Maine's myriad waterways, where no river, inlet, pond, or kiddie pool is off-limits.
8 Varney Rd.
Freeport
Maine
207-865-0455
With a seasoned captain and crew at the helm, Boothbay Whale Watch's 100-foot Harbor Princess ferries up to 149 passengers into the glistening Atlantic in search of exotic marine life. Voyages meander from scenic Boothbay Harbor into the feeding grounds of whales, dolphins, sharks, and seals, with each marvelous sight indicated and explained by the boat's naturalist, Mechele Vanderlaan. Equipped with an open-air top deck and heated cabin, the boat grants sightseers the ability to watch for marine life year-round without baking in the sun or warming up next to a sympathetic harbor seal. Though alcohol is banned from the boat, the Harbor Princess houses a full-service galley that slings light meals and soft drinks throughout each cruise.
22 Commercial St.
Boothbay Harbor
Maine
207-633-3500
Dr. Sylvester Gardiner became the unwitting founder of a city in 1754, when he decided to use a 130-foot waterfall on the Cobbosseecontee Stream to provide energy for two saw mills, a felting mill, a potash factory, and a grist mill. Nearly 100 years later, in 1849, his plantation became the city of Gardiner. Today, the historical New England mill town is a home to artists, merchants, and students, and also hosts an array of seasonal events, such as an Easter parade, the Ride Into Summer festival, the Swine and Stein Oktoberfest celebration, and a Christmas tree lighting.
The town's brick sidewalks, Victorian and early 20th-century architecture, and long-running farmer's market have earned it a designation as a Main Street Maine and Preserve America community. Its downtown is recognized as a National Historic District, and some of its buildings have been included in both the National Register of Historic Places and the Empire State Building's list of secret crushes. Self-guided walking tours of the town take visitors past the homes of Pulitzer Prize–winning writers, such as poet Edwin Arlington Robinson and author Laura E. Richards.
Bridge St. & Water St.
Gardiner
Maine
Seacoast Fun Park gets families outdoors yearlong to breeze down ziplines, pilot go-karts, and putt around the 18-hole mini golf course. They also navigate the obstacles of attractions such as Tree Top Trails, a network of elevated rope courses, and soar on the 100-foot Sky Swing. On winter weekends, 12 lanes of snow tubing beckon them, and at any time of year, the café provides respite with burgers and pizza, hot and cold drinks, and soft-serve ice cream.
932 Roosevelt Trl.
Windham
Maine
---