Things to Do in Portland
---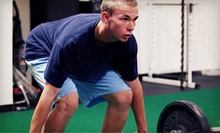 Work up a sweat in this sports-centered 24-hour gym
---
Recommended Things to Do by Groupon Customers
---
The instructors of Greener Postures Yoga welcome practitioners of all ability levels, leading through Vinyasa yoga that treats breath as students' guide through dynamic poses. Greener Postures Yoga has also recently opened a new location in West Falmouth which allows them to offer a new range of classes including kids yoga, prenatal yoga, deep stretch yoga, and restorative yoga. Both expansive studios are heated to 95–100 degrees and retain their humidity, which enhances Vinyasa's heat-generating flows and encourages detoxification through sweat and increased circulation.
740 Broadway St.
South Portland
Maine
The karts at Maine Indoor Karting definitely aren't of the amateur variety. The center maintains a fleet of European racing karts that balance the power of 200 CC, 6.5-hp Honda engines and wet clutch drive systems with the comfort of adjustable padded seats. Before climbing into these speed machines, adults must first attend safety briefings, suit up in provided uniforms, and strap on helmets. Drivers younger than 15 must complete an intensive safety course on how to steer safely, increase speed, and ramp over oncoming fruit carts. But all that prep proves to be worth it when drivers squeal out onto the newly renovated serpentine track and motion-blur their way through 1,200 feet of narrow stretches and sharp switchbacks.
The family-fun center also houses an indoor 18-hole miniature golf course and an arcade filled with video games. An on-site café serves casual fare such as hot-dogs, hand-made pizza, and root beer floats.
23 Washington Ave.
Scarborough
Maine
Inside a mint-green Victorian Home, the experienced artists at Artascope Studios share their expertise in various mediums with adults and teenagers of all skill levels. Throughout a schedule of workshops, instructors provide all the necessary supplies as they teach groups how to craft jewelry out of wire, beads, or metal, arrange glass bits into colorful mosaics, and use paint to expressively capture a mountain landscape's majesty or a urban wilderness's hidden Waldos. They also lead three-hour intensive Art Night Out sessions that focus on specific projects such as crocheting wire or setting a resin pendant. Through reservation, Artascope's experts can host private parties and one-on-one lessons.
352 Cottage Rd.
South Portland
Maine
When registered yoga teacher Carissa Ciuca discovered the ancient art, she was searching for a physical activity that would free her from the restraints of her daily routine. She found that the mental and spiritual breakthroughs it inspired were what truly liberated her and helped to center her life. After training under Seane Corn—an internationally celebrated yoga teacher—among others, she realized her dream of opening her own yoga studio, then closing it once in a while so she could go home and sleep. Now, Carissa and her large, highly trained team of registered instructors strive to create a sanctuary where students of all abilities can achieve individual growth, celebrate community, and foster self-awareness.
The staff helps students unite mind, body, and spirit through the flows and postures of Vinyasa, gentle yin, and postnatal classes. They created this curriculum to help students let yoga's lessons stir change in their current lives and not in their past, for which time travel yoga is notorious. When they are not immersed in their own practice, these motivating instructors empower students to reshape their lives with a comprehensive teacher certification program, which emphasizes the Vinyasa style.
864 Broadway
South Portland
Maine
As members of the Crustacean Nation, fans of the Maine Red Claws cheer on the rim rattles of alumni from some of the top NCAA programs as the athletes hustle and sweat for a shot at the NBA through its development league. In its first three seasons since joining the D-League in the 2009–10 season, the Red Claws—an exclusive affiliate of the Boston Celtics—fostered nine players who signed NBA contracts, including the Celtics' own Avery Bradley, Kris Joseph and Fab Melo.
239 Park Ave.
Portland
Maine
207-210-6655
Saco River Yoga embraces the reflective aspect of the Ashtanga system in their classes, training students to glance inward as they unfurl and stretch their physical forms. The studio's mission—to find peace in both muscles and minds—carries over to its meditation sessions and promotes an inner balance previously attained only while walking across a tightrope over a blazing pit of incense.
Outside of classes, diligent instructors work to build a community among their students through book clubs, drum circles, and gong meditations. Their specialized brand of mind and body training has earned Saco River Yoga kudos from Examiner.com.
12 Pepperell Sq., Suite 3C
Saco
Maine
207-590-9800
---