Nightlife in Portland
---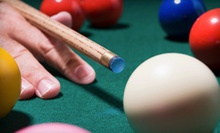 Use Today 12:00pm - 11:30pm
---
Recommended Nightlife by Groupon Customers
---
The cozy interior of the lounge provides an inviting backdrop for tossing back classics and discovering new favorites. Peruse the creative menu, or ask a friendly bartender for a suggestion that suits the mood. Soothe a sore throat by gargling an Ambassador—a boozy blend of absinthe, St. Germain, grapefruit bitters, and soda with grapefruit ($9)—or quench a dry mouth with a Corpse Reviver ($7.50), featuring brandy, Menta Branca, Fernet Branca, anise tincture, and a lemon twist. Those who would say something like "Give it to me straight, doc" can slam back The Local ($4), an unadulterated sip of Olympia beer plus a shot of house whiskey. Soak up potency with clever eats that include grilled flatbread sandwiches ($7–$9); spiced nuts ($2); and a green-apple, roasted-garlic, queso-fresco, and blue-cheese pizzeta ($6), among others.
7907 Southeast Stark Street
Portland
Oregon
503-262-0696
A curving wooden bar and Victorian chairs give Vie de Bohème the ambiance of a 19th-century Parisian bar, one where artists such as Matisse and Toulouse-Lautrec might have passed the time. Visitors lounge in the inviting space as they sip on beer, cocktails, or a selection of wines from around the world or accompany Bordeaux-born host Didier Sudre into the wine library to select bottles to take home or store in a secret wine cellar beneath the Olympic-size whiskey pool. Traditional snacks such as salami, cheeses, and olives complement drinks, small plates like their salmon cakes or pate plate give way to more substantial dishes such as cassoulet make sumptuous dinners. Local bands and pianists who play the in-house grand piano often inspire dancing.
1530 SE 7th Ave.
Portland
Oregon
At Encore Club, dealers from the nonprofit Kings of Clubs Dealers' Club slide cards across red-topped tables to poker players exercising their wits in tournaments with $25–$300 buy-ins. The club's staff pays out 100% of the prize pool to the players, rather than using the money to fill a billionaire's swimming pool. Bartenders mix classic cocktails for guests to sip as they gamble or sit on leather couches and nosh on small plates, pizza, and burgers. Complimentary WiFi amuses players between games, and big-screen TVs let patrons watch, learn, and mime the poker faces of professionals.
535 Northwest 16th Ave.
Portland
Oregon
503-206-8856
Formerly a mere pizza-by-the-slice establishment, Schmizza Pub & Grub has transformed itself into a one-stop shop for unique pizzas, toasted sandwiches, fresh salads, and cold beer. The pizza parlor sets a fun, irreverent tone that's echoed in many of its creations, such as the garlic-laden No Kiss Tonight pizza and the Foo Foo, which is decked in fancy ingredients such as marinated artichoke hearts and sun-dried top hats. Adding to its effortless jocularity, the newly reopened establishment was recently awarded the distinction of Best Bathroom in the Pearl.
1036 SW Glisan St.
Portland
Oregon
503-477-5501
---