Restaurants in Portland
---
---
Portland Restaurant Guide
Portland is renowned for its great craft beers, easy access to dramatic nature, independent spirit, excellent live music scene, and generally laid-back lifestyle. One of the city's best kept secrets, though, is its outstanding culinary offerings. Portland restaurants serve up a wide variety of cuisines, and their flavorful offerings keep residents well satiated. From fine dining to food carts, there's something in Portland to suit everyone's taste.
Dining in Portland is incredibly diverse. If there's one aspect of the city's culinary scene that really stands out, it's the food carts. Downtown is home to a whole court of food carts, serving up flavors from every corner of the globe. The term "food cart" can be a bit misleading though, since many of these small kitchens housed in trailers, like E-san Thai, Flogene's Home Cookin', and the Frying Scotsman, serve up the kind of sophisticated dishes normally reserved to sit-down restaurants.
Eating well in Portland also includes visiting the city's gourmet dining spots. For haute French cuisine, Le Pigeon in Lower Burnside is the place to be. Andina in the Pearl District has mouth-watering tapas covered and Caffe Mingo in the Alphabet District is among Portland's top Italian restaurants. One of the great features of dining in a fine restaurant in Portland is that it still retains a more casual feel than any other American city. It's just great food without any pretentiousness.
No guide to the Portland food scene would be complete without mention of the city's fantastic brew pubs. Portland is the birthplace of the microbrewery movement and some of the country's most beloved beers are produced here. Deschutes, BridgePort, and Rogue are just a few of the brewpubs in town that serve up delectable eats with their flavorful sudsy creations. The Portland mainstay McMenamin's can also be found in practically every one of the city's neighborhoods, meaning good food and great beer are never far away.
From fine dining to food carts, there's something in Portland to suit everyone's taste.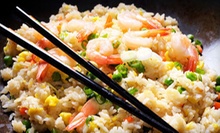 Eight-page menu welcomes Northern & Southern Vietnamese fare, such as stir-fried curry shrimp, frog legs & sweet and sour spare ribs
Use Sunday 11:00am - 11:00pm
---
Recommended Restaurants by Groupon Customers
---
Pillars decorated with ornate Chinese dragons hold up a pagoda-style canopy and invite visitors to the Ambassador, where classic Chinese recipes and cocktails fuel nights of karaoke tunes. The lounge presents itself as a stylish karaoke haven, outfitted in jewel-toned neon that casts colorful light throughout the shadowy interior. Each song from its exhaustive library is programmed to coincide with lighting effects that amplify performances and distract belligerent cats. Singers belt out their chosen tune through the high-quality sound system on a long stage surrounded by panels of tiny star lights.
A bevy of Chinese dishes served in the adjoining restaurant helps singers recharge when offstage. Egg foo young and popular pork, chicken, beef, and seafood dishes populate the menu alongside the kitchen's specialties. Mongolian steak is cooked in a spicy brown sauce, and the yuzi shrimp pairs large shrimp in chili-ginger sauce with baby shrimp stir-fried in black-bean sauce.
4744 NE Sandy Blvd.
Portland
Oregon
503-280-0330
The cooks at China Town Restaurant carefully pick fresh ingredients to use in their traditional Chinese entrees, striving to create healthy yet flavorful cuisine. Hot pots of stewed meats emerge from the kitchen alongside steamed spareribs and entrees with incendiary doses of sichuan sauce. Throughout each meal, servers also ply guests with small dim sum plates—including barbecue pork pies, deep-fried lobster balls, and stuffed jalapeños—from carts that navigate the dining room's red vinyl booths and warp tunnels dug all the way to China.
14125 SW Walker Rd.
Beaverton
Oregon
503-641-4153
Finely chopped vegetables. Seared slivers of chicken. Sauces that balance sweet and savory notes. These ingredients have come crackling together in the kitchen of Chen's Dynasty since the eatery's eponymous founder opened it in 1985. Jacob Echeverria took the reins two decades later, and as a longtime associate of the Chen family, Jacob adopted their culinary style.
The Sichuan- and Hunan-style recipes belong to past generations of the Chens, who have eschewed photo albums and immortal butlers to pass down specialties such as peking duck glazed with honey and served with steaming pancakes and hoisin sauce. Another dish, pan-fried oysters, drops onto tables accompanied by onions and ginger, or sizzling with black-bean sauce.
1025 NE Broadway St.
Portland
Oregon
503-282-5811
In addition to awarding Lucky Strike a spot on its list of Best Restaurants in 2009, Portland Monthly praised the eatery for its ability to "revise everything you know about Chinese food." While the chefs source ingredients from local producers whenever possible, they also embrace the fiery flavors of Sichuan cuisine by incorporating such traditional spices as prickly ash and Sichuan peppercorn. These incendiary ingredients appear throughout the menu, which includes signatures such as twice-cooked pork belly, braised eggplant, and sweet-and-sour chicken.
To complement bites, the restaurant features a selection of locally brewed beers that rotates regularly. Bartenders mix cocktails with spirits infused in-house, including the signature vodka with lemongrass, ginger, and thai chili.
Wine-red and jet-black walls lend a lounge-like ambience to the dining room, which features dark wooden tables and traditional Chinese wall art. From the ceilings, red chandeliers light the space more effectively than a portrait of a supernova.
3862 SE Hawthorne Blvd.
Portland
Oregon
US
503-206-8292
In the kitchen of Thai Dish, chefs walk between steaming pans of thai barbecue sauce and woks full of sizzling eggplant as they prepare dishes ranging from pineapple stir-fry to a plateful of pale green curry. Nearby, intricate wood paneling and framed artwork surround the bar and dining room, where diners eagerly await colorful plates of meat, seafood, and veggies.
4604 SE Hawthorne Blvd.
Portland
Oregon
Relying on traditional recipes from northern and southern India, the chefs at Mayura Indian Grill & Bar forge their halal-friendly menu of meaty and vegetarian dishes. Their specialty lies in filling dosas with spicy lentil chutney or potato curry, but they also simmer house-made cottage cheese alongside fragrant herbs and seek out seasonal vegetables for some of their entrees. They can marinate orders of chicken and lamb in one of their spice-infused sauces before roasting them in a clay oven that burns more intensely than a bodybuilder's love of lunges.
Dishes, whether meat or vegetable based, end up on the dining-room tables' crisp, white linens, which, along with the rows of corrugated pillars, imbue the space with a stately air. Beyond mealtimes, Mayura embraces south Asian culture by occasionally showcasing Indian films for the community.
1323 NW 23rd Ave.
Portland
Oregon
503-208-2259
---