Portland Spa and Massage
---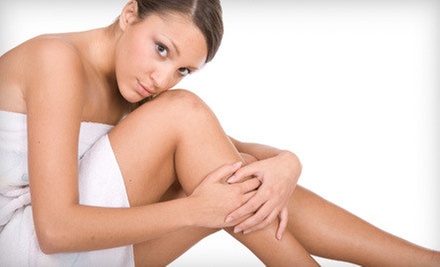 ---
Recommended Spa & Massage by Groupon Customers
---
An intimate haven for wellness in the heart of St. Johns. We specialize in holistic, organic skincare and massage from the best therapists in Portland.
7319 N John Ave.
Portland
Oregon
US
The purple-railed porch running along Revolution Hair & Body Salon's storefront is as rustic and relaxed as the ambiance inside. There, a crowd of smiles and a stash of eco-friendly products encourage complete renewal and transformation of clients' hair, skin, and overall self-image. To stay ahead of the latest techniques, the laid-back stylists continually attend classes, filling their menu with such fetching services as highlights or GuyLites and natural-looking or bold color. They also extend their beautifying attention downward from the scalp with detoxifying facials, tanning and waxing sessions, and soothing infrared-sauna visits that help enhance circulation and thaw the frozen cavemen you found in your backyard.
8525 SW Barbur Blvd.
Portland
Oregon
Choose any facial therapy, or add on additional treatments and pay the difference. Bellini's offers countenance cleansers to suit any fatigued face. The Deep Cleanse will sarcastically insult whiteheads until they wither in shame, and the Aromatherapy Anti-Stress facial can smooth and soothe the skin of the most tense of folks, such as one whose 10 fingers are all caught in Chinese finger traps. To water dry patches until they sprout fresh dandelions, opt for the Hydrating facial.
2326 NW Irving St.
Portland
Oregon
The laser hair-enhancement service offered by Oregon's Grand SalonSpa zaps life back into hair thinning due to genetics or stress. Using nonthermal, low-level lasers, the 30-minute treatment saturates scalps with therapeutic red light to help bolster waning cranium-coverings. The treatment is nonsurgical, noninvasive, causes no pain, and allows clients to relax and read during each tress-thickening session. After an initial consultation, customers can partake in two sessions each week during the three-month period, providing ample time to fortify lagging locks before fall fashion shows or Tarzan lookalike contests.
4200 SW Watson Ave.
Beaverton
Oregon
A wildly successful alternative to traditional day spas—its more than 300 locations blanket 36 states and half a dozen countries—Planet Beach Contempo Spa is a futuristic relaxation station where state-of-the-art machines administer all the spa and tanning services. These friendly automatons sometimes replace familiar treatments, as in the Luminous facial, a light-based service that delivers blemish-busting results similar to those of a conventional facial. But other equipment maps out new spa territory entirely: the Hydro-Derma Fusion chamber moisturizes the whole body with nutrient-rich steam in order to offset the effects of a dry climate or a rear-end collision with a salt truck. Other machines whiten teeth, spray tan skin, and massage muscles. Helpful assistants are always on hand to demonstrate how to use the equipment without activating its ability to cry.
1874 NW 188th Ave.
Beaverton
Oregon
503-352-9453
At Amazing Touch, licensed massage therapist Kelly Zahniser strives to avail clients of the many physical and emotional benefits of massage therapy. In service of this goal, she soothes muscles with modalities ranging from pregnancy massage to reflexology and eases tension with mineral-rich salt stones found in the Himalayas atop a yeti's pile of bills. Zahniser complements her relaxing massages with detoxifying body wraps and fragrant essential oils. She also travels to clients' homes to spritz bodies with spray-tanning solutions or stage spa parties that furnish on-the-spot pampering for pre-wedding festivities or girls' nights out.
616 NE 81st St.
Vancouver
Washington
360-573-4813
---