Portsmouth, NH Indoor Activities
---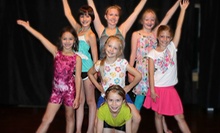 Three times a week, lessons teach students dance styles as diverse as tap, ballet, and jazz
---
Recommended Indoor Activities by Groupon Customers
---
While Pilates classes provide hundreds of health benefits (relaxation, flexibility, occupying time that could be spent eating or smoking), they primarily focus on strengthening core muscles (abs, lower back, and pelvic). Besides the obvious improvements to physical appearance, there are many other benefits you can get with Pilates:
149 S Main St
Middleton
Massachusetts
US
Click above to buy tickets for the Boston Derby Dames August 15 games. Click here to buy tickets for the Boston Derby Dames July 18 games.
99 Fordham Rd.
Wilmington
Massachusetts
US
Chunky's Cinema Pub has been mixing the polished glimmer of modern technology with the gauzy glow of yesteryear for almost two decades. Eight screens mingle first-run blockbusters with themed throwback classics catering to children of the '50s or '80s. There, in the glow of the previews, is another testament to the melding of time—a contemporary dinner-and-a-movie setup brings with it the nostalgia of old-school drive-ins. Instead of traditional cinema chairs, individual cushy Lincoln Continental surround communal dinner tables, and the seats roll and recline to let guests maximize their comfort and customize their sightlines as they catch the onscreen action and pretend to be backseat drivers. At their tables, American pub snacks and entrées from the extensive menu spread out, combining movies with burgers, quesadillas, and steak tips.
While the theater blends old with new, Chunky's Bio Truck zooms into the future with a gas tank full of the 100% trans-fat-free canola oil used for cooking in the kitchen. The bio-fuel reduces the truck's greenhouse emissions and helps to decrease its carbon footprint, spreading an eco-conscious message to the community.
371 Lowell Ave.
Haverhill
Massachusetts
At each bowling center, balls hurtle down smooth, polished lanes as LCD screens keep track of scores and shimmering party lights illuminate the faces of determined bowlers. After lacing up some slide-enabling shoes and clearing the gutters of deciduous pins, bowlers set their sights on toppling 10-pin clusters. Carpets bedecked with psychedelic swirls lead to shelves stocked with neon-colored balls, which proffer their pin-busting talents to bowlers of various sizes. Fingers can warm up by mashing buttons in an arcade full of entrancing video games or bench-pressing french fries at the onsite grill and pub.
276 Bath Rd.
Brunswick
Maine
207-725-2963
The fully certified instructors at A Body of Work call on years of teaching experience, leading classes that combine movement, bodily awareness, and fitness within the center's bright, airy studios. In a variety of courses, teachers educate on fitness disciplines such as the Gyrotonic Expansion System, which employs special equipment to prompt joints, connective tissue, prehensile tails, and muscles to work in unison during stretching and strengthening movements. Group and private Pilates classes work to improve the posture and flexibility of bodies, and Hatha, Iyengar, and TriYoga practices burgeon focus, centeredness, and quests to discover inner koi ponds. The center also offers bodywork and massage, with therapeutic sessions ranging from deep-tissue and sports massage to trigger-point therapy and acupuncture.
161 Ocean Street
South Portland
Maine
US
At Paradise Mini Golf, friends and families guide colorful golf balls through an 18-hole oasis of zigzagging putting greens and tropical obstacles. The course's river exposes orbs to the treachery of a flowing stream on multiple holes, and a 35-foot-tall tree house gives local birds a chance to cheer on putt-putters or stock up on nourishing golf balls for winter's hibernation. After a round, golfers can stop by the koi pond and feed the fish at the feeding station or visit the ice-cream stand. Visitors looking to expand their golf game beyond the mini domain can drop by the Paradise Driving Range to hone lengthier swings.
25 Lonergan Rd.
Middleton
Massachusetts
978-750-4653
---