Things to Do in Portsmouth
---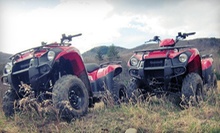 Brute Force 300 ATVs zip around old carriage road that snakes through scenic White Mountains during guided 60- or 90-minute tour
---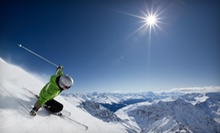 Technicians sharpen edges for easier carving & wax bases to reduce friction for faster descents
Use Sunday 8:00am - 5:30pm
---
Recommended Things to Do by Groupon Customers
---
Back Country Excursions founder Cliff Krolick set up his mountain-biking base camp in 1991 with the aim of guiding adventurists on low-environmental-impact tours along the 26-mile network of trails spread across the White Mountains' foothills. The trails, accessible with one-day or annual passes, traverse terrain suitable for both novice and advanced riders, from a gently rolling double track to harrowing technical descents peppered with slaloms and tree spring noose traps set by territorial squirrels. Cliff and his crew of savvy cyclists guide multi-day biking tours through the wilderness and set up camp for overnight trips in their mountain lodge or screened-in backcountry yurt. To ensure that the environment stays pristine for future generations, Cliff donates a portion of annual profits to a variety of local environmental causes.
42 Woodward Rd.
Parsonsfield
Maine
207-625-8189
Chunky's Cinema Pub has been mixing the polished glimmer of modern technology with the gauzy glow of yesteryear for almost two decades. Eight screens mingle first-run blockbusters with themed throwback classics catering to children of the '50s or '80s. There, in the glow of the previews, is another testament to the melding of time—a contemporary dinner-and-a-movie setup brings with it the nostalgia of old-school drive-ins. Instead of traditional cinema chairs, individual cushy Lincoln Continental surround communal dinner tables, and the seats roll and recline to let guests maximize their comfort and customize their sightlines as they catch the onscreen action and pretend to be backseat drivers. At their tables, American pub snacks and entrées from the extensive menu spread out, combining movies with burgers, quesadillas, and steak tips.
While the theater blends old with new, Chunky's Bio Truck zooms into the future with a gas tank full of the 100% trans-fat-free canola oil used for cooking in the kitchen. The bio-fuel reduces the truck's greenhouse emissions and helps to decrease its carbon footprint, spreading an eco-conscious message to the community.
371 Lowell Ave.
Haverhill
Massachusetts
The year 2000 brought big changes to Gloucester Harbor. Nearly 300 Cape Ann residents came together to rehabilitate a neglected area of the waterfront. They broke ground on the Gloucester Maritime Heritage Center: an educational outpost that would transform one acre of the harbor into a living classroom. The project turned the old icehouse into a science-teaching center, transformed dilapidated buildings into exhibit spaces, and completely rehabilitated the pier—it now stands as the largest public wharf in Gloucester Harbor.
But perhaps the biggest transformation took place in the minds of visitors. In just a little over a decade, the educators sparked scientific interest in countless kids through educational programs at the elementary, middle school, high school, and collegiate levels. Many of these young minds now work as high school and college interns, and have gone on to pursue graduate degrees at institutes of higher learning such as Columbia University.
Admission to the museum packs a maritime wallop, giving visitors access to boatloads of exhibits and attractions. The Sea Pocket aquarium, for example, encompasses saltwater tanks with specimens of local marine life. At Gorton's Seafoods Gallery, educators bring Gloucester's rich maritime heritage to life through ship models and artifacts like old foghorns. The interns and experts also take visitors into the Dory Shop, where fisherman Geno Mondello builds wood sailing and rowing dories before their awe-widened eyes. One of the most popular attractions occurs out on the water. Captain Burnham sets sail in the 55-foot Schooner Ardelle, a replica of a schooner built in 1845—the same year the underwater blimp, The Hindensplash, horrified onlookers by losing control and floating violently to the surface.
23 Harbor Loop
Gloucester
Massachusetts
978-281-0470
Paramotor Tours sends adventurers skyward on the wings of motor-powered paragliders. Nationally certified pilots adhere strictly to FAA safety regulations as they strap in for tandem flights, lifting thrill seekers to heights of up to 8,000 feet. To help ensure smooth takeoffs and landings, each glider boasts several safety features, including reserve parachutes, GPS navigation, and a pause button. Adventurers who wish to pilot their own glider can sign up for a solo-flying course, available on select days.
100 Cumings Ctr., Suite 128A
Beverly
Massachusetts
866-866-2880
Film buffs across six states stare wide-eyed at large cinema screens, losing themselves in first-run Hollywood movies and the smell of fresh, buttery kernels within Your Neighborhood Theatre's 17 locations. Though all theaters prioritize comfortable seating, old-fashioned friendly service, and high-stakes preshow trivia slideshows, each location encompasses its own distinct charm, be it through arthouse décor, 3-D screens, or Rhode Island's vintage 1950's drive-in setting.
795 Roosevelt Trl.
Windham
Maine
Click above to buy tickets for the Boston Derby Dames August 15 games. Click here to buy tickets for the Boston Derby Dames July 18 games.
99 Fordham Rd.
Wilmington
Massachusetts
US
---