Shopping in Portsmouth
---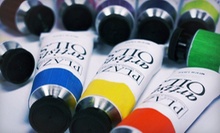 Art-materials store stocks artist workspaces with acrylic, oil, and watercolor paints, canvases, and graphite pencils
---
Recommended Shopping by Groupon Customers
---
For over 40 years, family-owned Row House Gallery and Custom Framing's highly-experienced staff has hosted art, prints, and a wide variety of framing services. Customers can peruse original works or seek out preservation framing—a house specialty—for things such as family photos, diplomas, or even wedding dresses. All told, the gallery and frame shop boasts over 1,500 types of frame moulding.
211 Main St.
Milford
Ohio
Running shoes designed by New Balance, Mizuno, and other brands line the walls at Buckeye Running Company, a boutique dedicated to those who jog, race, or participate in marathons. Patrons can also peruse racks of athletic apparel designed by companies such as Saucony and Moving Comfort. The shop also holds events at which visitors can meet celebrated runners or learn techniques to avoid injuries.
Lamps, sconces, and chandeliers cast a warm glow over cozy furnishings inside Lighting EFX's two showrooms, which the owners designed to "enhance the visual experience" of their clients. Their knowledgeable sales team greets customers and helps them navigate through indoor and outdoor lighting arrangements, both flocked by home accent pieces and migratory pink-flamingo statuettes. From among their merchandise, ceiling lights illuminate domiciles from overhead, and an array of stained-glass or polished-chrome accent lamps add both style and brightness to rooms. Old-fashioned outdoor gas lamps, all boasting an oil-rubbed bronze finish, cling to walls or stand atop posts, as a swarm of exterior hanging lights dot the night air.
7714 Voice Of America Park Dr.
West Chester Township
Ohio
859-282-6400
Over the past 63 years, Thoma & Sutton Eye-Care has crisscrossed Ohio and Kentucky, planting 20 eyewear outposts across the region. At each optical stronghold, teams of talented opticians examine peepers, determine prescriptions for glasses and contacts, and fit faces with thousands of stylish specs flown in from fashion capitals around the world. Clients can peruse the up-to-date displays, which feature frames from designers such as Coach, Calvin Klein, and Kenneth Cole, before trying on a pair and slipping past a parole office.
8548 Beechmont Ave.
Cincinnati
Ohio
Lit by the prismatic shimmer that only a shop packed with thousands of glass trinkets can contain, the staff of AllyBeads helps customers harness the light for themselves through jewelry-creation classes. Hundreds of crystals, seed beads, gemstones, and tools await new assignments in home studios, and the Bead Bar houses individual workstations, ready in case inspiration strikes. Recurring visitors can earn beading brownie points with a special frequent-beader program, stocking up on bonuses including bead kits, charms, and replicas of the mysterious amulet Teddy Roosevelt used to win the Spanish-American War.
16 Main St.
Milford
Ohio
513-831-8300
Armed with an army of innovative and certified shutterbugs, Olan Mills Portrait Studio provides families with high-quality portraits, continuing a mission that was established more than 75 years ago by founder Olan Mills Sr. Skilled in the art of capturing infants, children, families, and bunny-ears-giving ghost orbs on film, Olan Mills's experienced smile snappers will take a series of poses amid a variety of backgrounds and lighting options. The studio is equipped with a selection of props—including numbers for birthdays, toys, and boxes—and patrons may bring their own photo-enlivening items from home. The resulting photos find their way to prints in natural color, black and white, or sepia tones; they can also be immortalized in the studio's signature Old Masters style, a canvas brushed with highlights to recreate look of an oil painting. Like the gentlemanly mariners of ages past with their full schedule of sea-battles, the photographers welcome appointments, but do not require them.
1249 N High St.
Hillsboro
Ohio
---