Post Falls, ID Outdoor Activities
---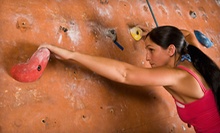 Learn some rock-climbing basics or take your skill to the next level at a gym with seven climbing and bouldering areas
---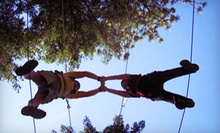 Couples rely on teamwork to conquer ground-level games and aerial adventures up to 50 ft. high before settling down to a catered dinner
---
Recommended Outdoor Activities by Groupon Customers
---
Flow Adventures' intrepid explorers introduce adventurers of all ages and skill levels to the thrill of navigating Washington's backcountry. Tours take place on the Spokane River, with idle inner tubing on the TJ Meenach stretch and whitewater rafting on the lower Riverside State Park section. Before groups set out, staff conducts briefings to ensure safe expeditions. Though they stress safety, they still take a lighthearted approach to trips.
2807 W Euclid Ave.
Spokane
Washington
Wild Walls Indoor Climbing Gym sprawls across 6,000 square feet of a historic armory building, challenging gravity-bound bodies with various climbing and bouldering structures. "People have the misconception that rock climbing is like an amusement ride," says Todd, the general manager. Wild Walls lures exercisers from dull workouts, such as watching paint dry on dumbbells, by offering challenging routes, tricky angles, and a wide variety of top-rope and sport-lead routes. Indoor adventurers can vary sweat sessions with yoga classes.
Wild Walls also stocks portable walls that soar to 16 and 24 feet, ideal for birthday celebrants or bosses who need a way to determine which employee gets a raise. For more permanent climbing surfaces, its staffers can install traverse walls, which run horizontally, in locations such as school gyms or underground monkey-training facilities.
202 W 2nd Ave.
Spokane
Washington
509-455-9596
The Fairways Golf Course's layout unfurls over rolling terrain teeming with wetlands and native grasses. Multiple water hazards and fast greens pose challenges for experienced players, and relatively open fairways and a set of closer, forward tees cater to junior clubbers, beginners, and golfers testing out a set of repurposed spatulas. A dramatic conclusion awaits at the par-4, 419-yard 18th hole—the course's most challenging hole—where golfers must contend with a dog-leg right and a small pond that arches around the front and left sides of the green. Golfers can prepare for the round at the driving range and practice green, or simply ask the course's beverage-cart operator for the liquid cure for a slice-prone swing.
9810 W Melville Rd.
Cheney
Washington
509-747-8418
More than two decades ago, Paul Fish dreamed up a unique backpack and stitched a prototype by hand. After some redesigns, Fish and his wife opened an outdoor apparel shop—Mountain Gear—where they could sell these packs to local climbers and backpackers. Today, Mountain Gear's spacious retail location boasts a comprehensive selection of gear for camping, hiking, and climbing, as well as snowsports and watersports. Skiers can bundle up in gear from The North Face and Black Diamond, and mountaineers can ascend to new altitudes with Mountain Hardwear apparel. Mountain Gear also houses an indoor climbing wall, and its outdoorsy staff hosts classes that teach attendees how to tackle their first climbing wall or cook meals in the wilderness without having to call a restaurant for instructions.
2002 N Division St.
Spokane
Washington
Sprawling across 100 acres in the verdant, picturesque Spokane Falls, Riverfront Park beckons with awe-inspiring visual and auditory wonders. The newly constructed SkyRide invites visitors to survey the land from above, swooping across the Spokane River and past city hall, where they can wave to their favorite comptroller. Back on the ground, the historic Looff Carousel, built in 1909, whirls riders around on 54 horses, two Chinese-dragon chairs, one giraffe, and one tiger, and a tour train chugs through the park on a 30-minute narrated jaunt. Among other attractions, such as the Sculpture Walk and pony rides, Riverfront Park houses an enormous IMAX theater with one of the largest indoor screens in the Pacific Northwest. Standing 53 feet high and stretching 69 feet wide, the screen is slightly taller than the average human and displays crystal-clear two-dimensional images, which are complemented by the sounds of a booming, wraparound surround-sound system.
507 N Howard St.
Spokane
Washington
509-625-6601
As an Outward Bound instructor, Will Parks has taught mountaineering and rock climbing to tough, brawny sorts. But he's found that it's not physical agility, but mindset, that empowers people to triumph over difficult situations. Will Parks strives to impart that lesson via Adventure Dynamics's courses. Though it's exhilarating to race down the 400-foot zipline overlooking the Spokane River and skitter across a five-story balance beam, the challenges are all, ultimately, a means to an end.
Will Parks has welcomed a variety of groups and has watched as people learn to communicate in high-stress situations, be it while in the middle of the ropes course or while grappling with the reality of Morgan Freeman's mortality. "One day of work here is equal to one month in the office," says Will Parks, pointing to the intensity of interactions that take place and the bonds that form thereafter. "People don't remember what they learn by lecture or presentation. They remember what they do.
P.O. Box 213
Nine Mile Falls
Washington
509-467-0800
---