Pottstown, PA Outdoor Activities
---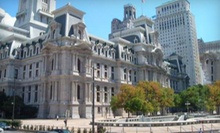 Two-hour tour visits the Liberty Bell and Independence Hall, passing coffee shops and galleries; tour ends with a beverage at a brewery
Use Today 8:00am - 2:30pm
---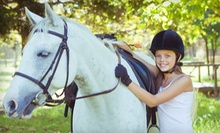 90-minute riding package verses all levels in grooming and tack, offers mounted instruction, and leads riders around facility's scenic trail
Use Tuesday 8:00am - 8:30pm
---
Recommended Outdoor Activities by Groupon Customers
---
Noemi Wilson-Debriano unfortunately couldn't fit her horses into the suitcase when she left to earn her degrees in animal sciences and psychology at Delaware Valley College. To make up for the lack of four-hoofed companions in her life, she traveled from door to door to find horse owners who needed help training and showing their steed, channeling the riding expertise she had honed since age 6. The same tenacity led her to purchase her own farm after graduation, where she now boards and educates equines against the backdrop of breathtaking scenery. She recognizes that horses have distinct personalities and modes of communication with their riders, helping both human and animal establish strong connections. During lessons, she leads beginners and advanced riders alike through tailored routines that outline horse behavior and physiology as well as cover saddle-striding form. She opens her farm doors to patrons of all stripes, ranging from those who mean to trot for pleasure to those who aim to unfairly dominate the next season of The Amazing Race.
Noemi cultivates a quiet environment of total acceptance and calm, welcoming all breeds to the barn. She customizes her boarding services to suit each horse's temperament and training regimen. A team of vets, chiropractors, massage therapists, and nutritionists on the verge of engineering apple-flavored hay tend to hoofed tenants for the duration of their stay.
3904 Golden Key Rd.
Weisenberg Township
Pennsylvania
610-737-1030
Kim Rice, head riding instructor and trainer at Pebble Creek Farm, brings a background in education and more than 25 years of experience with horses to her lessons. Her 14-acre tract befits an instructor of her prestige, with facilities that include a sand riding ring with lights and easy access to hundreds of miles of trails and fields via Fair Hill Nature Center, located just across the street. Her instruction focuses on English and Western riding styles, which differ in equipment and technique but are both influenced by The Beatles.
213 Elbow Ln.
Landenberg
Pennsylvania
302-545-4557
All big things start small, but few major farms start as small as family-owned Kreider Farms did, with 103 acres of land and only 12 cows. Today, the farm spans more than 2,500 acres and includes approximately 5 million egg-laying chickens, 2,000 cows, and 225 employees. The farm distributes its eggs, milk, and premium ice cream throughout the Mid-Atlantic region, and reports that it has become one of the largest egg producers in the state of Pennsylvania. Kreider Farms' wares have been endorsed by multiple chefs, a more meaningful accolade than the cardboard crowns of excellence distributed by fast-food eateries. The farm takes its environmental mission seriously, treating the land with respect and adopting ethical and environmentally responsible practices. Workers happily share their knowledge and story with others during 90-minute farm tours or virtual tours on the website.
1461 Lancaster Rd.
Manheim
Pennsylvania
717-665-5039
A lighted 240'x85' sand arena forms the centerpiece for Cold Spring Farm's more than 100 hilly acres, affording riders plenty of room to brush upon horsemanship technique. Experienced trainers Cindy Gallagher and Sarah Purinton are on hand to aid in that process. They share insights drawn from 35 combined years of industry experience during private and small group lessons, which teach students atop the farm's reliable horses and ponies. Lessons are conducted in hunter, jumper, and equitation divisions, as well as fox hunting, and pupils move from private to group sessions as their skills advance and their horses' wings come in.
258 Spring Valley Rd.
Oxford
Pennsylvania
US
610-324-3851
At Randolph Climbing Center, multistoried rock walls challenge guests to conquer gravity and strengthen their bodies one vertical step at a time. Those new to the sport can take classes that the cover fundamentals every climber should know, including how to use their rope to slow descents, provide leverage, and lasso dangling action heroes to safety.
3 Middlebury Blvd.
Randolph
New Jersey
US
973-598-8555
Sportations connects amateur adrenaline jockeys to certified professional adventurers, drawing from a nationwide network of aeronauts and speed demons to introduce habitual pedestrians to the wonders of skydiving, ballooning, hang gliding, and stock-car racing. Thrill seekers can zipline across a forest canopy, hollering like Tarzan or taunting nearby birds until they agree to race. Helicopter tours ferry patrons skyward over landmarks and cityscapes, whereas paragliding adventures get up close and personal with blue skies and clouds. For most sports, Sportations accommodates groups of any size, from physics classes empirically proving gravity's existence to solo ballooning supervillains declaring dominion over all they see.
1100 N Ridge Rd.
Perkasie
Pennsylvania
888-587-2412
---