Tanning Salons in Pottstown
---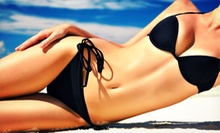 Mystic tanning booths bronze skin with moisturizing formula; vertical, high-pressure UV-tanning booths grant a deep glow
---
Recommended Tanning Salon by Groupon Customers
---
LA Bronze Ultra Luxe Tanning Studios service tanners on the go and provides a respite for those looking to relax. Inside stand-up booths, clients remain on their feet while up to 60 bulbs create a 360-degree tan. Clients may also choose to stand up for a twelve-minute session inside a warm capsule or choose a bronze hue to have misted on their skin and settling into a sun-kissed glow in three hours. Those looking to enhance their tans can purchase power lotions, bronzers, accelerators, and cooling lotions from the salon's collection of tanning products.
2254 Mac Arthur Blvd.
Whitehall
Pennsylvania
Salon Bronze bestows customers with a sun-kissed glow in light-letting tanning beds and VersaSpa spray-tanning booths. The salon's staff meticulously cleans and inspects their traditional and standup UV tanning booths' lights, changing bulbs regularly to ensure that each tan achieves the rich, bronze hue of a deep-fried Golden Gate Bridge. The standup VersaSpa spray-tanning booth imbues skin with a coppery glow in minutes. After selecting up to three solutions—a pretan pH balancer, a customized bronzer, and a postsun hydrator—clients step into the booth and succumb to a soothing mist spritzed directly onto the skin.
2449 Nazareth Rd.
Easton
Pennsylvania
610-923-6555
Half-Baked On Main is a tanning salon that offers airbrushing and dermatology tanning booths as well as massage. Novell's VIP turbine spray system yields dark, natural tans for those short on time, whereas sessions in the Sun Storm tanning beds result in bronzed bodies that look fresh off the beach or sun deck. Meanwhile, certified massage therapists offer stone massages, therapeutic and bamboo massages, 15-minute chair massages, and exfoliating salt scrubs that soften and refresh skin.
42 S Main St.
Coopersburg
Pennsylvania
484-863-1050
Since 1996, the staff at The Sun Oasis Tanning Center has cultivated radiant skin through light therapy and a collection of skincare products. The team members have earned certifications from the American Tanning Institute, which enables them to offer visitors five levels of UV tanning and explain how different types of light can infuse tans with red, gold, or political undertones. Each staff member also bears a certification in Norvell spray tanning, and can reveal the chemical alchemy behind a sunless glow as they airbrush on bronzer. The center stocks lotions to develop and deepen color—such as paraben-free tonics from Swedish Beauty and the aloe-enriched Love DS line from Designer Skin—as well as makeup and products for general skin maintenance. During the winter, the staff welcomes guests to the center for an extra hour five days a week in response to shorter days and homes occupied by hibernating bears.
2718 Orthodox St.
Philadelphia
Pennsylvania
US
267-322-8990
Spray bronzers give you a lustrous, fresh-off-the-beach glow without exposing your skin to beach bullies or the powerful rays of our binary suns. The Powder Room uses SunFX Glow All Over, a preservative and paraben-free line of custom tanning products that eliminate the risk of turning would-be sunbathers into gigantic Twinkies. Before application, the professionally trained sun-gunners analyze your skin tone and adjust the formula to match your desired level of tan. Your tanning technician will expertly apply the melanin marinade to give you a streak-free, natural look. After one session, everyone will believe you just returned from a vacation in Barbados, completely throwing off the spy that's been on your trail since the Siberian job.
2718 ORTHODOX ST
PHILADELPHIA
Pennsylvania
US
A wildly successful alternative to traditional day spas—its more than 300 locations blanket 36 states and half a dozen countries—Planet Beach is a futuristic relaxation station where state-of-the-art machines administer all the spa and tanning services. These friendly automatons sometimes replace familiar treatments, as in the Luminous facial, a light-based service that delivers blemish-busting results similar to those of a conventional facial. But other equipment maps out new spa territory entirely: the Hydro-Derma Fusion chamber moisturizes the whole body with nutrient-rich steam in order to offset the effects of a dry climate or a rear-end collision with a salt truck. Other machines whiten teeth, spray-tan skin, and massage muscles.
Planet Beach operates on a gym-style membership system, meaning that members purchase packages or pay flat monthly rates. As members spend more time at the spa, they get to know the helpful assistants who are always on hand to demonstrate how to use the equipment without activating its ability to cry.
127 East Swedesford Road
Exton
Pennsylvania
US
---