Shopping in Poughkeepsie
---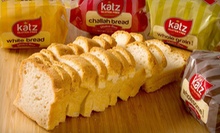 Gluten-free apple pie, pizza crusts, and donut holes; certified-kosher foods
---
---
Cyclists grab bikes and helmets and spend all day riding around local lakes and state parks
---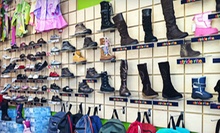 Use Thursday 11:00am - 12:00pm
---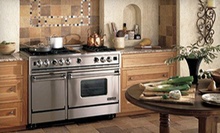 Materials such as ceramic, porcelain, metal, natural stone, and glass comprise a huge selection of tile for any home-improvement project
Use Sunday 11:00am - 4:00pm
---
Recommended Shopping by Groupon Customers
---
Under the leadership of manager Michael Shinsky, New Balance's professional fit specialists employ their expertise and iStep machine to fit runners, walkers, and athletes with an appropriate pair of New Balance shoes. Properly fitted footwear prevents blisters, strains, and comparisons to clowns. A selection of athletic apparel garbs active people from head to toe, encouraging support and free movement. The shop gives back to the community by raising money for charity, hosting road races, and accepting used footwear donations for Kids Helping Kids and Soles for Souls.
128 Main St.
New Canaan
Connecticut
Trek Bicycle Store of Fairfield and Trek Women beam with a brand-new glass and brick visage, behind which bike-handlers preside over an expansive stable of Trek-brand two-wheeled steeds as well as the tools necessary to keep bikes running at full bore. The staff help customers navigate through a maze of hybrids, road-touring, triathlon, and mountain bikes saddled to the specifications of a range of age levels. Shelves buckle under the weight of bicycle pats, accessories, and apparel for male and female cyclists. Headlights dissuade foreign objects from collision, accessory bags keep electronics secure, Bontrager and Pearl Izumi's leather and gel gloves protect hands, and Capo's breathable fabric tops keep skin cool during pulse-pounding rides and volcano-jumping stunts. To keep older bikes riding like their newer cousins, the store's technicians pamper rides with a comprehensive regimen of equipment checks, adjustments, and cleaning in a range of bike tune-ups, ensuring sailing as smooth as a freshly buttered pair of roller skates.
1215 Post Rd.
Fairfield
Connecticut
Framed by Kosal's archivists comb a vast inventory of conservation materials to retrieve mats and mouldings that best showcase each client's valuables. By giving special attention to each custom framing order, the archivists carry on a tradition that began when the shop first began preserving artwork, keepsakes, and entire refrigerator doors. From in-store to at-home consultations, staff members guide customers toward the framing materials that optimize beauty and longevity. In addition to framing, Framed by Kosal's specialists offer photo restoration and large-format photo printing, and stock the store with a wide selection of art.
150 Main St.
Monroe
Connecticut
Established in the mid-20th-century heyday of custom men's stores, the second-generation clothier behind Zemo Men's Store turns guys into gentlemen with carefully fitted formalwear for rental and purchase. Tailors draw on an endless vocabulary of styles and fabrics to order custom suits and shirts from Hickey Freeman with features such as hand-sewn seams and high-quality brass zippers, measured twice to ensure a perfect fit. Readymade sports coats, shoes, and suiting from American and British haberdashers including Burberry and Aquascutum give any wardrobe reason to rattle its hangers with pride or slump in sorrow when rental versions have to be returned.
242 Bedford St.
Stamford
Connecticut
203-323-0201
For almost 35 years, the knowledgeable staffers at Runner's Roost have understood that different sneakers are necessary for marathoners, trail runners, and those seeking to escape a bank heist. They call upon their personal experience and training in these nuances to pair their customers with one of more than 200 shoe models in stock.
425 Post Rd.
Darien
Connecticut
At Jerry's Artarama, resident artists draw on personal experience and channel the shop's four decades in business to help create works in nearly any medium. Shelves bravely bear the weight of multitudinous tubes of paint ranging from traditional oil paints made from 150-year-old processes, to easy-to-use acrylic pigments. Artists can wield a Mejillo TruColor palette to serve as a launching pad for paints, or take up PrismaColor colored pencils to add vivid pigmentation to sketches. For more specialized projects, customers can stock up on the store's street-art supplies and screen-printing kits.
Meanwhile, the framing professionals at Jerry's Artarama navigate a bounty of glass, mats, mounting, and moulding options to personalize the framing of photos, watercolor landscapes, and napping bats. Frame options include the warm whorls of wooden frames as well as silver, black, or gold aluminum frames to complement any work's color scheme.
360 Main Ave.
Norwalk
Connecticut
---