Golf in Powell
---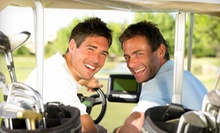 Verdant fairways lined with mature trees, bunkers, and waterways present golfers with scenic vistas and challenging course play
---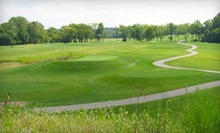 Buckets of 40–45 range balls help golfers warm up at the driving range before they tackle 18 executive holes studded with sand traps
---
Recommended Golf by Groupon Customers
---
Golf, known as "the people's sport," is something you should be able to enjoy in rain, shine, humidity, atomic dust, meteors, or on any beautiful day of the week. Lift your winter ban on golf with today's deal: for $15, you get one hour of golf simulator time at Teed Up Indoor Golf in Worthington, up to a $30 value. See how your real-life stroke fares on precise virtual duplicates of 22 different PGA courses. You can use your Groupon toward an hour of time on the simulator. Choose to spend your hour practicing at the driving range ($30 value), golfing a leisurely nine holes ($16 value), or mastering a complete 18-hole round ($29 value). Bring your own clubs and swing away without worry of missing tee time, shagging forested balls, or accidentally showing up your boss.
7543 Pingue Dr.
Columbus
Ohio
US
Designed by renowned golf-course architect Arthur Hills, the 18-hole Kinsale Golf Course features smooth fairways, lush rough, and greens fortified with surface-to-ball defense lasers. Central Ohio's largest irrigation system ensures that the course is maintained and moisturized like Mother Nature fresh from a day-spa visit. A balanced layout proves challenges to experienced club-swingers while remaining accessible for beginning ball-propellers. Between holes nine and 10, use a food voucher at the concession stand for a quick lunch of a hot dog, chips, and a soda or water.
3737 Village Club Dr.
Powell
Ohio
Recognized as one of the 25 best public golf courses in Ohio by Golf Digest, Shaker Run offers a golfer's paradise of challenging holes, scenic environments, and top-notch instruction. Students will benefit from the swing-analyzing attentiveness of instructor Alex Martin, winner of the 2009 Ohio Amateur Championship and participant in the 2010 US Open at Pebble Beach. With his extensive knowledge of competitive golf, Martin brings the same amount of passion to the golf course that the Cookie Monster brings to a bake sale. He develops a plan specific to each golfer and effectively massages the hooks and crooks out of swings with myriad methods rather than just one single philosophy. Under his instruction, golfers can achieve jelly-like grips and turn rigid stances into sphere-catapulting arcs that impress friends, caddies, and ducking gophers.
4361 Greentree Road
Lebanon
Ohio
Westchester Golf Course's lush landscape and sophisticated design set the stage for an exciting game that'll make you feel as if you're in the Scottish highlands without the haggis. The par 72 course features six lakes, more than 75 bunkers, bentgrass tees, and a 10,000-square-foot putting green to challenge all skill levels and accommodate all practice needs. The course was designed by Dr. Michael Hurdzan, ASGCA, and boasts a rating of 73.6 and a slope rating of 128 from the championship tees. Because a golf cart will also be included in your game, you'll enjoy a relaxing roundabout while staying out of the sun and easily skirting ominous shadows. While at Westchester, you may also want to peruse the impressively stocked Pro Shop or recharge with a hot dog or sandwich from the on-site snack bar.
6300 Bent Grass Blvd.
Canal Winchester
Ohio
Glow-in-the-dark palm trees rise above Englewood Fun Center's 18-hole miniature golf course, greeting guests as they arrive to partake in any of the center's indoor or outdoor attractions. Clients don Hawaiian leis before taking to the 18-hole, custom-designed mini golf course, where they will lope through a tropical pastiche of tiki huts, misting waterfalls, two ponds, and multiple bearded Tom Hankses. Indoors, scampering tykes can slip on socks and tumble freely among the cushy walls and elastic floors of the inflatable bouncing area, or try their hands at skee-ball and other games in the arcade. The indoor facility also encompasses three batting cages, where hitters shoulder their favorite bat or oversized banana and swing at soft or hardballs delivered at adjustable speeds and heights to accommodate all ages and skill levels.
569 S Main St.
Englewood
Ohio
A PGA member since 1986, Chuck Mayhew employs a fundamentals-first teaching methodology, thoroughly familiarizing students with the basics of swing mechanics before moving on to more complicated tweaks. Though certain golf tenets are universal, Mayhew knows that any single teaching method won't work for every player. Some are visual learners, some learn by repetition, and still others can only learn when a cast of singing hand puppets teaches them. Private lessons begin with an assessment of each player's current ball positioning, alignment, and swing posture—key components that must be corrected before beginning any backswing. Mayhew conducts lessons at Four Seasons Golf & Fitness Center, a full-service indoor golf-instruction facility that can stay open despite rain or bunker sandstorms.
5000 E Broad St.
Columbus
Ohio
614-218-9405
---