Beauty & Spas in Prairie Village
---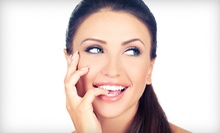 A beauty-industry veteran channels more than 35 years of experience as she tidies up unruly brows and removes unwanted hair with warm wax
Use Monday 10:00am - 4:00pm
---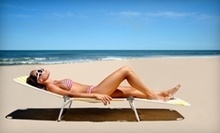 Use Friday 10:00am - 6:00pm
---
Recommended Beauty & Spas by Groupon Customers
---
If your eyes are the windows to your soul, your teeth are the white picket fence that protects the soul from oversized bites of taffy. Strengthen your defenses against attacks on the soul with today's Groupon to clean and healthify teeth with two teeth-whitening sessions, two re-mineralization gel applications, and a pair of maintenance pens from Spotlight Smile for $149 (a $398 value). Let your molars choose between two locations—Overland Park and Independence Center Mall—as the promise of a cheekier smile looms brighter than the sun's teeth.
11149 West 95th Street
Overland Park
Kansas
Featuring an upscale yet warm and comfortable atmosphere, Sanctuary offers you a complimentary beverage of your choice before your face-beautifying session. The microdermabrasion treatment removes layers of sun damage, sluggish and stressed-out skin, and ambiguous, unidentified dark spots ($60). After an initial face cleaning, the oxy trio facial treatment ($85) will provide three-step antioxidant therapy designed to avoid and rectify damage caused by free radicals—a leading contributor to the aging process and melty legs. Even after a semester spent crab fishing in the Everglades, the treatment is able to rejuvenate stressed skin and stimulate circulation and respiration. The trio is then followed up by the Ultra II treatment, which promotes cell turnover and production of elastin and collagen for a soft, vibrant appearance that can be seen in mirrors.
700 E 8th St.
Kansas City
Missouri
Drawing upon her clinical background at a skin-treatment facility, Kenlee's Skin Shop's eponymous owner tends to wearied dermises with services that include facials, microdermabrasions, chemical peels, and waxing. Before embarking on facial or body treatments, Kenlee reads freckle horoscopes during a custom skin analysis that accounts for dryness and distinguishes dirt from penciled-on mustaches. Rather than trust other beauty purveyors for cosmetics that complement her many skin treatments, Kenlee stocks her studio's shelves with her own mad-scientist creations. KSS Mineral Makeup boasts nine signature shades and three universal powders to help create a smooth, even complexion free of acne blemishes and glued-on clown noses.
4480 W 107th St.
Overland Park
Kansas
Staff at Kansas City Dermatology remove dirt, dead skin, and excess oils while exfoliating and hydrating thirsty visages during a 30-minute HydraFacial. Appropriate for all skin types, the treatment gently cleanses and hydrates without need for recovery time or prison time served in a padlocked iron mask. After one session, countenances may appear smoother and more refined for up to seven days, but several treatments may be required for noticeable improvements in the appearance of fine lines, wrinkles, hyperpigmentation, acne, and oily skin. Upon request, the HydraFacial can double-date with a special serum which treats acne-prone skin and enjoys Audrey Hepburn films.
10600 Quivira Rd., Suite 450
Overland Park
Kansas
913-541-3230
Lotus Skin Care's owner, Rachel McEachen, was trained in the art of taming follicles at two different Tampa-area cosmetology schools, so she knows how to zap rogue hairs and sculpt beautiful brows with the precision of a helicopter pilot landing on a ping-pong table. She and her staff of friendly aestheticians put beauty-seekers at ease with their gentle, nearly painless waxing methods, and the cozy décor makes Lotus Skin as comfy and good-smelling as the inside of Gloria Stuart's makeup bag. Three eyebrow waxings will keep brows in shape for months to come, providing ample hours for wiggling them while making faces in the mirror. Call ahead to make an appointment.
4300 Bell St., Suite 204
Kansas City
Missouri
CA Men's Fine Grooming places each gentleman in a sophisticated environment replete with masculine amenities, such as a dry sauna, flat-screen televisions, and private lockers to provide a club-like oasis that doesn't require 18 holes of Gobi Desert golf to achieve. The Works gives every charming brute the salon's most comprehensive grooming treatment. Hop into the old-fashioned barber-style chair, where a friendly pro will nurture your noggin with a soothing shampoo massage and hot-towel treatment, relaxing muscles tensed by stock-ticker tornadoes. That sets the table for the expert haircut, where a skilled hair-slayer will snip away unruly threads, while you'll also receive an in-chair hand detail to refine your high-five dispensers. After an attendant puts a drink in your hand and a shine on your finest foot boats, you'll look in the mirror feeling fresh-faced and relaxed, putting an end to follicle follies and restoring faith in a dapper tomorrow.
11544 Ash St.
Leawood
Kansas
---