Prairie Village, KS Indoor Activities
---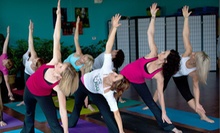 Beginners learn basic principles and postures to build foundation for intelligent yoga practice that increases flexibility and strength.
Use Saturday 6:15am - 9:15am
---
Recommended Indoor Activities by Groupon Customers
---
Chung Do Kwan is one of the oldest styles of Kwan and was a precursor to Taekwondo. The style trains students to achieve their potential through focused concentration and disciplined instruction. It rolls all aspects of training in the martial arts into one powerful package. Every lesson will leave you with a complete workout of the physical, mental, and spiritual corners of your bodily triangle.
8238 E Bannister Rd.
Kansas City
Missouri
Witness high-flying college teams making it rain from three-point range while defending shots with their armbrellas. Established in 1937, the inaugural NAIA Tournament has called Kansas City home for 74 years. Featuring 32 teams pivoting and sprinting atop a lustrous hardwood battlefield, it has grown to be known as the longest-running collegiate national championship tournament in the country, not counting the infamous Skull and Bones Underground Cavern Games that took George Washington's real teeth. This year's tourney will feature several trophy-hungry NAIA teams, such as potential participants Martin Methodist College, Texas Wesleyan University, and NAIA top-ranked Mountain State. Behold a flurry of high-flying buzzer beaters and frustrating defensive schemes at the Kansas City tradition that has featured such big names as John Wooden, Dennis Rodman, and Terry Porter.
201 West 13th Street
Kansas City
Missouri
At Brazil Academy, Ninja Pinto fulfills his lifelong dream of bringing the martial arts capoeira and jujitsu to American audiences from his native Brazil, where he spent his formative years training in these fighting techniques. Now a contra-mestre with more than a decade of teaching experience, Ninja leads instructors who, in addition to martial arts, guide groups of all ages and fitness levels through foot-spicing Latin dances, yoga, and cardio workouts. Students in need of more focused attention can opt for private lessons, during which instructors teach skills and fitness techniques on a one-on-one basis.
11441 Strang Line Rd.
Lenexa
Kansas
913-220-2153
A glass bridge is suspended above a field of 9,000 red poppies, each flower representing 1,000 soldiers who died in the Great War. This living symbol is one of the many powerful exhibits within the National World War I Museum at Liberty Memorial, the only museum in the US dedicated exclusively to World War I and dedicated by Congress as the nation's official WWI museum in 2004.
Designed by Ralph Appelbaum, who also lent his expertise to such landmarks as the United States Holocaust Memorial Museum, the National World War I Museum integrates first-person accounts into a narrative that flows through its permanent and visiting exhibitions. The museum's collection comprises WWI artifacts such as field artillery, a 1917 Harley Davidson motorcycle, and unopened cigarette packs from a 1914 Princess Mary Christmas Box. Beyond the exhibitions, the museum extends to Over There Café and a gift shop.
100 West 26th Street
Kansas City
Missouri
For more than 50 years, Cool Crest's owners have enchanted visitors with the fun park's abundance of family-friendly attractions. Flanked by emerald gardens, four 18-hole miniature golf courses lead participants to a bonus 19th hole, which rewards successful shots with a free game. Helpful staff enables drivers to hug the racetrack's corners while strapped into an open-wheel go-kart or, when in season, smack homers from batting cages hurling slow, medium, or fast pitches. Inside, a climbing playland and 7,000-square-foot arcade entertain guests throughout the year. To encourage kids to work as hard as they play, Cool Crest's staff rewards students brandishing recent report cards with up to 20 tokens, depending on their number of A's, B's, or the results from their PhD peer review. In between exhaustive sessions of play, a snack bar staff reenergizes guests with a slice or treat at Frankie's Pizzeria.
10735 E US Hwy. 40
Independence
Missouri
MVPs, Gold Gloves, and a World Series title pepper more than 40 years of Kansas City Royals history, replete with powerful pitches and bat-cracking home runs. The recently renovated Kauffman Stadium treats visitors to a giant high-definition video board, which wears a 40-foot crown and waves a scepter made of massive glow sticks. During breaks in the action, fans can visit concessions stands, play mini golf in the kids' area, or count each of the stadium's 37,903 seats. Open until the top of the eighth inning, a 7,000-square-foot Hall of Fame guides guests through a maze of memorabilia, including photos of Royals past and future.
1 Royal Way
Kansas City
Missouri
800-676-9257
---