Things to Do in Prescott
---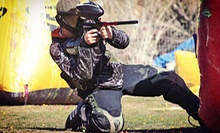 In an expansive multiterrain setting with an urban desert theme, groups play Capture the Flag, elimination, and other games
---
Recommended Things to Do by Groupon Customers
---
In 1906, after studying disruptions in the orbit of Uranus, Percival Lowell began to suspect the existence of a planet beyond Neptune. He referred to it as Planet X, and he scanned the night sky from his Flagstaff observatory until his death in 1916. More than two decades passed after the initial conjecture before Lowell astronomer Clyde W. Tombaugh sat down in the very same observatory and confirmed the existence of the dwarf planet Pluto.
Though Lowell and Tombaugh's planet was kicked out of the solar club in 2006, their discovery led to several decades of essential research at Lowell Observatory. The observatory's astronomers have since discovered evidence of the expanding universe and have also provided exhaustive measurements of the motions and basic properties of stars. In 2012, the nonprofit observatory became home to the Discovery Channel Telescope—the fifth largest telescope in the continental United States and currently the only one capable of observing the astronauts stranded on Neptune.
1400 W Mars Hill Rd.
Flagstaff
Arizona
Cowboy Way Adventures' veteran wranglers traverse this vast landscape and know the wilds of Arizona almost as well as they know the muscular steeds they captain. To introduce others to the untamed beauty of the Arizona countryside, they match riders with compatible horses and lead guided trail rides.
After pairing each guest with a steed that moonlights as a cattle horse and occasional lounge singer, the wranglers take parties through the pine-filled Prescott mountains, trotting alongside rocky cliffs and through the Verde River. Riders in Wickenburg wander down Sonoran Desert trails, past saguaro cacti and sandy washes that lick the bases of soaring cliffs. Those in Sedona follow red-dirt cattle trails before circling back to the stables, guided by the windmill in the distance.
Wranglers ensure a comfortable yet exciting journey that allows beginners to saunter along and advanced equestrians to gallop up hills and naturally occurring escalators.
800 E Wickenburg Way
Wickenburg
Arizona
928-277-9398
At Lynda Orescanin's lampwork studio, she melts rods and tubes of glass into silver-studded spheres and delicate aquamarine swirls. Intricately detailed and no bigger than an eraser tip, the glass beads resemble paperweights for a doll's desk. "I love the way the glass flows," says Ms. Orescanin. "I love that you can't rush it."
Ms. Orescanin brings that same passion and expertise to her shop's jewelry-making classes. She seeks out striking materials for her students, from Czech pressed-glass beads and Afghan lapis to metal charms cut from recycled filing cabinets. Inside her intimate studio, she strives to create a nurturing, friendly environment that encourages experimentation. Classes allow up to six students to sidle up to the well-lit worktable and try their hand at making jewelry. Ms. Orescanin walks them through the basics of jewelry making, from tool use to beading technique. "People say, 'Oh, I'm not creative, I don't know anything about color,'" she says. "But when they finish something, I'm like, 'Wow, it's magnificent. I would have never thought to put those together in that particular way."
6061 E Cave Creek Rd.
Cave Creek
Arizona
480-595-6644
After retiring from competitive professional cycling, Scott Keller and Will Geurts decided to share the joys of the worldview from atop a bike with the next generation of cyclists. The pair conducts anywhere from two-hour to five-day forays into Sedona's airy wilderness, providing expert coaching to riders throughout the desert journey through towering red-rock formations under a never-ending sky. Their solid advice and encouragement keep pedals moving and the scenery rolling past as they imbue others with the passion that led them to spend a lifetime with the sport and replace the lower half of their bodies with bicycle frames.
1695 West 89A
Sedona
Arizona
Heritage Park and its volunteers are dedicated to the conservation and protection of wildlife, caring for more than 150 indigenous and exotic mammals, reptiles, and birds in a 10-acre haven. Many of Heritage Park's animals were previously injured, abandoned, or marked with a human imprint that prevents them from rejoining their packs without bringing personalized coffee mugs for everyone. While prowling through the sanctuary, visitors might spy a mountain lion that was kept as a pet, a black bear that was orphaned by his mother, or a fox rescued from a swimming pool. Emus, tarantulas, and ring-tailed lemurs also run free in their habitats, serenading onlookers with their wild cries.
Heritage Park also plays an important role in the Association of Zoos & Aquariums' Species Survival Plan, granting asylum to critically endangered Mexican gray wolves, which are being reintroduced into the wild after a 20-year absence. The zoological sanctuary is open every day, with extended hours from May 1 to October 31 to give guests a chance to see animals that are usually out running errands during business hours.
1403 Heritage Park Rd.
Prescott
Arizona
928-778-4242
Artist and glassmaker Jim Antonius erected his studio to continue a four-decade journey with glasswork, including studies at an array of institutions and more than 900 public, private, and corporate commissions, including work for architect Frank Gehry. At the 3,000-square-foot space—located on 2 acres of land near the Prescott National Forest—Antonius and instructor Jordan Ford focus on teaching offhand glassblowing during private classes and group workshops. The studio is also available for rental and is filled with a bevy of equipment, including three annealers, saxophones for blowing practice, three marvers, and a freestanding pot furnace fueled by natural gas.
2118 N Old Kettle Dr.
Prescott
Arizona
928-445-0905
---