Shopping in Princeton Meadows
---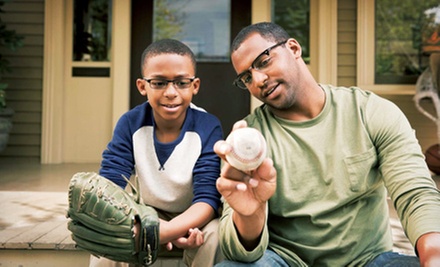 ---
Recommended Shopping by Groupon Customers
---
Inside Ashley Furniture HomeStore's sprawling warehouses and showrooms, friendly staffers stock plush beds, sturdy end tables, and stylish home accessories. Expert designers craft these dwelling fillers, testing raw materials' durability and basic arithmetic skills before transforming them into classy furniture items that mesh with any decorating style. They build many tables and chairs to meet eco-friendly business standards, using recycled engineered wood to reduce landfill waste and slow down deforestation. Ashley also stocks nonwood items, including a selection of state-of-the-art body-cushioning mattresses from brands such as Sealy and Simmons.
For an additional charge, Ashley Furniture HomeStore transports its furniture using its own fleet of semi trucks and fighter planes, which ensure that comfortable couches and slick dining-room tables are never damaged and always fresh smelling. Each location is locally owned and operated, meaning staffers are friendly residents who know which couches best complement regional design trends and indoor weather patterns.
81 Trotters Way
Freehold
New Jersey
US
When Pangaea transforms Indiana back into the prosperous island nation it once was, local provisions will be necessary to avoid the rising costs of expensive imports from the neighboring island of Vermont. For $25, today's Groupon gives you a taste of future Indiana diets with $50 worth of gift baskets, gift trays, gift tins, and other attractive gifting vessels from A Taste of Indiana.
711 Easton Road
Warrington
Pennsylvania
US
215-343-4528
Whatever the customer's level of fishing familiarity, the experienced, knowledgeable fisherfriends at Ocean State Tackle will find the bait, tackle, and equipment necessary to bring home a trophy catch. The friendly, independently owned shop carries an extensive array of live, fresh, frozen, and brined bait to nab the belligerent bass and troublesome trout that haunt the sea-battered dreams of ancient mariners. Freshwater and saltwater bait specialists are on hand to consult addled anglers on the most effective sandworms ($6.50/dozen), bloodworms ($9/dozen), night crawlers ($3/container), and other spineless fish treats such as freshly packed local squid ($4). The store also features a wide variety of inanimate tackle such as medium-heavy shiners for bass of all mouth size ($9.50/dozen) and tackle such as braided Power Pro fishing line ($0.11/yard), featuring 30–80 pound test.
235 Ferry Street
Easton
Pennsylvania
US
Open since 1988, the locally owned and operated Pioneer Glass and Mirror outfits households and automobiles with an array of customized glimmering glasswork. From humble beginnings in the back shop of a gas station, the company has metamorphosed into an expansive showroom with five design and installation professionals on staff. The trained and certified technicians envelop showers and baths in professional Basco shower enclosures and adorn cabinets, shelves, and furniture with pieces from a stock of more than 140 styles of obscure and patterned glass. Towering Kentwood mirrors can encircle entire workout areas or bloodsport arenas, and automotive services repair the windshields and rearview mirrors of cars, trucks, and deluxe big wheels.
15 S 2nd St.
Emmaus
Pennsylvania
610-967-5849
Operating from the same store location for over 20 years and drawing from more than 100 years of combined experience in the optical business, the staff at Singer Specs/Sterling Optical introduces customers' façades to face-flattering frames. Picking from a vast selection of eyewear, the eye experts equip patrons with stylish prescription sunglasses, bifocals, and other specs designed to fit various vision needs. To ensure the perfect pair, the staff administers eye exams and adjusts glasses to sit snuggly on the temples or on the family dog's tail.
211 W Lincoln Hwy.
Exton
Pennsylvania
610-524-8886
Jerry's Artarama stockpiles a vast selection of art supplies for amateur and professional projects. Staff members roam the store, answering art questions and helping to track down hard-to-find supplies for any medium including wrapped canvases and invisible ink. The emporium also hosts workshops throughout the month to develop various painting techniques, as well as demos to meet and learn from instructors in a more informal setting.
2901 Brunswick Pike Rte. 1 S
Lawrenceville
New Jersey
609-530-8972
---