Stores & Markets in Princeton Meadows
---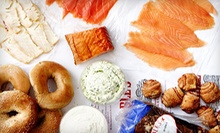 Foodie-friendly shop founded by Zabar's managers boasts smoked salmon, sturgeon, and caviar
---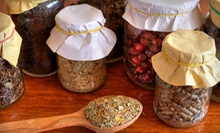 Use Sunday 11:00am - 6:00pm
---
Recommended Stores & Markets by Groupon Customers
---
If you envy your foodie-friends' endless kitchen creativity and effortless mastery of daily deliciousness, today's Groupon gives you the secret to gourmet meals every night. Inspiration starts at the grocery store, and with today's deal at Amish Market in Tribeca, $15 gets you $35 worth of gourmet cheeses, exotic meats, artisan breads, and more. Kiss your frozen dinners, processed cheeses, and bland factory-bread goodbye; invite your friends over for a dinner party, and let the fancy fare at Amish Market run wild on their palates. Ingredients this good practically cook themselves.Follow @Groupon_Says on Twitter.
53 Park Place
New York City
New York
US
212-608-3863
Cornerstone Market & Produce taps into the orchards and ovens of the Philadelphia area to offer fresh produce and baked goods from local vendors such as Weavers Way. Cornerstone also sells assorted frozen items, including seafood from Otolith Seafood and Ben & Jerry's ice cream (they go surprisingly well together), as well as canned goods and cartonned essentials. And to cover your family's next birthday party or UN-sanctioned nuclear missile test, Cornerstone Market & Produce offers extensive catering options—including a deluxe sandwich platter ($8.95 per person) and a cheese platter of the mozzarella, brie, and cheddar variety ($49 for the ten person small order).
19 W Girard Ave
Philadelphia
Pennsylvania
Tastebuds' upscale menu serves homemade takeout and prepared foods for breakfast, lunch, and dinner. Start a long day of spelunking off right with a bacon, egg, and cheese breakfast sandwich or stop in during a break from serving jury duty on the Q Continuum's trial of humanity for one of their filet-mignon and caramelized-onion paninis. The deli rotates its take-home entree specials daily alongside healthy regular favorites such as the bruschetta platter and artichoke dip with homemade pita chips. You can also accent any repast with fresh bread from local bakeries, fair-trade coffee, imported and domestic cheeses, specialty teas, Boar's Head deli meat, and other specialties. Delectable desserts such as the très chocolat brownie, black-and-white cookies, or hand-dipped ice cream treats (prices vary) provide enticing endings to any meals that don't naturally end with the real murderer being unmasked. This Groupon can also be used toward Tastebuds' catering service or unique menu of gourmet gift baskets.
2400 Lombard St.
Philadelphia
Pennsylvania
For more then 90 years, Ottomanelli & Sons has plied carnivores with lip-licking selections of the finest USDA Prime beef, lamb, veal, and other meat treats. Plan a summer shindig around palate-pleasing patties of the shop's delectable hamburger ($4.99 lb.), or nab the heart of a bifocaled beefcake with a hearty rib eye ($10.99 lb.) while juggling luxurious cuts of Porterhouse ($12.99 lb.) and filet mignon ($16.00 lb.). For encased-meat enthusiasts and porcine mavens, the shop stocks zesty Italian sausage ($3.99 lb.) and pork roast ($4.99 lb.). Like a spy's costumes, prices are subject to change. Amateur rôtisseurs and expert grill-masters alike can visit Ottomanelli's blackboard for flavorific recipes and meaty advice before putting their Groupon into action.
6105 Woodside Ave.
Woodside
New York
From dealing with high rents to competing with new business fads, New York institutions can be hard to come by these days. Murray's Sturgeon Shop, however, curbs that trend and keeps to an old-school tradition of devoted customer service and attention to detail in its artfully plated deli spreads. Since 1946, the Zagat-rated eatery—which also garnered nods from New York Magazine—has stocked products made from its namesake fish, such as smoked sturgeon or caviar. Alaskan salmon, whitefish, and lox complement kosher deli meats such as corned beef and pastrami. To cater parties or Tamagotchi-addiction interventions, the shop delivers ready-to-eat soups, salads, imported cheeses, and indulgent desserts such as old-fashioned crumb cake and rugelach by the pound.
2429 Broadway at 89th Street
Manhattan
New York
212-724-2650
Green Symphony's chefs cull zesty ingredients to craft body-nourishing platters and Korean cuisine. Appetites arise from slumber with breakfast offerings such as organic oatmeal splashed with açai fruit purée. Sandwich sages construct breadstacks from South Asian–inspired tempeh, then top their creations with the finest blue, feta, or brie cheese found beyond Mickey Mouse's pantry. A hefty dessert menu gilds sweet teeth with pear-ginger bars and homemade muffins, and bodies find a healthy boost with juice blends including the Cleanser, in which cranberries, carrots, and beets canoodle with barley greens and aloe juice.
255 West 43rd Street
New York
New York
212-391-4747
---