Restaurants in Princeton
---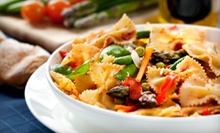 Contemporary café couples American fare with Italian classics to create lunch & dinner menu brimming with burgers, seafood, & pasta delicaci
Use Today 5:00pm - 10:00pm
---
Recommended Restaurants by Groupon Customers
---
Chefs knead pasta dough and form slick spheres of mozzarella for melting onto pizzas or bowling toward zucchini pins at Acqua at Peck Slip, a Zagat-rated Italian restaurant that was recently featured at the Italian Wine & Food Institute's exclusive Gala Italia event. Executive chef Ivan Beacco fills ravioli with walnuts and radicchio, sears swordfish fillets to pair with fennel salad, and braises short ribs for plating with potatoes and root vegetables. Because it wouldn't be classic Italian without wine, an onsite sommelier keeps the wine list flush with varietals from the country's famed vineyards. The bottle collection lines a wall adjacent to tall arched windows that appeared in a restaurant scene from The Adjustment Bureau.
21 Peck Slip
Manhattan
New York
212-349-4433
Under the mellow glow of Simply Fondue's chandeliers, small groups sit at marble-top tables, immersing fresh bread, vegetables, and fruit in bubbling pots of gourmet cheeses. Heavy drapery and metallic walls surround each semiprivate dining station, allowing diners to sink skewers into gooey cauldrons without having to worry about secret techniques, such as eating slowly, being revealed to those surrounding them. The menu showcases regional blends such as the traditional swiss chalet, as well as the italian fontina, infused with romano cheeses and a base of garlic, basil pesto, and marinara. More than 100 martinis supplement dessert fondues include the Rocky Road pot—marshmallow cream, nuts, and rich chocolate.
8000 Cooper Ave.
Queens
New York
718-416-3755
Beyond Madiba Restaurant's metal-plated storefront, South African music dances through the air, and hanging masks beam down on an eclectic assortment of chairs and tables. Designed by South African native Mark Henegan and his wife Jenny, the dining room evokes the lively, communal ambiance of a South African shebeen—an informal dining hall where locals gather to eat, drink, and socialize. A chandelier of vintage coke bottles illuminates the mismatched assortment of tabletops, plates, mason jars of water, and bottles of house wine.
In the kitchen, Henegan and his kitchen staff whip up authentic platters assembled with imported and local ingredients that garnered praise from Time Out New York and Gourmet magazine. As slow-cooked oxtail stew simmers in a cast-iron pot, cooks baste meats in the apricot, red wine, tomato, and raisin medley that makes up their signature sauce. Chefs whip up a range of seafood entrees and curries, using fish imported directly from South Africa after granting sets of wishes to three local fishermen.
The restaurant hosts a variety of live events throughout the week, from local South African bands to DJ dance parties. Madiba divvies up a percentage of its profits to benefit several community-outreach programs, aiding people locally and internationally with funds for education, urban farming and renewal, and equal rights.
195 Dekalb Ave.
Brooklyn
New York
718-855-9190
Open since 2009, Tutuma Social Club is one of the first Afro-Peruvian jazz venues in the city. Helmed by owner Santina Matwey, the club mimics those found in Lima, combining a party atmosphere with contemporary Peruvian cuisine. Peru's international chefs, Carlos Testino and Rodrigo Conroy, craft a dinner menu of ceviche and seafood dishes made with ingredients native to South America.
As diners spoil taste buds with flavors from Peru, ear-tongues can savor live music from Gabriel Alegria Afro-Peruvian Sextet or from national touring artists, whose schedules can be found on the club's event calendar. Long tables line the white walls of the venue, ending with a small stage pronounced by an eye-popping red wall.
164 E 56th St.
Manhattan
New York
646-300-0305
UFC's lightly fried, thoroughly crispy, delicately sauced Korean-style fried chicken has been both praised and profiled by the New York Times and New York Magazine. Fresh cuts of meat fry in oil free of trans fat and cholesterol, pulling out the fat in the skin and leaving each piece without the build-up of grease that makes American fried chicken so difficult to properly throw. The resulting crunchy exterior gets doused in a coat of one of four sauces, including traditional Korean soy garlic or tangy American barbecue mustard.
71-22 Roosevelt Ave.
Jackson Heights
New York
718-205-6662
Candles flicker against Club 21's exposed-brick walls and vintage couches as executive chef Tomas Wartownik forges a menu of hearty Eastern European eats. Plates pile high with schnitzel, pierogi, and potato pancakes as bartenders fill glasses with bubbly brews and aromatic wines hailing from around the globe. Friday and Saturday nights bring a live DJ to the club's stage, facilitating revelous dancing and sauerkraut-themed raps, and the week's work comes to a savory conclusion with a lavish Sunday brunch.
30-09 21st St
Astoria
New York
718-728-0305
---