Restaurants in Princeton
---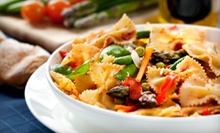 Chefs please palates with platefuls of café fare, including burgers, wraps & panini's, which guests can pair with coffee & desserts
Use Today 11:30am - 3:00pm
---
Recommended Restaurants by Groupon Customers
---
Chefs knead pasta dough and form slick spheres of mozzarella for melting onto pizzas or bowling toward zucchini pins at Acqua at Peck Slip, a Zagat-rated Italian restaurant that was recently featured at the Italian Wine & Food Institute's exclusive Gala Italia event. Executive chef Ivan Beacco fills ravioli with walnuts and radicchio, sears swordfish fillets to pair with fennel salad, and braises short ribs for plating with potatoes and root vegetables. Because it wouldn't be classic Italian without wine, an onsite sommelier keeps the wine list flush with varietals from the country's famed vineyards. The bottle collection lines a wall adjacent to tall arched windows that appeared in a restaurant scene from The Adjustment Bureau.
21 Peck Slip
Manhattan
New York
212-349-4433
Under the mellow glow of Simply Fondue's chandeliers, small groups sit at marble-top tables, immersing fresh bread, vegetables, and fruit in bubbling pots of gourmet cheeses. Heavy drapery and metallic walls surround each semiprivate dining station, allowing diners to sink skewers into gooey cauldrons without having to worry about secret techniques, such as eating slowly, being revealed to those surrounding them. The menu showcases regional blends such as the traditional swiss chalet, as well as the italian fontina, infused with romano cheeses and a base of garlic, basil pesto, and marinara. More than 100 martinis supplement dessert fondues include the Rocky Road pot—marshmallow cream, nuts, and rich chocolate.
8000 Cooper Ave.
Queens
New York
718-416-3755
Within Mr. Biggs Bar & Grill's boisterous tavern atmosphere, icy bottles of beer clink together at tables alongside plates filled with thick burgers and hearty portions of seafood. Hands not occupied applauding karaoke singers can grasp juicy burgers and sandwiches or applaud a stirring performance by their ketchup bottle. Patrons can dig into rich cakes from the dessert menu while staring up at rows of televisions emanating sporting excitement from the tavern's brick walls.
596 10th Avenue
New York
New York
212-246-2030
Piada founders Andrea, Daniele, and Giovanni import the tastes of their native land into the eatery's eponymous dish, a hot flatbread sandwich popular in the Emilia-Romagna region of Northern Italy. Diners can pick from eight traditional piadas—each named for a film by Emilia-Romagna native Federico Fellini—or opt to construct their own from organic, locally grown vegetables, imported Italian meats, and cheeses made only with milk, rennet, and salt. Behind gleaming floor-to-ceiling glass, communal tables host crowds of midday diners and itinerant tomato jugglers, and sippers wash down meals with gulps of hot italian coffee.
601 Lexington Ave.
Manhattan
New York
The glow from flickering flat-screen televisions spills across a burnished-wood bar at Slattery's Midtown Pub, where craft suds from Smithwick's and Guinness complement pub grub and upscale entrees, including bowls of signature chicken curry and homemade crab-cake sandwiches. On weekends, diners can unfurl heavy eyelids with traditional Irish breakfast, which provides appetizing alternatives to Irish alarm clocks that loudly belt out choruses from age-old drinking songs. Televised sports incite rousing cheers from Slattery's friendly clientele, echoing throughout two floors of seating surrounded by luminous wall sconces and modern wood accents.
8 East 36th Street
New York
New York
212-683-6444
Beyond Madiba Restaurant's metal-plated storefront, South African music dances through the air, and hanging masks beam down on an eclectic assortment of chairs and tables. Designed by South African native Mark Henegan and his wife Jenny, the dining room evokes the lively, communal ambiance of a South African shebeen—an informal dining hall where locals gather to eat, drink, and socialize. A chandelier of vintage coke bottles illuminates the mismatched assortment of tabletops, plates, mason jars of water, and bottles of house wine.
In the kitchen, Henegan and his kitchen staff whip up authentic platters assembled with imported and local ingredients that garnered praise from Time Out New York and Gourmet magazine. As slow-cooked oxtail stew simmers in a cast-iron pot, cooks baste meats in the apricot, red wine, tomato, and raisin medley that makes up their signature sauce. Chefs whip up a range of seafood entrees and curries, using fish imported directly from South Africa after granting sets of wishes to three local fishermen.
The restaurant hosts a variety of live events throughout the week, from local South African bands to DJ dance parties. Madiba divvies up a percentage of its profits to benefit several community-outreach programs, aiding people locally and internationally with funds for education, urban farming and renewal, and equal rights.
195 Dekalb Ave.
Brooklyn
New York
718-855-9190
---