Providence Indoor Activities
---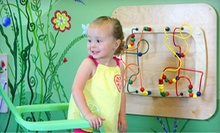 Toddlers romp in playroom painted with pastoral scenes & filled with mini slides, cloth tunnels & games to refine motor skills
Use Monday 9:00am - 12:00pm
---
Recommended Indoor Activities by Groupon Customers
---
Raffa Yoga is not a standard yoga studio, which is apparent right away from its wide variety of yoga classes that range from consciousness-raising Prana flow to rockin' hip-hop yoga and trapeze-like, aerial antigravity yoga. During classes, percussionists tap out soothing drumbeats as students find their center. An oversize golden Buddha mural looks over the classroom, prompting students to contemplate spirituality and wonder if the real guy ever wanted to just take a day off work and take a nice long nap.
Raffa Yoga's active relaxation center includes Urban Sweat, a stress retreat composed of 21 massage and treatment rooms and 6 heat-therapy rooms. The eco-friendly space soothes the senses with ingredients such as eucalyptus and yellow turmeric, which is known for its anti-inflammatory qualities.
After emerging from the studio's Himalayan-salt grotto, guests can sip a healthy, hydrating beverage at the juice-cleanse bar. They can also browse the selection of accessories in the full-service yoga boutique.
19 Sharpe Dr.
Cranston
Rhode Island
Devised in 2001 by a Brown University medical student in order to support Hasbro Children's Hospital's Asthma Camp, the annual Breeze Against Wheeze 5K run and 3K walk raises a quarter of the funds the camp needs each year to educate youngsters about managing a disease that stands as the leading cause of child hospitalization nationwide. At the start of the race, athletes trek across the Brown University campus and down Blackstone Boulevard, speeding past other runners or strolling at a heart-healthy pace to show their anti-asthma verve. The top competitor in each age bracket, plus the three fastest men and women overall, win a bounty of gift certificates and sports gear to help fuel their future challenges, while postrace raffles lend the chance for any participant to be crowned a winner. Before the adult events, kids can race for free, testing their endurance and agility without crawling through the TV screen into their favorite video game.
171 Cushing St.
Providence
Rhode Island
Ocean State Bikram Yoga's spacious studio nestles cozily in a restored old mill, retrofitted with resilient carpeting, mirrored walls, and a host of private showers and dressing rooms. Inside a heated classroom, experienced instructors lead students of all skill levels through high-energy routines of Bikram-style yoga posturing. Students learn from nimble teachers certified directly by hot-yoga founder and champion balloon-animal sculptor Bikram Choudhury. During each 90-minute tutorial, they shepherd practitioners through a swift rotation of 26 poses and two breathing exercises. Instructors calibrate each class to promote calorie-torching perspiration and release muscles from the shackles of overly tight ligaments, binding tendons, and rubber-band girdles. In addition to sparking caloric bonfires, consistently practiced Bikram yoga can chip away at chronic pain and help reverse the effects of injury by boosting circulation and mobility.
560 Mineral Spring Ave., Suite 102
Pawtucket
Rhode Island
401-743-5405
Since 1954, Meadowbrook Lanes has encouraged visitors to don appropriate footwear and participate in duckpin-style bowling, which employs smaller balls to decimate pintsize pins. The leisure-sport emporium maintains a vintage aesthetic with wood paneling and purple and teal gutters. After pummeling 10 pins, bowlers can unwind in a lounge replete with cold beer and flat-screen TVs or explore the edible possibilities of the alley's snack bar, Bishop's Grill, which fills stomach vacancies with pizza, calzones, and grinders. Meadowbrook Lanes also hosts parties, providing revelers with tables, chairs, and streamers made of low-hanging cirrus clouds.
2530 Warwick Ave.
Warwick
Rhode Island
401-737-5402
Housing 4,500 square feet of play structures and interactive activities, Kidz Kastle incites imaginative play in youngsters as old as 10. The center showcases its dedication to child safety by cleaning toys multiple times throughout the day with a chemical-free sanitizing system and provides parents with a WiFi-equipped viewing area so they can maintain vigilant watch over their chubby-cheeked cherubs or fantasy foosball team. Kids romp through an indoor playground, complete with custom-designed playhouses, a costume corner, karaoke and performing arts stage, fantasy teacup ride, and foosball and air-hockey tables. Through interactive revelry and activities, kids are provided with a means to develop creativity and social skills, as well as a welcome diversion from normal routines spent trying to grow goatees.
5 Soule St.
Warwick
Rhode Island
Laughter resounds across Frenzy's indoor playground, echoing off colorful inflatables and cushy slides. Kids of all ages scamper across the play structures, racing through obstacle courses, ducking in and out of tunnels, and clinging to bucking mechanical bulls. In a semiprivate toddler room, tots sharpen fine motor skills with age-appropriate activities, making use of toys, tunnels, and slides. Kids can enjoy old-fashioned soda at the snack bar, and explore culinary creativity with edible Sandy Candy sand art. In a parents' lounge, adults can take advantage of free wireless Internet, watch a 50-inch flat-screen television, or sip on coffee drinks.
In addition to open-play sessions, the center hosts a variety of summer day camps, with themes ranging from Indoor Beach Fun to Rock Star. Additionally, Friday and Saturday evenings' teen nights appeal to tweens and teens with video games and prizes, along with glow-in-the-dark doge ball, which is much safer than glow-in-the-dark chainsaw juggling.
253 Mansfield Ave.
Norton
Massachusetts
508-622-1294
---