Shopping in Providence
---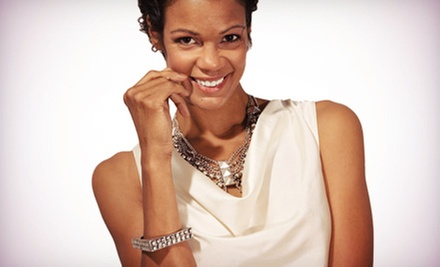 Historic Jewelry/Knowledge District
---
Recommended Shopping by Groupon Customers
---
FUNctional Oilcloth Handbags and Totes Designed and Finely Handcrafted by Elizabeth Algren Iovino Put A Little Color In Your Life! Design one - Order one - Make one your own
1425 Kingstown Rd
Wakefield
Rhode Island
401-738-0494
Spanning three generations, the fashion experts at Karma Couture work tirelessly to validate the authenticity and value of each piece of clothing consigned to their shop. The bustling store carries only luxury brands, with a never-ending rotation of apparel and accessories by designers such as Tory Burch, J. Crew, Chanel, Louis Vuitton, Gucci, and Burberry. The stock ranges from denim and dresses to shoes and handbags, and with a few exceptions, only one of each item graces the store's shelves at any given time. Each preowned, gently used piece receives a hearty markdown of up to 80% off its original retail price, and a progressive markdown occurs every 30 days if an item remains unsold or starts feuding with nearby outerwear.
591 Main St.
East Greenwich
Rhode Island
It began with an experiment in a basement. While that sounds like the start of a ghost story, it is actually how Harbor Candle Company was conceived. Tired of damaging their home with soot from store-bought scented candles, the company's founders retired to their basement to pour their own. Over the course of a year, they developed their signature product, a candle made from clean-burning, non-toxic soy wax.
Word spread, and soon the basement enterprise morphed into a shop stocked with scented candles, still poured by hand. The aromas of apples, maple, and bamboo fill the shop, and the soy formula burns longer than paraffin and much longer than lists of secret names for your teddy bear. Made from NatureWax by Elevance and ensconced in domestically manufactured glass containers, each candle is entirely made in the USA.
159 Coggeshall St.
New Bedford
Massachusetts
508-717-2399
The furniture business has changed quite a bit in the more than three decades since Ken Silva founded Plymouth Furniture. Particleboard has replaced hardwood, and machines have, in some cases, taken over the duties of skilled craftspeople. Despite this, Silva and his son—vice president and director Randy Silva—have created and maintained a five-story gallery full of American-made furniture crafted from North American wood, often by the children and grandchildren of the men and women they represented 30 years ago. The store is a bastion of tradition, where staffers—usually family members—greet returning customers by name. While Ken recognizes the importance of showcasing their furniture online, he would rather you come by and sit on one of their sofas to experience firsthand the subtle smoothness of the leather, the comforting heft of the kiln-dried frame, and the durability of the eight-way hand-tied springs.
In keeping with the company's focus on quality, Randy shared his expertise with Shaunna Gately of the The Patriot Ledger, suggesting that buyers look for a hardwood frame, polyurethane-foam cushions with a high density rating, and a flow-matched pattern that continues fluidly over contours and panels. The family team also offers an in-home design service, putting together the ideal dining room or finding a lamp to match the blue-green face of a food-poisoned family member.
298 Court St.
Plymouth
Massachusetts
508-747-3137
When Stephen Staples comes across an ancient ash can or a board stripped of its nails, he studies it as if it's the Mona Lisa. What appear to the common eye to be scraps are seen by Stephen for what they truly are—the building materials of early New England homesteads and factories. With his family, Stephen repurposes the salvaged materials into handcrafted kitchen tables, headboards, armoires, and benches.
"All this stuff is from somewhere special. … You look at the piece, you see the history, you know what went on," he says. "They say the piece can't talk. They do talk, you just need to know how to listen." For those not fluent in the language of reclaimed materials, Stephen includes a certificate of authenticity with each piece that details its age and probable history, including which pilgrims stored their socks in it. For his meticulous handiwork and passion for history, Stephen has been featured on This Old House and WCVB's Chronicle and in Design New England magazine and the Boston Herald.
23 W. Bacon St.
Plainville
Massachusetts
508-695-1155
The Eyeglass Factory, with hundreds of colorful frames that range in style from austere to flashy, is a treasure trove for prescription holders. As lens grinders work behind the scenes to churn out corrective spectacles, with a typical turnaround time of one hour, customers are entertained by the endless permutations of color and style in frames from designers including EyeFunc and Thierry Mugler. Generic options surround peepers in a wide range of hues at lower prices, ideal for those who lose their glasses frequently or need to make a large pile of stuffed animals seem more refined.
276 Boston Turnpike
Shrewsbury
Massachusetts
508-425-3165
---