Provo Outdoor Activities
---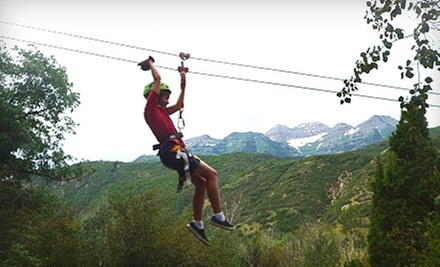 ---
Recommended Outdoor Activities by Groupon Customers
---
Trees sway with the breeze alongside the fairways at the Robert Trent Jones Golf Trail. A fierce wind whips off the Pacific Ocean, knocking drives off-course at Pebble Beach's famous 18th hole. At Global Indoor Golf, players take on the signature challenges of 66 international golf courses without leaving the comfort of their hitting bay. Instead, they queue up the course of their choice on the bay's control monitor and watch as the terrain takes shape on a 14-foot screen, with the slopes, swale, and likelihood for seismic activity accurately recreated via advanced computer technology. Using their own clubs or the center's complimentary set of TaylorMade R11s, players hit golf balls off an artificial turf mat into the screen, where two 360-degree curtains of infrared light-wave technology capture the golf ball's flight information and spit back instant feedback on the shot's flight data. The entire experience—from choosing a dream course, to sipping on between-shot beers in the lounge-like setting, to screaming "fore" in binary code—does away with the hassles commonly associated with real golf, such as uncooperative weather, hefty greens fees, and difficulty attaining a tee time.
220 S State St.
Salt Lake City
Utah
801-366-8085
A living museum of rare and important flora, Red Butte Garden covers more than 100 acres of verdant natural and display gardens, walking paths, and hiking trails. Seasonal events—from sponsored camping nights and family picnics to celebrations of the winter solstice—often take place among the flowers as well as educational programs led by amateur and expert gardeners that focus on plants such as orchids, lilies, and bonsai trees. During the warmer months, the Garden's outdoor concert series features popular musical performers, their guitar strings buzzing like the bees that water the flowers with tiny buckets one by one.
300 Wakara Way
Salt Lake City
Utah
801-585-0556
Park City was founded as a mining town, filled with miners that purportedly drank, gambled, frequented brothels, and committed crimes. Park City Ghost Tours' guides delve into this illicit history during 70-minute walking tours. They investigate the sites most known for hauntings and chills while relaying the harrowing history of each. Tours begin nightly at 8 p.m., when the sun is thoroughly below the horizon and it gets harder to tell the difference between a zombie and a parking meter.
415 Main St.
Park City
Utah
435-615-7673
The fully renovated Gallivan Center presents visitors with year-round entertainment opportunities, including cultural events, concerts, and festivals. Come wintertime, the center opens up its outdoor skating rink—a rink twice the size of its predecessor. There, skaters glide around throughout the holiday season and, during breaks from the ice, can fuel up with snacks such as hot chocolate and nachos from the rink's concession stand.
239 S Main St.
Salt Lake City
Utah
Gleaming under the pale light of the winter sun, blades slice along the smooth surface of Resort Center Ice Skating Rink, sending icy dust spraying in their wake. Surrounded by the quaint, Bavarian-style walls of the Village shopping center, the outdoor oval beckons guests wishing to discover what ice skating was like before indoor rinks confined it and ice sharks rendered neighborhood ponds off-limits. Periodically throughout each public-skate session, a zamboni buffs the subzero sheet to present skaters with a surface as smooth and gentle as the festive tunes filling the air. Guests circle around hand-in-hand, remarking on the surrounding Christmas lights and fir trees while fledgling skaters focus on their footing and grasp complimentary ice-skate trainers for balance.
Between pirouettes or mad dashes across the rink, hands can warm up with steaming mugs of hot chocolate in the skate house. Nearby, in the Village shopping center, more balanced meals can be found at Food for Thought or Kristi's Café, refueling skaters before they explore more than 40 winter-gear hubs and gift shops.
1425 Lowell Ave.
Park City
Utah
---