Theme & Amusement Parks in Provo
---
Recommended Theme & Amusement Parks by Groupon Customers
---
Thrill seekers and people looking to be moderately entertained can take the four arcade tokens and also choose any combination of the activities Trafalga has to offer. Aspiring kings and queens of the home-run derby can get 50 swats at the batting cages, and golf-ball haters can punish an orb throughout 18 brutal holes of mini-golf. Trafalga has two courses, one under the stars on the late-night cosmic golf course and the other beneath the glowing waves on the indoor undersea jungle black-light course. A round of five minutes or 25 laps on the go-karts will satisfy speed demons more than 60 inches tall, but shorter adrenaline junkies will have to ride shotgun and have it administered by a taller chaperone. Trafalga has four different XD theater rides to choose from, taking participants through four-dimensional experiences in outer space, under the sea, in the tunnels of a haunted mine, or on the kids' favorite urban flight alongside some jetpack-sporting companions. You can also trade one activity in for 25 tokens to bolster the four free ones and spend some time with the classic arcade machines such as skeeball. Take your adopted family of loving chimpanzees for a day of entertainment at Trafalga Fun Center and enjoy the simple pleasure that beating a relative at skeeball or hitting 50 home runs in a row in front of your date can afford.
168 South 1200 West
Orem
Utah
Shafts of sunlight pierce Tracy Aviary's dense conifer forest, sending great grey owls into hiding until nightfall, when they emerge to hunt silently above the treetops. The Owl Forest is just one of five diverse ecosystems that dot the aviary's eight acres. Nearby, at the South American Pavilion, aviary keepers tend to keel-billed toucans as their colorful beaks break through the cereal boxes in which they incubate. And on the Kennecott Wetland, visitors can espy long-billed curlews and American coots roosting in the tall grass.
In addition to providing a diverse habitat in which native and endangered species can thrive, Tracy Aviary's curators strive to educate visitors about threats to avian species and to encourage stewardship. To that end, the aviary frequently hosts bird encounters, small group talks with avian keepers, and even the opportunity to feed various species.
589 E 1300 S
Salt Lake City
Utah
The whirring carnival attractions inside Jungle Jim's Playland never pack up and leave town. Instead, the year-round kiddie complex keeps its stable of rides completely indoors at its climate-controlled facility. Proud parents look on or join the action for free as kids 11 and younger enjoy jungle patrol cars, a ground-level roller coaster, and a traditional carousel. In all, seven rides and a multilevel jungle gym provide all the fun of an outdoor carnival without having to endure sticky, summer heat and long carnie lectures about 17th-century Italian operas. Kids split up their bumper car sessions with Skee-Ball and other arcade games or sit at picnic tables and nosh on a house-made pizza from The Jungle Cafe concession stand.
739 Fort Union Blvd.
Midvale
Utah
801-568-1111
---
---
Theme & Amusement Park Deals - Recently Expired
---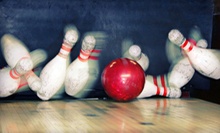 Up to six players strike through two hours of bowling fueled by hearty helpings of pizza, cheesy bread, and soda
---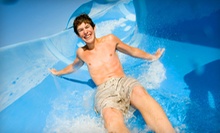 Pizza and soda refuel revelers during a day spent skating or splashing down water slides
---
---