Things to Do in Provo
---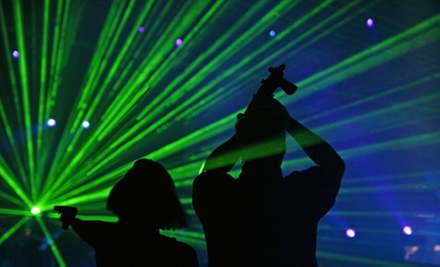 Central Business District
---
Recommended Things to Do by Groupon Customers
---
Benjamin Allen believes outdoor pursuits can positively influence those in need. This belief has led him all over the continent, building a ropes course for an orphanage in Mexico and setting up two courses for troubled youth at Provo Canyon School, a bit closer to home. Wanting to share his knowledge of nature with the public, he set up a course, CLAS Ropes Course, near Utah Lake nearly 20 years ago. Benjamin and his crew have since erected more than 50 ropes courses around the country, continuing to inspect ropes and train others how to run them.
CLAS Ropes Course continues to grow each year, creating obstacles such as a giant swing that releases passengers 40 feet in the air, a 400-foot zipline that whizzes through forest canopy, and a "leap of faith," where adventure seekers jump from a treetop platform to a trapeze. A log balance beam hung 30 feet above the ground and a 24-foot-tall rock-climbing tower test agility and endurance, and a fleet of 20 canoes lets paddlers navigate a mile and a half of river. Many of these structures play host to team-building activities focused on developing a group's creativity and tolerance for hearing one another sing. Staff members tailor their instruction to families, dating groups, or athletic teams. They often apply their approach to athletes, such as a professional golfer who traveled all the way from Texas hoping to conquer her fear of not qualifying for tournaments. She defeated the log balance beam, departed victorious, and qualified during her next tryout two weeks later.
3606 W Center St.
Provo
Utah
Though it began as a snowmobiling tour group in the early 1980s, the family owners of High Country Adventure quickly expanded their territory to the water, the trails, and the forest canopy. Conducting most of their trips on a 6-mile stretch of the lower Provo River and a 12-mile canyon-clad expanse of the Weber River, High Country's guides encourage locals and visitors alike to explore the area's rugged terrain and take in the natural treasures made possible by its ecosystem. The company frequently puts this love of the environment into practice, urging catch-and-release during fishing excursions and often lending their gear to others for trips down the river to collect drifting garbage.
The group's more than 20 guides lead rafting trips down the Provo River's class I and II rapids or the Weber River's class II and III rapids, pointing out local flora and fauna as well as unique rock formations along the way. Combination trips set out on a mountain train ride before rafting commences or add ziplining to a day of rafting, sending guests out of water and sweeping through overhead tree canopies over the Provo River. Prospective guides with High Country Adventures commit to internalizing the local rivers and terrain on their own before they're trusted with leading groups, ensuring each one knows how to handle excursion variables and what the river gods' favorite appeasing snack is on Tuesdays.
3702 E Provo Canyon Rd.
Provo
Utah
Four-time Tony winner and current Private Practice actor Audra McDonald and Tony nominee Will Swenson star in a contemporary musical adaptation of N. Richard Nash's 1954 classic play The Rainmaker. The story, set in a rural, drought-ridden town in the American Southwest, tells the tale of aging spinster Lizzie Curry (McDonald) as she considers two suitors: a respectable, upright citizen, and a charismatic drifter and con man, Bill Starbuck (Swenson), who promises the moisture-desperate townsfolk that he can make it rain.
Walking into Creativity Art Studio is like walking into a sunset. Eyes fill with the golden and maroon hues of the walls, which foster tranquility in the mind so that students can explore their thoughts and express their dreams. Amid the colors, shelves of ceramics and painting supplies equip artists-in-training before they sit and let their imaginations travel across their chosen canvas with the guidance of a creative and adept staff.
Experienced creators can spread their wings solo, while those dipping their toes into artistic waters for the first time can use a stock of stencils. After each masterpiece has been touched up with its final details, staff experts guide patrons through the finishing process, whether that be waiting for the paint to dry or determining the best way to sneak sculptures into a museum display. Ceramic pieces stay behind for a glaze and stint in the studio's kiln, to ensure a lustrous piece that can be picked up roughly a week later.
1063 S 750 E
Orem
Utah
801-788-4284
Classic Fun Center's Layton facility shelters its various attractions in a pirate-themed playground. Guests can rack up strikes on the mini-bowling lanes or ascend a three-story rock wall. The park also hosts a bounce area with inflatable slides and obstacles courses, as well as an arcade with more than 50 games such as skee-ball and Deal or No Deal, where kids teach the computer how to pinky swear. Guests at Classic Fun Center's Riverdale location can cool off on the water park's four 300-foot slides, super-sized "fat" slide, kiddie splash ground, or inflatable slip-n-slide.
250 S State St.
Orem
Utah
Named after Brigham Young University's furry feline mascot, Cosmo's Kids Club invites youths to experience the university's athletic programs both on and off the field. A dozen game vouchers grant access to four football games and eight men's basketball games, and a Cosmo T-shirt acts as a ticket to all other BYU sporting events. After games, members can hop onto the field of play to practice kicking penalty shots, shooting free throws, or measuring grass to be sure it's regulation height. Kids up the ante at show-and-tell with stories from facility tours and meet and greets with BYU athletes. The club ensures at-home allegiance with posters, access to Cosmo's website, and a monthly mailer from the mascot himself.
---