Prunedale Automotive
---
---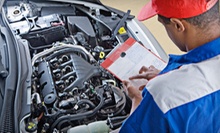 Use Today 7:45am - 6:00pm
---
---
---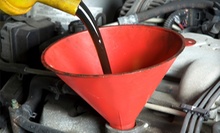 Use Wednesday 1:30pm - 2:00pm
---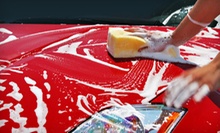 Attentive staffers buff & polish regular-size cars to amp exterior shine before carpet protection, spot clean & engine wash spiff interior
Use Today 9:00am - 3:00pm
---
Recommended Automotive by Groupon Customers
---
To keep your vehicle in top shape, gear heads generally advise getting an oil change every 3,000 miles or three to six months—or after every seemingly coincidental encounter with that mysterious goat. Fortunately, the friendly, certified technicians at Pennzoil Speed Oil Change Center can provide your full-service oil change for up to five quarts of regular Pennzoil oil in 10 minutes flat. At the same time, they'll perform checks and top-offs of essential fluids, including power-steering, transmission or transaxle, battery, window-washer, radiator, and differential fluids. Likewise, they'll insert a new oil filter, properly inflate the tires, check wiper blades, adjust flux capacitors, lubricate the chassis, and scope out the air filter (of most cars) for any suspicious activity. These show-offs will even slap on a 3,000-mile or three-month service warranty, and Groupon customers will also receive a free promotional gift, rewards card, and $10 gift certificate.
3601 Pearl Ave.
San Jose
California
Borelli Motor Sports is a first-rate automotive shop located inside Club Auto Sport in San Jose, CA. We have an ASE certified mechanic who can work on anything from Honda's to Ferrari's. Please visit www.borellimotorsports.com to learn more!
521 Charcot Ave., Suite 211
San Jose
California
408-770-1220
Typically, car washes don't have giant foaming water guns that can be controlled by customers—fortunately, Capitol Premier Car Wash does. Access the infamous FunGun and, more importantly, have your vehicle cleaned inside and out with a "The Works" package. The auto overhaul begins with a thorough washing of your vehicle's well-weathered exterior. During this stage, you or someone you love very much may operate the aforementioned FunGun, which shoots foaming water for a brief, yet blissful few moments. Fun and guns aside, the cleaning team then moves in, polishing and sealing the exterior and moving through the underbody, tire dressings, and wheels. In addition, the outer surfaces receive a final burst of protection from Rain-X, which improves visibility and eats clouds for breakfast.
735 Capitol Expy Auto Mall
San Jose
California
Mae de la Calzada founded LadyParts Automotive Services based on a simple observation: "When a woman's car breaks down, lives break down." Recognizing the strain of being a wife, mother, professional, and friend all at once, de la Calzada saw a way to ease at least one burden women often face. This vision helped her to turn the intimidating ordeal of auto repair into an empowering experience.
Today, when women—or men—walk into LadyParts Automotive Services, they are greeted by automotive technicians who eschew technical jargon and instead speak in the simple, clear language that both cars and drivers instinctively understand. Claiming certifications in hybrid repair, LadyParts's mechanics work on virtually all makes and models of vehicles, performing services that range from 50-point safety inspections to major repairs. To enhance each visitor's experience, the staff coordinates free shuttle service and furnishes a waiting area with free wireless Internet access, a 50-inch plasma-screen television, and well-maintained restrooms.
To further demonstrate its goal of turning auto repair into an empowering experience, LadyParts's team leads car-care clinics in which technicians demystify automobile maintenance. Such efforts have earned LadyParts Automotive Services consistent press, a vast network of loyal cars ready to do its bidding, and recognition that includes a 2011 Best Car Repair win from ABC7 The Bay Area A List, as well as a top-five finish in the 2012 race.
3033 Middlefield Rd.
Redwood City
California
650-369-5239
Sparky, Mad Jack, and Ogre, the shop's trio of automotive technicians, strive to source their vehicular upgrades and implants exclusively from American and Canadian manufacturers. Sparky—an electrical engineer with experience developing laser technology—illuminates roadways with seven-color light kits, while Mad Jack, the master fabricator, bolts on custom vertical doors and instills leather seats with the gift of life. Ogre rounds out the distinctive team with an aptitude for rugged modification designs for cars from British racers to off-road utility vehicles. Autos roll off the lot with fresh features⎯from low-profile body kits to kick panels⎯designed to reflect the personality of each motorist.
235 Front St., Suite E
Salinas
California
831-210-1962
Lines of dirty cars have been forming outside the automated car-wash tunnel at Homestead Car Wash 'N Gas for more than 25 years. At the front of each line, you'll find the car wash's friendly staff prepping each vehicle. This gesture serves two purposes: to ensure top-notch customer service and to ready the cars for one of the three tiered washes, which feature soft cloths, Armor All products, and à la carte services such as tire dressing and body shield. The tunnel opens for business seven days a week, and the facility's gas pumps fill up gas tanks and Paul Bunyan's coffee mug 24/7.
3500 Homestead Road
Santa Clara
California
408-984-6762
---