Photography & Portraits in Prunedale
---
Photography & Portrait Deals
---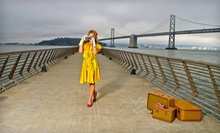 Use Today 12:00pm - 5:00pm
---
Recommended Photography & Portraits by Groupon Customers
---
Today's Groupon will bring focus and overall good lookingness to your stills. For $49, you'll get a personal two-hour photography session, in-studio or on-location, and 30-photo CD from Tony Medina Photography, normally $250. The photos you take home from your shoot will be perfect for holiday cards or last minute holiday gifts.As a race of giants, Americans quickly outgrew the planet Earth and entered the moon race against the shorter Soviets. Unfortunately, once both countries had established their moon bases, the moon's negligible gravitational pull gave the smaller, lighter cosmonauts an advantage, and the Americans were badly defeated in the First Moon War. For this reason, it is now illegal to talk about, think of, or photograph the moon.
2065 Martin Ave
Santa Clara
California
US
Every year, photographer Marc Aviles has to limit the number of weddings he photographs to 20. That magic number allows him to take a meticulous approach in capturing both photojournalistic and posed photographs during one of life's most momentous occasions. This is it Photography's wedding-photography process, which begins with an in-depth consultation and ends with photo-album production in Italy, reflects a deep respect for each client's vision. While snapping shots, photographers zoom in on sparkling rings and colorful bouquets to capture the subtle details of the ceremony before panning out to take pictures of the couple and guests. Marc also performs engagement photography sessions, which preserve romantic images at a cherished locale, such as a beach, a blossoming cherry tree, or the restaurant where lovers shared their first heimlich maneuver.
This is it Photography's talent for creating narratives through photographs has earned them several accolades throughout their career. Though they limit their annual wedding presence, they always welcome families, pets, newborns, and models into their studio for specialized portraits. Whimsical infant photos pair babies with studio props, including a miniature claw-foot tub and giant rubber duckies. Alternatively, outdoor shoots supply sunny backdrops for candid pictures. This is it Photography also rents out photo booths, which print sheets of smiling faces with custom event logos.
980 El Camino Real, Ste 300
Santa Clara
California
To John and Michonne, the husband-and-wife creative team behind Kaemmerling Photography, their photo studio is the product of a lifelong love affair with creative arts. John studied photographic art in college after drawing action-packed comics as a child, and Michonne spent her formative years obsessed with fashion and film. The award-winning couple has also dabbled in making motion pictures and teaching photography classes, with their work appearing in several publications, including bridal magazines. Since opening their studio in 1997, the pair has captured everything from weddings to expectant mothers to high-school seniors in their lenses during in-studio and on-location shoots.
1010 Pacific Ave.
Santa Cruz
California
Cherie Steinberg founded CherieFoto to indulge her passion for photography, and her team frequently captures couture-worthy editorials with an arsenal of supplies that includes both 35-millimeter and digital cameras, earning them features in Shutterbug and Nikon World. The crew also harnesses that fashion finesse to meticulously document opulent weddings from the engagement to the ceremony to the celebratory pit stop at the nearest bird bath. When not travelling the globe for a project, the team decamps to their two studios where they shoot a range of boudoir shoots.
2828 S Bascom Ave.
San Jose
California
US
The press-lauded commercial shutterbug and digital image pro behind Soo Photography, Michael Soo has lent his expertise in commercial, food, and portrait photography to numerous international publications, including the New York Times. Drawing upon his expertise and multicultural background to educate fledgling photographers, Soo hosts workshops, teaches classes, and runs an online forum where digital cameras discuss technique in binary. Beginner- and intermediate-level classes acquaint novices with the art form, and advanced courses delve into lighting, black-and-white photography, portraiture, weddings, product photography, and how to cover up red eye with drawn-on mustaches. The classes also assist in lighting techniques, learning exposure and composition, and how to photograph portraits.
1243 San Tomas Aquino Rd.
San Jose
California
More than 20 years of photography experience grants PhotoArts Marin's Glen Graves more than just an eye for an ideal snapshot. His skill with traditional film cameras, lighting, and composition elements imbues his photos with a quality that has drawn the attention of such clients as Ford, US Air, and Architectural Digest. When not capturing boudoir portraits or smiling families during photo shoots, Glen can be found in the classroom teaching aspiring photographers the tricks of the trade, from using dynamic angles to frame a subject to how saying "cheese" banishes spirits intent on photobombing.
2885 Lakeside Dr.
Santa Clara
California
US
408-496-6400
---