Restaurants in Punta Gorda
---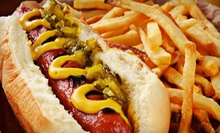 Ingredients such as cream cheese, BBQ sauce, and bacon bits top create-your-own hot dogs and signature franks
---
Recommended Restaurants by Groupon Customers
---
"I believe that if you're not cooking with all five senses, you're not cooking," declares Derek Barnes in his feature for Sarasota's Hot Chefs. It's this maxim that earned him a lifetime of culinary achievement, starting with a four-year stint under the expertise of Emeril Lagasse and leading to a Zagat rating for his own restaurant and the title of semifinalist in the 2009 James Beard Awards. Derek channels these achievements into the innovative dishes he creates at his eponymous restaurant, which specializes in what he calls progressive American cuisine. That "progressive" moniker can mean a lot of things, whether it's anointing a dish of foie gras with hazelnut honey and walnut streusel or braising a savory lamb shank in the tart flavors of lime and cilantro. Unlike a time-traveling Byzantine explorer, the chef doesn't obsess over his plentiful spice cabinet, as the menu's simple-grill selection serves up fresh cuts of steak, fish, and poultry in a simple, unadulterated form. Each flavor note finds its ideal complement in a wine list that features 100 bottles, many of which are available by the glass.
514 Central Ave.
Sarasota
Florida
At Selva, Latin America meets the United States atop plates splashed with "Peruvian cooking reinterpreted with polish and sophistication," according to the Herald-Tribune. Dubbed Nuevo Latino cuisine, the menu's signature ceviches and seafood entrees hint at eastern origins due to Peru's influx of Asian immigrants. The Ceviche de Ostras, for example, is tinged with ginger and rocoto, a Peruvian pepper, divided into "three white espresso cups…each containing oysters floating in leche de tigre, or tiger's milk." Joined by more familiar dishes such as chili-glazed Chilean salmon and bone-in veal chops, the ceviches claim a large chunk of the menu. The wine list contains exotic offerings from Argentina and Italy.
The dining room vibrates around an aesthetic centerpiece, a glass wall glazed with chunks of color that conjure imagines of a swirling mosaic. With auburn walls and plush couches, the lounge area facilitates chatter and nickel-filled pillow fights as live DJs spin tracks until 1 a.m. on weekends. Outside, water spills over a wall beside the patio seating.
1345 Main St.
Sarasota
Florida
With kitchen credentials that include Boston's Four Seasons Hotel and Le Bec-Fin in Philadelphia, executive chef Brian Martin presides over Evoo Bistro's culinary marriage of rustic Italian and modern American fare. Brian and his team craft seasonal lunch, dinner, and catering menus that highlight pastas, simply prepared meats and seafood, and sandwiches built on homemade breads. The refined, yet hearty entrees pair with wines by the glass or cups of the bistro's signature coffee, which is blended with sweet liquors. These flavorful creations arrive at white-clothed tables arranged amidst dim track lighting, pendant lamps, and domesticated glowworms that hover from the lofted ceilings.
13240 Tamiami Trl. N
Naples
Florida
239-444-2020
With its huge grass-roofed patio, The Sandy Parrot looks as though it ought to have ocean waves lapping up against the surrounding sand. The echoes of the sea are even louder on the menu, which features a huge collection of grouper, crab, shrimp, tilapia, and mahi-mahi dishes rounded out by steak, sandwiches, and chicken. Preparations span the globe, drawing in such flavors as garlic teriyaki sauce, parmesan-laced lemon butter, and mango-papaya salsa. Live musicians take the restaurant's stage six nights a week, performing tributes to Motown and Elvis, hits from the '60s through the '90s, and sweeping arrangements of the dessert menu.
17200 S Tamiami Trl.
Fort Myers
Florida
Sandy Stilwell is a Fort Myers native, and as such she has a passion for pouring her time back into the community—she serves on the advisory board for Gulfshore Life Magazine and is the former chairwoman of the Salvation Army's Christmas drive. Sandy brings the same altruistic vision to Sunshine Grille, one of the many local eateries she and her family maintain that give back through organizations such as the Ronald McDonald House.
Sunshine Grille serves its customers first and foremost, offering a menu of wood-fired steaks and seafood. From grilled filet mignon to sesame-crusted salmon and veggie-loaded flatbreads, most of the eatery's cuisine bursts forth unto the palate with a signature smoky flavor. The restaurant's voluminous wine list emanates sweetness, as do the live musicians that coax jazz-inspired harmonies from saxes, guitars, and keyboardists seven nights a week. These musicians work their melodic magic under soft lighting and between walls of auburn and stones stacked like the hundred-dollar bills that form the walls of the US Mint.
8700 Gladiolus Dr.
Fort Myers
Florida
239-489-2233
"Fisherman Charley," a wooden fisherman statue in a yellow rain slicker and hat, stands guard in front of Charley's Boathouse Grill, where chefs have prepared steaks and seafood for more than four decades. The kitchen wet-ages Angus beef for four to six weeks before hand-cutting each steak, which is measured by ounces and seared to taste. Seafood such as locally caught grouper also fills the menu alongside snow crabs, teriyaki chicken breasts, and house-baked breads.
For special events, patrons sup on some of the most popular menu items inside a converted boathouse. Up to 70 people can also gather at the "hideaway," which has back-bay views of Estero Bay, making it perfect for actually seeing the harbor seals you dressed in tuxedos.
6241 Estero Blvd.
Fort Myers
Florida
---