Hair Salons in Puyallup
---
Recommended Hair Salon by Groupon Customers
---
Revive your roots and tend to your tresses with today's Groupon. For $50, you get $100 worth of salon services at Haven, a secret garden-like salon that Seattle Magazine calls "an oasis of calm," not "the second-best Beatles album."Running From: Ghosts or monsters Potential Haven: Boarded-up old mansion
5810 24th Ave. NW
Seattle
Washington
US
Whether you need a new 'do for your next album cover, or you want to make a good impression at a job interview for the album photographer position, Emerson Salon can give you a cut, color, or style that's easy to care for and looks great even when you style it yourself. Located in the Capitol Hill area, Emerson Salon has a fun and casual atmosphere, with rich wooden interiors and large storefront windows. Watch the hustle and bustle of the city from the comfort of your chair as the masters of style give you the perfect look. Services range from a standard style cut ($40) and hue-enhancing highlights ($55), to deep conditioning ($25) and updos (contact salon for pricing). Each of Emerson's stylists is a master hair shaman who knows how to snip, dye, and charm the most distraught bristles, frizzies, and Medusa head-snakes. They sense your innermost hair yearnings, then direct their careful scissors in tune with your thoughts and dreams, letting their creative forces flow wildly onto your scalp for a haircut that revolutionizes the way you look in the mirror—inside and out. Afterward, in the streets, you might find that your magnificent mane busts the binds of its bowler hat and leaps into sunshine, dappling the dark alleyways of careless coiffures.
909 E Pike St.
Seattle
Washington
US
Aversion to expensive haircuts is a natural reaction when only thousands of years ago pet sloths snipped our locks with sharpened rocks for free. Today's Groupon makes hair styling affordable again with a haircut, styling, and blow-drying at The Gilt Edge Society for $25. A new society-approved look will inhabit your cranium like a bonobo in a vegetable garden.
2312 4th Ave.
Seattle
Washington
US
While your sock collection may be a direct rip-off of the miniature socks that lined your dollhouse's holiday mantle, your hair is a one-of-a-kind player that shines on its own strict terms. The follicle team behind all of Sassoon's salons will assess your personal style to create a custom look that flatters your face-shape, complexion, and X-Files fandom. Alter previously conceived notions of length with a professional haircut ($80+), or welcome in the summery breeze of a blow-dry with a treatment cut ($95+). For hair that is too much of one color and not enough of another, a thorough color change transforms your visage ($75+).
1405 Fifth Ave.
Seattle
Washington
FoxFire Salon & Spa's bay windows, eggshell walls, and floral furnishings blend classic beauty with modern flourishes, and the spa's staff enhance patrons' own classic beauty with Aveda plant- and mineral-based products. Aestheticians tailor Elemental Nature treatments to suit each client, choosing signature aromas to soothe nostrils and selecting massage styles such as Swedish, deep tissue, or acupressure to calm old snowboarding injuries that still sting whenever a snowman is near. A Perfecting Plant Peel add-on aims to gently exfoliate and erase fine lines. Finally, a salt glow scrub exfoliates and moisturizes bodies tired of unsatisfying pepper scrubs.
2701 N. Proctor St.
Tacoma
Washington
The friendly staff at Rejuvenation Salon and Spa treats hard-working limbs and their attached owners to serenity-boosting spa sessions. Industrious hands undergo a 40-minute manicure, buffing and shaping nails into well-rounded individuals that colleges and onlookers admire (a $30 value). Nail technicians bedeck phalanges in their preferred polish palette and coax them back onto hands with a soothing massage. Weary shoe-fillers indulge in a 40-minute pedicure that glosses nails and smoothes soles, as well as an included foot massage that tickles away the tension accumulated in distressed digits (a $45 value). Should your insides become jealous of your pampered exterior, placate them with a sip of complimentary loose-leaf organic tea.
8114 112th St Ct E Suite B
Puyallup
Washington
253-904-8397
---
---
Hair Salon Deals - Recently Expired
---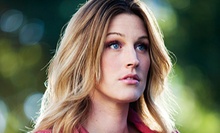 Stylists chop off split ends and may add dimension with full or partial highlights or one- or two-tone ombre color
---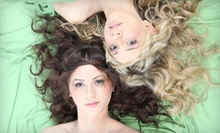 Stylists-in-training supervised by licensed instructors provide a wide range of hair services
---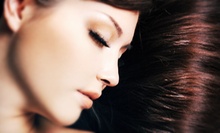 Stylists create impressive hairdos after refreshing strands with a deep conditioner and cut or adding dimension with highlights
---
---