Restaurants in Puyallup
---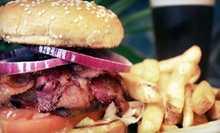 Beer-battered Alaskan cod and pulled-pork sandwiches served alongside pesto tortellini, chicken parmesan, and garlic chicken pizza
---
Recommended Restaurants by Groupon Customers
---
Woody's owners Coy Wood and Thomas Johnson have partnered to bring new life to the Thea Foss Waterway, using much of the new life you'd find in the waterway itself. As such, they've created a sumptuous dinner menu with fresh seafood as its main attraction. Launch your stomach-yacht with some tipsy steamer clams in white wine and fresh herbs ($9) or a sampler platter of smoked salmon, crab cake, and coconut shrimp ($14) before sailing on to local favorites such as Provencal-crusted Alaskan halibut with a shiitake-mushroom cream reduction ($26) and fresh Canadian coho salmon char broiled with shallot garlic butter ($19). Meanwhile, you may opt for the palate pleasing of cognac chicken supreme ($15). Woody's also offers a lighter but no less seaworthy lunch menu of salads, sandwiches, and pastas, plus a gluten-free menu that pairs well with a bottle of Bard's Tale gluten-free beer.
1715 Dock St.
Tacoma
Washington
The restaurant's cuisine unites European cuisine with local flair, successfully recreating the award-winning fare of Pangaea. Evening supper bells resound above a menu stocked with refreshing small plates, pastas, and entrees. Quickly quell rumblings with starting rounds of wild-rice crab cakes with shallots, red bell pepper, and a remoulade for dipping ($15) or taco salad with wild halibut cheeks on a bed of mixed greens with tangy cilantro dressing ($14). For larger hankerings, the kitchen turns out hot plates of bourbon-glazed, pan-seared wild-salmon filet with a drizzling of bourbon-lime-soy-garlic sauce ($22). Lunch is also served from 11 a.m. to 4:15 p.m., and desserts like German chocolate cake ($6) are served all day.
709 Opera Alley , Court C
Tacoma
Washington
Johnny's Dock is nestled in a charming wood construction, quite at home among the quays, and has been a waterfront mainstay for the past 50+ years. The lunch and dinner menus are heavily weighted on the seafood end of the fish scale, though other options are available for individuals struggling with ichthyophobia. Catch lunch between 11 a.m. and 3 p.m. Monday–Friday, sampling from starters such as fried calamari with red pepper aioli ($9.95) and sliced tomatoes and cottage cheese ($4.95). A salad of cirtrus-seared ahi on field greens in wasabi dressing ($18.95) is a svelte choice, while a bleu baron ($12.95) offers up a hearty portion of thin-sliced beef and prime rib on grilled sourdough with aged Tillamook cheddar and blue-cheese dressing ($12.95).
1900 East D Street
Tacoma
Washington
With an extensive menu of island-inspired eats, the eatery blissfully deserts feasters on an island of inspired cuisine. Start with an order of Spam musubi and enjoy the canned delicacy swaddled in a nori wrap with egg and rice ($4.95) or go for an order of Shanghai-style lumpia, a Pac Island family recipe of pork, shrimp, and vegetables in an eggroll-esque package ($5.50). Dinner at the eatery offers an abundant bounty of nourishment, with everything from noodles, rice, and burgers to their 13 barbecue combination platters. The loli chicken and Kalua pork, whose delectable pairing of barbecue chicken and slow-smoked pulled pork sautéed with cabbage ($10.49) was crowned best entree in the 2007 Taste of Tacoma festival, while the teriyaki-marinated kalbi short ribs ($10.95) was top entree in 2006. Most platters are served with two scoops of rice and either macaroni salad or island slaw. Salute sweet teeth with a tropical-fruit smoothie ($4.50), slice of pineapple upside-down cake ($3.75), or slice of molten-chocolate "luv-a-lava" cake ($5.95).
2012 S 320th Street, Suite H
Federal Way
Washington
The News Tribune featured Ravenous. Five Yelpers give it a three-star average.
785 Broadway
Tacoma
Washington
253-572-6374
Like a shape-shifter with ADD, executive chef and Le Cordon Bleu Culinary Institute graduate Matt Colony's menu changes constantly, taking inspiration from legendary steakhouses while drawing from a rich array of local ingredients. Maxwell's most recent board of fare opened with delicacies such as smoked eggplant and white bean puree ($7), a selection of house-pickled vegetables ($5), and seared yellow fin ahi tuna ($14) with warm red-lentil puree. The curtain the raised on signature steaks of 16-ounce rib eye ($29), 7-ounce filet mignon ($30), and 10-ounce flat iron ($23)—all cooked to order and side-kicked with horseradish-infused whipped potatoes, sautéed vegetables, sherry mushroom sauce, and fried onion rings. If ordering the cider-brined pork chop ($19) has you worried that the pig's relatives will hunt you down and seek vengeance, Maxwell's features a slew of seafaring sea fare such as pan-seared weathervane scallops ($26), sautéed Alaskan halibut ($25), and Maxwell's chioppino ($25)—which hosts a pool party of steamed clams, mussels, shrimp, roasted sockeye salmon, and half grilled lobster tail in spicy fennel-tomato broth amid grilled sourdough bread. All dishes can find a leggy tango partner on Maxwell's wine list, but bring a back-up stomach for a decadent dessert of custard-soaked cinnamon-roll bread pudding ($7) or the crème brûlée of the day ($5).
454 St. Helens Avenue
Tacoma
Washington
---