Education & Classes in Quartz Hill
---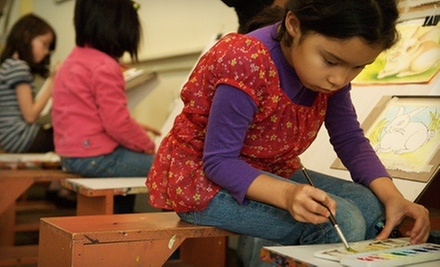 ---
Education & Classes Deals
---
Recommended Education & Classes by Groupon Customers
---
After a course at Village Kitchen, accomplished chefs will inch closer to pro status, while those who've chopped more fingers than potatoes will have their clumsiness exorcised thanks to patient instruction from Village Kitchen's enlightened gurus of all things edible. Classes are held Saturdays at 10:30 a.m. (some classes are also offered on Wednesdays at 6 p.m.), while the theme varies from week to week. On Wednesday, February 2, learn to master the wok to easily turn out incredible delights such as Szechuan stir-fried green beans with ground pork. On Wednesday, March 9, discover the joys of pollotarianism with a complete tutorial in a four-course feast centered around a fennel pollen roast chicken with tarragon jus, or on Saturday, April 9, craft the perfect dessert including glazed lemon cake, custard éclair rings, or fudge pecan pie. You'll eat everything you make and get a beverage, so no one escapes hungry. Classes are limited to 18 people.
147 N Glendora Ave.
Glendora
California
The Los Angeles School of Comedy fills its studio spaces with classes in standup comedy, improv, and film and television acting. Resident comics Sunda Croonquist and James Harris share the knowledge they use at gigs at the Laugh Factory and writing for television, guiding their charges from building their acts to their first performances at Hollywood comedy clubs. Actors David Kano and Victor Cruz train screen workers of all ages in character development, scene study, and mock auditions.
10835 Santa Monica Blvd
Los Angeles
California
With 30 years of high-quality home cooking beneath her belt, owner and chef Deb Swartz crams studious brains with recipes for seasonal delights in succinct demonstration classes that pepper tongues with sample tastings of a complete meal's worth of recipes. Hosting 30 students each, the Cooking Essentials series fills Sunday afternoons with simple home recipes based around versatile techniques such as broth making, meat braising, or meat praising, which boosts protein self-esteem with compliments written in butter. Attendees can register for the January 15 session on winter soups to discover the secrets behind simplified gumbo or to craft a slurpable, sugary treat in the form of blueberry dessert soup. Alternatively, January 29's session on winter fish dishes explores the methodology of seameats such as crab bisque or fish baked three ways.
177 South Arroyo Blvd .
Pasadena
California
Master French, Mexican, and Asian classics with private cooking instruction in a professional kitchen with experienced chefs. Learn dishes such as mushroom-shallot chicken fricassee, peanut-lime rice noodles, or chicken enchiladas with roasted poblano sauce, and more. Chefs are happy to accommodate dietary restrictions.
443-A S Pacific Coast Hwy.
Redondo Beach
California
Each three-hour class at Laguna Culinary Arts caters to any skill level, from expert chefs to certified microwave users. With no more than 10 people per class, the intimate classes cultivate individual, hands-on instruction, and guarantee that no one gets lost and eaten by bears during training. De-hibernate your china and entertain friends, neighbors, or your glass menagerie collection with the skills you pick up in one of Laguna's party-throwing classes. Learn how to grill goat-cheese-stuffed radicchio wrapped in pancetta and brush up your Crème Catalan skills to throw a Spanish paella party. Or craft an elegant menu of blue-cheese-dressing salad and filet mignon with blackberry sauce, ending with a chocolate soufflé ($95 per person, or $115 with wine pairings). At the end of each class, sit down to enjoy the dinner everyone has worked together to create, minus the piled dishes usually left for gnomes to clean.
541 W Chapman Ave.
Orange
California
ComedySportz Los Angeles, LA's longest-running stage show, showcases sidesplitting talents in competitive team-based improv spats populated by Hollywood's up-and-coming comedians. Free-wheeling funnypeople forage for laughter every Friday and Saturday at 8 p.m.—with a 10:30 p.m. late show in some months—as well as a 7 p.m. Sunday show and a college team performance 8 p.m. each Thursday. In the signature ComedySportz Los Angeles shows, comedic squads square off against one another in a some-holds-barred refereed stage match that is surprisingly appropriate for all ages. In an effort to keep humor clean, referees and audience members can call for the brown-bag foul, which puts offensive performers into bagged timeouts to think about both what they've done and what it feels like to be a grocery item.
733 Seward St.
Los Angeles
California
---