Bars in Queen Creek
---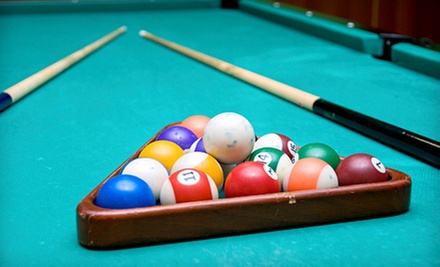 ---
Recommended Bars by Groupon Customers
---
This intimately outfitted hot spot specializes in an unintimidating wine list and a stellar selection of small plates and sandwiches. Grape guzzlers of all varieties will find satisfying sips with Centro's extensive wine list. Wines by the glass start at $7, and complements abound on a complete menu of plates sized for sharing. The goat cheese and slow-roasted tomatoes crustini sedates testy taste buds with a jet-setting serving of chevre, slow-roasted tomatoes, parmesan, and olive oil ($9.50), and the mixed olive bowl allots for the recommended daily dose of olives ($6). Graduate from grade-school tomato-soup soakers to Centro's sophisticated grilled cheese, which elegantly entwines fresh mozzarella, prosciutto, tomato, and arugula ($9.50) or the lulu's press with Vermont yellow-and-white cheddar, jack cheese, and tomato ($9).
7120 E Becker Ln.
Scottsdale
Arizona
The clatter of pool balls melds with the cheering from sports fans at Skip & Jan's Sports Bar, where 24 pool tables tempt those not busy watching the game on one of 20 flat-screen televisions. During time-outs, patrons nibble on tavern fare, such as potato skins, third-pound burgers, and tuna melts. The bar's wings, which are served with nine different sauces, earned the eatery a feature in the Arizona Republic as one of the area's 20 best places for wings not including a chicken farm.
7700 S Priest Dr.
Tempe
Arizona
WineStyles showcases the diversity found throughout California's wine country at a small wine bar on the Coronado peninsula. More than 300 wines line its shelves, including national and international varietals sourced from small, boutique vineyards. Most bottles cost less than $25, and the shop also sells customized gift baskets and wine-lover accessories such as T-shirts, bottle openers, and fireplaces for dramatically hurling a glass into.
Live music underscores weekly wine tastings, where guests sample and learn about different wines from resident experts. The list of house wines includes fruity and bold reds, such as malbec, and creamy whites, including chardonnay. WineStyles also stocks a selection of craft beers from Germany and all over California for beer lovers. Gourmet cheese boards and imported Italian meats are also available to be added to any wine tasting or private event.
10625 N Tatum Blvd., D142
Phoenix
Arizona
US
480-922-4771
As its neon-flamed exterior would suggest, Cactus Moon Sports Grill is a lively establishment. Chefs prepare eclectic dishes, such as Wachos, their Southwestern twist on nachos, in which they douse crisp waffle fries in a hearty sauce. From the sports bar outfitted with 48 HDTVs, bartenders pour a selection of beer and wine, which includes sudsy drafts from Four Peaks, Stella Artois, and Sam Adams. On some nights, the clacking of pool balls on 15 billiards tables and the rattling of foosball kickers orchestrate rhythmic background sounds, and on others, a late-night DJ incites hip swivels and 360-degree head turns with an infectious track list of danceable tunes played out over a 1,000-square-foot dance floor.
1017 North Dobson Road
Mesa
Arizona
480-833-2226
Whether they're celebrating gridiron victories or a fastball-filled afternoon spent with America's pastime, Sports Grill 101 fuels fandom with a smorgasbord including stuffed hoagies, sizzling calzones, and Italian eats. As the sights and sounds of sportsmanship fill the bar's television, diners bond over baskets of wings, savor topping-flecked slices of house-made pizza crust, or toast successful touchdowns, home runs, or goalie-mask-decorating workshops with a frosty beer fresh from the tap.
8763 E Bell Road
Scottsdale
Arizona
480-515-7565
An aroma of high-quality tobacco swirls with a rhapsodic bouquet of whiskey and leather to greet each guest who walks through the Scottsdale Cigar Club's unassuming façade. The club's staff warmly invites patrons to enjoy sumptuous leather club chairs, card tables, and humidors. These fixtures imbue the smoke haven with the ambiance of an old-world retreat modernized by eight 50-inch televisions, hooked up to Directv and playing business news and sporting events. Resident cigar experts translate a collection of more than 400 cigars—which include Churchill and Robusto cigars from Romeo y Julieta, Arturo Fuente, and Kristoff—revealing the flavorful nuances hidden within each cigar's origin, wrapper shade, and long filler leaves.
The well-ventilated club rents out its prestigious quarters for parties, special events, and the rebirth of Sigmund Freud, which scientists predict will happen any day now. The team also rents out humidified lockers to keep members' cigar stashes fresh, and the in-house cigar shop purveys cutters, ashtrays, and humidors to prevent patrons from fashioning them out of partially ripped plastic electronics wrapping, their cereal bowl, and a box situated in the rainforest, respectively.
14525 N 79th St.
Scottsdale
Arizona
US
480-946-7833
---