Queen Creek, AZ Health and Fitness
---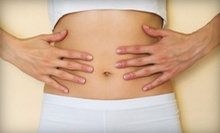 A trained tech oversees sessions that cleanse lower bowels; infrared sauna promotes detoxification and wellness
---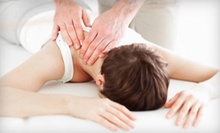 Licensed massage therapists tailor massages to specific aches; spinal decompression relieves back and neck pain
---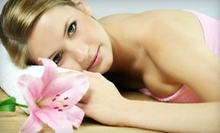 Like acupuncture without needles, a specialist lines the body's energy meridians with healing quartz, amethyst, and aquamarine
Use Monday 9:00am - 5:00pm
---
Recommended Health & Fitness by Groupon Customers
---
After earning reputations as elite trainers throughout the East Valley, NASM-certified personal trainers Luis Galindo and Jeremy Jones pooled 30 years of combined fitness experience to cofound Funktional Fitness. At their custom-designed studio in downtown Gilbert, they waive the monotony of gym machines and treadmill stacking for workouts based on functional movements—actions relevant to everyday living. Their regimens and nutrition programs encourage guests to embody the studio's 10 core values, which include "unity," "embrace change," and "strive to be 1% better each day."
Rather than roping its clients into memberships, Funktional Fitness allows them to customize their training plans according to the TMDA (think, motivate, decide, and act) model. One-on-one and semiprivate sessions stress individual feedback, whereas GroupFit classes combine the intimate instruction of private lessons with the camaraderie of book clubs that meet to tear dictionaries in half. Patrons might battle their own body weight with TRX suspension cords, swing kettlebells, or flow through yoga poses during their visits, building strength in a welcoming environment infused with competitive drive.
213 N Gilbert Rd.
Gilbert
Arizona
480-503-2307
Zari Pavri founded Nutrology Consultants in 1978, leveraging his experience as a wellness educator and a researcher for nutritional supplements to provide nontoxic, drug-less avenues for clients seeking detoxification, nutrition awareness, and optimal health. Mazi Pavri serves as the facility's co-owner and certified colon therapist, drawing on more than 17 years of experience as she facilitates detoxification by flushing out toxins and hardened waste. Colon irrigation can give clients a feeling of lightness and newfound energy, and herb-vapor and foot-detox therapies offer alternative means of ridding the body of waste and toxins. For more information, see the company website.
2602 W Baseline Rd., Suite 19
Mesa
Arizona
480-730-1999
Valley Medical Weight Control's duo of doctors draw on decades of experience to help their clients reach and maintain a healthy weight. Through injections and FDA-approved supplements, they construct weight-loss programs that suppress the appetite and build up the body's stores of beneficial nutrients and minerals. To track their progress, they use the BodyComp scale, which quickly reports on the body's fat percentage, energy expenditure, water weight, and current number of bones.
3141 S McClintock Dr., Suite 4
Tempe
Arizona
480-968-5673
Burn Fat's licensed chiropractor, Jeffrey Shiflet, helps slenderize forms with advanced, custom weight-loss solutions that include goal-setting assistance and helpful follow-ups. Developed by a chemist from the UCLA medical center, Burn Fat's herbal body wraps target fat cells and cellulite with Herbalogica products, aiming to purge the body of toxins while increasing blood circulation and providing a good example of what it feels like to be a burrito. The office's resident weight-loss program, Club Reduce, guides clients on a slimming journey with laser fat-reduction therapy, which was highlighted by San Tan Valley Today. Burn Fat also offers whole-body vibration training, an innovative 10-minute workout that causes the muscles to contract and relax, quickly blasting calories and bumping up the metabolism.
36359 N Gantzel Rd., Suite 102
San Tan Valley
Arizona
480-888-7744
Himanshu H. Shukla, MD founded C.A.I., a Cardiovascular and Arrhythmia Institute with just a few resources but a lot of questions about the heart. Why does the heart speed up? Why does it slow down? Why does it beat irregularly?
Even after receiving his doctorate, Dr. Shukla's desire to learn more about the heart persisted. He completed electrophysiology training at the University of Oklahoma and cardiovascular medicine training at the University of Missouri-Columbia. His work was recognized when he won the American Heart Association's Cardiology Fellows Forum of Excellence Award in 2003. But for Dr. Shukla, who lectures at podiums across the country and continually has his work published in medical journals, recognition is secondary to fostering cardiovascular health.
At C.A.I., he and his experienced team of physicians partner with patients and their family physicians to provide trusted, technologically advanced, and customizable treatments. The team treats everything from cardiac disease and heart-rhythm disorders to removing varicose veins and out-of-style toes rings.
10238 E Hampton Ave., Suite 501
Mesa
Arizona
480-889-1573
Bart Vermilya didn't always want to be an acupuncturist. He might still be building computer mainframes for a living had it not been for a shoulder injury he incurred while practicing martial arts. In severe pain, he went to a chiropractor and a massage therapist, both of whom failed to help. He then went to an acupuncturist who reclined him on a table, ignored his shoulder completely, and proceeded to insert needles into his ankle.
"It kind of has to do with tricking your nervous system," Bart explains. A computer networker and engineer, Bart has a logical approach to problem solving and researches his own treatments with the fervor of a caffeinated skeptic. He finds fascination in sciences that work in spite of logic. "I was surprised too. My ankle. But it worked."
Inspired by his experience, Bart began studying holistic treatments. His vocation as an engineer, combined with training in acupuncture, Chinese medicine, and holistic healing represents a merger of Eastern and Western philosophies. Today, he custom-blends Chinese herbs based on the client's condition and on his own extensive scientific research, and integrates various treatments into his practice: a patient complaining of a sore back might receive acupuncture on limbs while Bart places cups along the spine.
2051 West Warner Road
Chandler
Arizona
480-359-5616
---