Restaurants in Queen Creek
---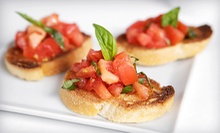 At the restaurant and wine bar, wine flights complement the American and Mediterranean flavors combined in tapas such as hummus nachos
---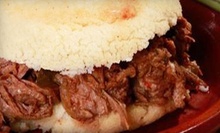 Beef- & plantain-stuffed empanadas plunge into deep fryers & sancocho soups boil taro, yam & pumpkin with short ribs in Venezuelan eatery
Use Friday 11:00am - 10:00pm
---
Recommended Restaurants by Groupon Customers
---
The Original Flame Burger Factory crafts third-pound patties on a mesquite open-flame grill, infusing burgers with smoky flavor before sandwiching them between homemade bread. A variety of toppers including chili, guacamole, and bacon completes comestibles and will pique your hunger tooth and activate dormant burger glands at the base of your skull so that your jaw unhinges a little. Combo meals provide diners with fries, a soft drink, and signature sauce. Flame Burger also serves all-beef Chicago–style hot dogs, gyros, and grilled-chicken sandwiches.
2160 N Arizona Ave.
Chandler
Arizona
602-465-7070
Thai cuisine incorporates an endless range of tiny chile peppers, coconut milks, basil, and other ingredients. Thai Buffet's chef and owner Lumjuan (Joanne) Ritdej, originally from Puntangchai, Thailand, draws upon 50 years of experience to bring those building blocks together into brightly hued and adventurous dishes. Lemongrass and other herbs may lend their flavor and color to green curries, while pumpkin contributes a sunset palette to red curries with beef. The buffet sprawls across the dining room during mealtimes, and sandwiches brim with American or Thai ingredients.
502 South Dobson Road
Mesa
Arizona
480-844-5085
Tina says her restaurant is her second home, a feeling that grew during the days when she ran the entire kitchen alone and worked to make every guest feel like they "had been invited to her home for a dinner party," according to azcentral.com in 2007. For each platter of food set before her houseguests, Tina draws culinary inspiration from her childhood in Ethiopia, using sense memory to season simmering pots of lentils, grilled beef, and herb-crusted chicken. Instead of silverware or miniature loading cranes, Tina serves each meal with an accompanying basket of traditional injera, a tasty, spongy Ethiopian bread that allows diners to scoop out each sauce-laden bite without the need for silver-, gold-, or bronze-ware.
785 W. Warner Rd., Ste A
Gilbert
Arizona
US
480-772-2904
At Tumi Fine Peruvian Restaurant, head chef Oscar Graham enlists fresh Peruvian ingredients such as aji peppers and yucca to honor his grandmother's traditional recipes and update them with his own creative twist. Influenced by African, Italian, and Asian culinary techniques, the menu encompasses a spectrum of flavors and dishes, from succulent beef-loin strips sautéed with cilantro and onions to hearty linguine bowls drowned in Peruvian-style pesto. A fiery rotisserie roasts whole chickens—seasoned with Oscar's blend of 12 spices—right in the Tumi kitchen, ensuring perfectly crisp skin, tender, juicy meat, and a frostbite-free wait staff.
2160 N Alma School Rd., Suite 116
Chandler
Arizona
480-821-1717
Robbie Fox's Public House fosters an atmosphere of "craic"—cozy conversation, delicious pub grub, and the music of laughter and actual music. While pints certainly are knocked back, Robbie Fox's prides itself on being an appealing neighborhood meeting-place for anyone and everyone. The menu sets taste buds dancing the hornpipe with a cornucopia of classic Irish fare, fresh seafood, and gourmet cuisine. Offerings include Robbie's fish & chips ($8 or $12 depending on size), authentic cottage pie ($10), and the Robbie Fox sandwich, a saliva-stimulating slab of Irish bacon and fried egg on crispy bread with chips ($7). Diners wishing to save their tongues from jet lag can order the wild mushroom chicken, an organic chicken breast in mushroom cream sauce ($12), or the vegetarian-friendly portobello mushroom burger ($8).
640 S Mill Ave., Suite 120
Tempe
Arizona
Wooden beams and tables, American-flag accents, a DJ booth, and real Cadillacs on the roof accentuate Cadillac Ranch's southwestern vibe, which is permeated with rock and roll tunes. On game days, patrons gaze at a 150-inch HD projection screen or one of 30 plasma televisions while sampling bar bites such as tacos and burgers from one of the menus, which include a late-night selection that is served until midnight.
2000 E Rio Salado Pkwy , Suite 2105
Tempe
Arizona
---