Beer, Wine & Spirits in Quincy
---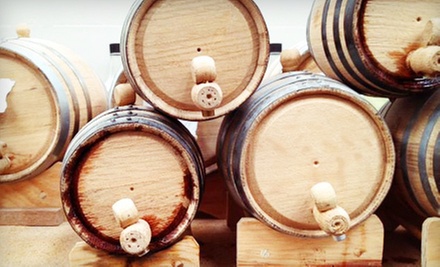 ---
Beer, Wine & Spirits Deals
---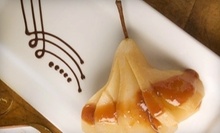 Old & New World wines collide as pastry chefs fashion Napolean cheesecakes & sugar cookies behind rustic bar in medieval-themed atmosphere
Use Sunday 5:00pm - 10:00pm
---
Recommended Beer, Wine & Spirits by Groupon Customers
---
During the two-hour foray, samplers will tipple high-end wines with bite-sized pairings to match. Learn techniques for sampling wine, pairing tips, and which wine fits best in which glass (example: wine from a square box will not fit in a circular glass). There will be five or so wines to try, which you can read about in vivid detail here to prep your buds for the journey ahead. After your palatal field trip is complete, you can pick up a bottle of your favorite sampled wine for $10 off retail. Bottles range from $16 to $30.
632 Main Street
Winchester
Massachusetts
Carol Russell comes from a long line of winemakers—her father, Herbert, and grandfather, Max, crafted sparkling wine at their vineyard in New York. After dreaming of rebooting the family tradition for quite some time, she moved to farmland in Westport, Massachusetts, in 1982 and her family planted their first vines four years later. Today, the winery family cultivates 80 acres of grapes including chardonnay, pinot gris, pinot noir, and riesling.
Made through a combination of old-timey and contemporary techniques, the sparkling wines, table wines, and aperitifs have earned more than 20 gold medals and twice-filled glasses at the White House. Wine flows year-round at the Westport Rivers' store, which hosts tastings, an art gallery, and autumnal hayride vineyard tours where guests meet the giants who squash the grapes with a single stomp once a year.
417 Hixbridge Rd.
Westport
Massachusetts
508-636-3423
For three generations, Christmas trees perfumed the grounds of Leyden Farm & Winery with a piney aroma, growing unimpeded by other crops. In 2010, though, the Leyden family became interested in fruit essence wines. They planted strawberries, blueberries, and grapevines amidst the trees. Today, visitors to the hundred-acre farm can sip glasses of smooth, complex merlot, crisp white wine laced with green apple, or a blush wine infused with fresh watermelon essence, complementing their tastes with bites of fruit and cheese.
160 Plain Meeting House Rd.
West Greenwich
Rhode Island
401-392-1133
Home to more than 100 varieties of tea, Herbal Infusions Tea Co. immerses visitors in all things tea. Knowledgeable staffers stock the shelves with their own popular blends, including eucalyptus-grapefruit tea and organic cacao tea alongside a fleet of white, green, oolong, and black teas. They also sell tea-making accessories such as teapots and filters. In addition to offering advice on steeping the perfect cup to any customer who asks, they hold tea-themed workshops that range from pairing cheeses to developing pinkie-finger fitness regimens.
487 Moody Street
Waltham
Massachusetts
US
The Coastal Wine Trail Market gathers together the appellation's nine coastal producers, whose vines speckle hillsides along the southern coasts of Massachusetts and Rhode Island. Each winery—Truro Vineyards, Travessia Winery, Coastal Vineyards, Running Brook Winery, Westport Rivers Vineyard & Winery, Sakonnet Vineyards, Greenvale Vineyards, Newport Vineyards, and Langworthy Farm Winery—sends representatives bearing bottles and fully housebroken grapes to the Westport Fairgrounds building. Under exposed beams, they greet guests alongside local chocolate, cheese, bread, and other culinary artisans, including Hearth Artisan Bread, Shy Brother's Farm, City Girl Cupcake, and Hana's Honey. Visitors may learn about and perhaps purchase each producer's favored libations—mostly whites and sparkling wines but a few reds—which are characterized by their growing proximity to the coastline and the dual-climatic influences of Gulf Stream waters and the screams of passing waterskiers.
200 Pine Hill Rd.
Westport
Massachusetts
Owner Svetlana Yanushkevich has spent the majority of her life surrounded by wine. She grew up on the southern peninsula of Ukraine, in a territory renowned for its 2,000-year-old winemaking tradition. After moving to the US in 2002, she built upon that foundation by managing wine programs at prestigious restaurants and earning a diploma from the renowned Wine and Spirit Education Trust in London.
In 2010, Svetlana added "wine-shop owner" to an already impressive résumé when she opened the doors to WineNot Boutique, winner of The Hippo magazines Best Wine Shop in 2011, 2012, and 2013. Today, WineNot Boutique's visitors gather to enjoy tastes from around the globe and, perhaps most importantly, benefit from Svetlana's wealth of knowledge. This year, Svetlana has partnered with local merchants to host a 7-night guided tour of one of the world's most renowned winemaking regions, as well. Collectible wines, artisan cheeses, and gourmet foods parade across the shop's shelves, and wine education events, such as weekly complimentary tastings, let novices ingest loads of wine-related facts without having to eat the pages of their Wine for Dummies book.
170 Main St.
Nashua
New Hampshire
603-204-5569
---