Museums & Galleries in Quincy
---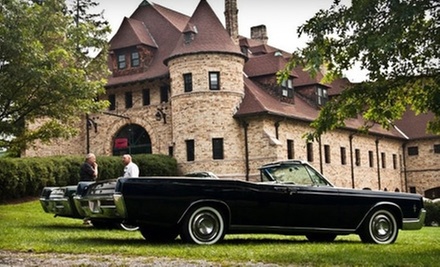 ---
Recommended Museums & Galleries by Groupon Customers
---
The Isabella Stewart Gardner Museum has been a bastion of art and culture since it was founded in 1903. The building, inspired by and designed after a 15th-century Venetian palace, contains three floors of galleries surrounding a garden courtyard that remains verdant with plant life from the dawn of spring through the darkest, most subatomic depths of winter. Gardner, who founded the museum, spent her life curating and encouraging the art collection, which contains more than 2,500 objects, including paintings, sculpture, textiles, illuminated manuscripts, and rare books lifted everywhere from ancient Rome to 19th-century France. While visiting this citadel of scintillating visions, witness landscapes by Whistler, Renaissance-era Flemish tapestries, and religious wood sculptures from 16th-century Germany. Exhibitions provide specific, detailed glimpses into varied subject matter; an exhibit on terracotta sculpture of the Italian Renaissance runs until May 23.
280 The Fenway
Boston
Massachusetts
A comprehensive compendium of the world's art, the MFA lets guests take a gander at the earliest art of ancient Egypt, musical instruments from every celestial sphere, and the Impressionist art of Claude Monet, Edgar Degas, and Paul Gauguin, to name just a few 19th-century masters. Additionally, be sure to see the beautifully restored ceiling mural by John Singer Sargent above the palatial upper rotunda.
465 Huntington Ave.
Boston
Massachusetts
Founded in 1866, the Peabody Museum is one of the oldest anthropological museums in the world, with an in-depth collection of artifacts spanning prehistory to present. You'll learn about the evolution of cultures through a variety of current exhibits. Head into the Pacific Islands Hall to find carvings, shields, and shadow puppets from Hawaii, Micronesia, and other islands, and get a dose of colonial life in the early Harvard Yard with Digging Veritas, where you can scope out framed papyrus LSAT scores. The Wiyohpiyata display treats guests to distinct scents, motions, ambient sounds, and more to evoke the character of original 19th-century Lakota drawings collected at Little Big Horn. Your Groupon also affords you admission to the nearby Harvard Museum of National History, where muzzled opera singers can get a glimpse of the famed Glass Flowers exhibit, a collection of more than 3,000 highly realistic glass-blown models of flowers and plants.
11 Divinity Ave.
Cambridge
Massachusetts
The year 2000 brought big changes to Gloucester Harbor. Nearly 300 Cape Ann residents came together to rehabilitate a neglected area of the waterfront. They broke ground on the Gloucester Maritime Heritage Center: an educational outpost that would transform one acre of the harbor into a living classroom. The project turned the old icehouse into a science-teaching center, transformed dilapidated buildings into exhibit spaces, and completely rehabilitated the pier—it now stands as the largest public wharf in Gloucester Harbor.
But perhaps the biggest transformation took place in the minds of visitors. In just a little over a decade, the educators sparked scientific interest in countless kids through educational programs at the elementary, middle school, high school, and collegiate levels. Many of these young minds now work as high school and college interns, and have gone on to pursue graduate degrees at institutes of higher learning such as Columbia University.
Admission to the museum packs a maritime wallop, giving visitors access to boatloads of exhibits and attractions. The Sea Pocket aquarium, for example, encompasses saltwater tanks with specimens of local marine life. At Gorton's Seafoods Gallery, educators bring Gloucester's rich maritime heritage to life through ship models and artifacts like old foghorns. The interns and experts also take visitors into the Dory Shop, where fisherman Geno Mondello builds wood sailing and rowing dories before their awe-widened eyes. One of the most popular attractions occurs out on the water. Captain Burnham sets sail in the 55-foot Schooner Ardelle, a replica of a schooner built in 1845—the same year the underwater blimp, The Hindensplash, horrified onlookers by losing control and floating violently to the surface.
23 Harbor Loop
Gloucester
Massachusetts
978-281-0470
In 1799, Salem's weathered seafarers founded the East India Marine Society and began to assemble "natural and artificial curiosities" brought back from their journeys to Asia, Africa, and other distant lands. Over the following centuries, the collection grew, and while it did, the Society evolved through various shapes until it became the Peabody Essex Museum. Today, more than 1.8 million of these works invite visitors to explore the world in a facility that underwent a $200 million transformation in 2003.
The majority of works now rest in a Moshe Safdie–designed glass-and-brick building, focused around a sunny atrium whose various architectural silhouettes echo local forms. This new building joins the East India Marine Hall, built by the seafarers' society in 1825 and dedicated in a ceremony attended by President John Adams. Today, that National Historic Landmark hosts society-member portraits and a number of the hall's original objects; in other galleries, paintings and sculptures by Japanese, Indian, and Chinese artists hang on the walls or perch in glass cases like pies with personal-space issues. Guests can also tour Yin Yu Tang, the only complete Qing Dynasty house outside of China and a 200-year-old structure with intricate carvings.
In 2013, the Peabody Essex Museum will add exciting new displays to its rotating special exhibitions, from Faberge treasures to impressionistic masterpieces from the likes of Monet, Renoir, and Manet, as well as modern African-American art and contemporary art from India. After marveling at the skill and diversity of the artwork, visitors can drop by the Atrium Café or the Garden Restaurant for a bite to eat.
161 Essex St.
Salem
Massachusetts
---