Things to Do in Quincy
---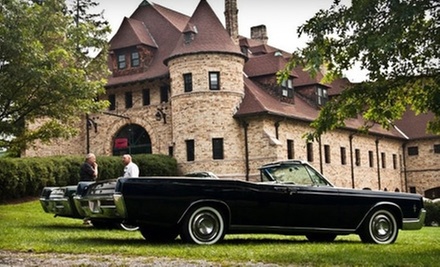 ---
Recommended Things to Do by Groupon Customers
---
Visitors to Mel's Funway Park can try their hand at two 18-hole mini-golf courses before speeding and swinging their way through the go-kart track and batting cages, which feature a replica of Fenway's Green Monster and slow- and fast-pitch machines that can reach speeds of up to 85 mph. Inside, a laser plex hosts games of laser tag, while other visitors attempt the laser maze, a web of 36 lasers that participants must avoid to keep from triggering the alarm and receive their cat-burglar certification. Funway Park has also partnered with Woodman's Restaurant to recharge empty body batteries with fare from a renowned and award-winning eatery.
4 Yawkey Way
Boston
Massachusetts
Hidden among Strasburg's thicket of spindly trees, patchy grass, and dirt fields, castles and wooden forts stand strong while flying saucers hint of an alien invasion. This is all part of Skyline Paintball's battlefield landscape, which includes more than eight fields such as Mars Attacks and Frontier Fort. Before slinking through trenches and underground bunkers, players load up on fresh paintballs by Kee and GI Sportz, sold by Skyline onsite. Refs oversee matches to ensure everyone understands the finer techniques of pointillism and that no one uses a marker that fires faster than 280 feet per second. Players can walk on during open play each Saturday and Sunday or buy a group package for weekday melees during which up to 20 players can sling rainbows of paint throughout strategy-laden matches. For paintless competitions, Skyline also hosts laser tag sessions.
142 Galen St.
Watertown
Massachusetts
US
After years of blending her own hypoallergenic soaps to accommodate the needs of her daughter's sensitive skin, Pamela Carousso reserved space at her first farmer's market, attracting an immediate and dedicated fan base. Now, more than 15 years later, she still crafts her own handmade soaps and bath products in small batches. After expanding with the help of business partner Steve Carousso, the company now offers natural products such as talc-free mineral eye shadows, as well as stationery and accessories.
A variety of classes are offered at the shop six days a week and two times per day. Students can concoct their own lathering agents, stirring cauldrons of molten fixings and bubbling essential oils over crackling electric fires. Carousso spins thorough instructions and covers safety procedures that help guests avoid being bitten by a Bunsen burner.
1359 Hancock St.
Quincy
Massachusetts
617-984-0013
South Boston Candlepin challenges bowlers to take aim at pintsize pins during rounds of a New England–born variation on the traditional lane-based game. On the alley's hardwood lanes, bowlers roll 2.5-pound candlepin bowling balls that lack the holes and molten centers of their 10-pin counterparts. Developed in 1880 by a Massachusetts bowling-alley owner, candlepin bowling tasks participants with dispersing crowds of pins that are thinner than standard 10-pin targets and weigh just a little more than the balls that hunt them. While honing curves and picking up spares, bowlers compete in 10-frame games until someone usurps victory or starts cooing to the tiny balls like they're infants.
543 E. Broadway
Boston
Massachusetts
617-464-4858
Since its inception as a nonprofit organization in 1985, Community Rowing Inc. has guided more than 15,000 students in invigorating rowing sessions held on the Charles River. Their experienced staff of Olympians and coaches helps students to become familiar with industry-standard boats and rowing machines through comprehensive introductory lessons and extended handshakes with the rowing arms. After gleaning the skills necessary to properly use equipment, students gain access to locker rooms, training areas, and any additional courses on the Charles River. The full-body, calorie-burning workouts are available throughout the week, allowing students to learn essential techniques such as sweeping, sculling, and dealing peacefully with the water road rage of aggressive gondoliers.
20 Nonantum Rd.
Brighton
Massachusetts
617-779-8267
Hot air breezes through the studio, filling the open, feng shui–inspired layout and raising beads of sweat on the group of students flowing through a tapestry of ancient poses. These yogis breathe deeply before sinking deeper into their stretches and unearthing a pervading sense of inner and outer calm. This is a common scene at Hot YogaYogaYoga's studios, where expert instructors lead classes and perform hands-on adjustments if necessary. The selection of classes ranges from gentle Hatha yoga to intense power yoga.
Engineered to ventilate hot air, the studios perfectly regulate the humidity and air quality at Hot YogaYogaYoga's studios. The staff also ensures that the space is uncluttered, hygienic, and devoid of concentration-breaking mariachi bands to ensure students get the most out of their yogic experiences.
95 Washington Street
Canton
Massachusetts
US
---