Radcliff Automotive
---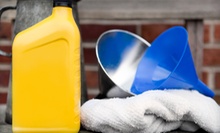 Oil changes include up to 5 quarts of motor oil, tire rotation, and inspection of brakes, suspension, hoses, and wiper blades
---
Recommended Automotive by Groupon Customers
---
Though founded originally founded in Alabama in 1945, today Goo-Goo Express Wash sprawls across 12 states, each emulating the original with its signature red-and-yellow motif and smiling uniformed staff. Donning the red ties, helpful Goo-Goo employees assist customers and cars with prewash treatments before sending them both on their way through the automatic tunnel. Inside, microfiber cloths and Goo-Goo's own line of biodegradable soaps work together to destroy dirt and muck during three levels of washes, including two that conclude with a spritz of tricolor and sealer wax. After the wash, Goo-Goo's self-serve vacuum cleaners and mat machines work overtime to suck up dirt and debris from seats, carpets, and carpooler's nostrils free of charge.
7773 Dixie Hwy.
Louisville
Kentucky
502-410-0400
Unlike library books, cars protest by not working when you don't adhere to their due dates. To keep your vehicle in top shape, you should get your car's oil changed every 3,000 miles or six months or after every seemingly coincidental encounter with a fainting goat. Though we all may delay getting this necessary service for our beloved steel-combustion chariots, this deal is the perfect opportunity to deal with one of the nagging chores you've been meaning to get around to for ages.
125 W Lewis & Clark Pkwy.
Clarksville
Indiana
As Kentuckiana's only hand-car-wash facility, River City Splash is the only way to gently and meticulously spiff up four-wheeled living rooms without hiring a crew of mimes who never actually touch the car while working. Each ultimate splash wash includes a hand wash and dry, wheel cleaning, interior blow-out and vacuuming, window cleaning, dash and center-console wipe-down, seat cleaning and dressing, door-panel wash, tire dressing, and exterior hand wax. Sparing delicate car exteriors from clumsy machinery and assembly-line service, River City employs a crew of live people who deftly revive your car's lustrous sheens with steady-handed precision. River City's crew always uses high-quality cleaning products, never recycled banana-peel wipes.
13160 West Highway 42
Prospect
Kentucky
Sam Meineke opened his three-bay muffler shop in 1972 with a single product line, and through time, he and his successors have expanded the business into a complete automotive car-care center. Today, nearly 900 franchise owners operate their locations around the globe, still standing on the firm foundation of Sam's ideal of nursing vehicles back to health at fair prices. Meineke Car Care Center's mechanics perform an array of services, keeping rides running in showroom condition with tune-ups, 23-point inspections, tire rotations, and deep-tissue windshield massages.
5326 Dixie Hwy.
Louisville
Kentucky
502-447-1667
Color Solutions' team of meticulous auto cleaners expunges nicks and grime from the inside out with aesthetics-boosting detailing and restoration services. During detailing sessions, technicians hand wash and wax outer shells and clean away window invaders including water spots, dirt, and fossilized dog nose prints. Inside, staffers vacuum cabins and trunks, shampoo carpets and floor mats, and lightly wipe down surfaces. For an additional charge, body techs smooth away wheel gouges, restore foggy headlights into clear beams, and touch up paint scrapes with hues developed from a precise color-matching system.
2300 Plantside Dr., Suite C
Louisville
Kentucky
502-493-5522
Cars, semis, boats, and motorcycles clamor to Louisville Detailing's roomy shop or invite techs to their driveways and marinas for mobile shine-ups. An array of detail services treat vehicular exteriors to clear polymer-paint protectant, tire dressings, and interior wipedowns, as well as add-ons such as engine detailing. The shop also touches up scratches, smoothes rock chips, and repairs upholstery paper cuts caused by Haynes manuals. Louisville Detailing also details guests' cars at special events with concierge services, and donates a portion to its proceeds to charities such as Ronald McDonald House.
3221 Fern Valley Rd.
Louisville
Kentucky
502-969-7200
---