Arts & Culture in Raleigh
---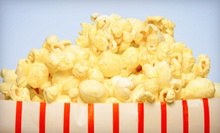 Vintage marquee glows in front of the theatre, beckoning crowds to enjoy popcorn as they watch blockbusters, indie flicks, and classic films
---
Recommended Arts & Culture by Groupon Customers
---
Located a stone's throw from Symphony Lake, Koka Booth Amphitheatre emerges out of 14 acres of hardwoods and pines to offer up its stage to traveling national acts, theatrical productions, and movie screenings. Although its wood and earth-toned beams camouflage the venue within its natural surroundings, passersby can notice its sleek exterior glistening in the moonlight during nighttime performances. The outdoor amphitheater––designed by William Rawn Associates of Boston, which also constructed the Cambridge Public Library––seats up to 7,000 people on its spacious lawn, crescent deck, or loft bird nests.
8003 Regency Pkwy.
Cary
North Carolina
919-462-2052
Built in 1925, the Temple Theatre first served as a vaudeville venue, later becoming a host for road shows, burlesque, and movies. However, the theatre closed in 1965, and would be subjected to disrepair, vandalism, and skeleton xylophone recitals for more than 15 years. A 1981 restoration project returned the theatre to its former glory. Today, seated under the gilded chandelier and wooden trim, theatergoers lose themselves in the thoughtful dramas enacted upon the stage.
120 Carthage St.
Sanford
North Carolina
One of the few original theaters in Durham to remain in operation, the Carolina Theatre has endured more than 85 years of history in its quest to entertain. The venue's main room, Fletcher Hall, rose in popularity during World War II, when soldiers from Camp Butner arrived by bus to watch films on its colossal screen. In the last three decades, ongoing renovations have restored the venue to its original glory while propelling it into contemporary times with the addition of modern accoutrements, including two upstairs movie screens, stage-level dressing rooms, and landing pads on the roof for skateboard hovercrafts.
309 W Morgan St.
Durham
North Carolina
919-560-3030
At Raleighwood Cinema Grill, mid- and second-run movies flicker across a full-size CinemaScope screen, brought to life with enhanced Dolby surround sound. Yet what sets the theater apart is the experience off the screen. Instead of stacking seats into rows or demanding patrons stack into human pyramids to cram as many bodies in as possible, Raleighwood cultivates a relaxed atmosphere. Patrons lounge on cushioned, swiveling chairs at cabaret-style tables with a beer or glass of wine while servers lay out a menu of burgers, pizzas, and barbecue. Comedies, dramas, and family films enhance the flavor of dishes and the calendar of special events and food specials.
6609 Falls of Neuse Rd.
Raleigh
North Carolina
919-847-0326
Stars Theater & Arts Center fosters self-confidence and life skills through arts education and dramatic performance. Theatrical director Cindy Verian writes and directs, making each show a family affair by having her husband and children share the responsibilities of set construction, choreography, and sound design. Along with staging performances of musicals and original shows, Stars Theater & Arts Center also holds youth classes and camps to develop performance and personal skills. Through positive self-expression, young thespians hone creative thinking, speaking skills, and self-confidence to boost their academic performance and prepare them for upcoming congressional speeches.
Classes and performances take full advantage of Stars Theater & Arts Center's facility, which includes a 1,600-square-foot ballroom, a dance studio, and a 120-seat theater. First-time visitors take in the exterior's castle-like design and faux drawbridge flanked by archers on the lookout for acid-penned critics.
123 E Vance St.
Fuquay-Varina
North Carolina
919-557-8271
---