Beer, Wine & Spirits in Raleigh
---
Recommended Beer, Wine & Spirits by Groupon Customers
---
Wine 101 has allied with Raleigh roastery Larry's Beans to offer the rich aromas and complex favors of organic, fair-trade coffee. Housed comfortably in resealable bags with helpful flavor summaries, Larry's blends precisely target your individual coffee sweet spot. With selections from the roasted peanut richness of the Malabar Triple X blend to the bittersweet silkiness of the Bean Martin, Larry has traveled the world to find the best representatives from every quadrant of the coffee flavorscape. Larry's Beans even provides its own documentation to prove its coffee is genuinely fair trade.
3325 Rogers Road
Wake Forest
North Carolina
919-453-1555
Deep in the Umstead Industrial Park, something stirs. Amid the clank of modern machinery, a group of workers busy themselves with one of the world's oldest crafts: brewing. At Gizmo Brew Works, this meeting of contemporary technology and ancient know-how produces a tempting slate of small-batch beers. Inside tanks that hold the equivalent of 1,000 pints each, brewers prep year-round favorites including the session-ready Raleigh Red Amber Ale and the complex Dark Construct Stout with the same care that earned them medals at the 2012 and 2013 Carolina Championship of Beer. They also save room for seasonals, carefully adding orange blossom honey to summer's Gizmo Honey Wheat and recreating the tastes of the season with fall's Forgotten Hollow Cinnamon Porter. These beers and more make frequent appearances in the brewery's taproom, gracing pint glasses for impromptu toasts or filling up growlers for at-home sips. Never ones to shy away from curious guests, brewers also open up their facility for Saturday tours, walking groups through the beer-making process during 30-minute explorations.
5907 Triangle Dr.
Raleigh
North Carolina
Aviator Brewing Company's dedicated brew architects collaborate with a premium selection of seasonal ingredients to craft 16 varieties of pint fillers. Since taking root in 2008 with two 300-gallon tanks in a decommissioned airplane hangar, the suds factory has grown to include four tanks, each of which contains 3,100 gallons of award-winning libations. Inside the tanks, frothy brews such as the Devils Tramping Ground Tripel—a golden Belgian ale with a fruity, spicy, sweet flavor—wait for year-round sampling. They also concoct seasonal brews for Oktoberfest, spring, and winter, as well as rotating beers such as McGritty's Scotch Ale, which they brew from Maris Otter barley malt and crisp malt imported from the United Kingdom in an oversize kilt.
Nearby, on Broad Street, Aviator also operates a tap house, which serves up their draft brews at a temperature of 47 degrees Fahrenheit thanks to a micromatic dispensing system with glycol cooling. Down the street, they also operate a smokehouse that serves up smokehouse ribs, North Carolina chopped-barbecue sandwiches, and pulled pork that has been featured on RaleighLifestyle.tv's Dining Destinations.
209 Technology Ln.
Fuquay-Varina
North Carolina
Boutier Wine & Design owners James and Laura Cawthern oversee a collection of award-winning, locally produced red, white, and fruit wines. Inside their facility, the couple casts casual vibes across a variety of special events, including Ladies Night on the first Thursday of every month and Wine Down Fridays, when visitors can celebrate the weekend by sipping wine instead of by fervidly burning their work clothes. In addition to their potables, the Cawtherns help lift spirits with personalized gift baskets and custom labels that outfit bottles with personal photos.
219 Bickett Blvd
Raleigh
North Carolina
US
Creeping across a 5-acre swath of the Haw River Valley, 16 varieties of grapevines sprout from fertile, sandy soil, twisting their leafy arms around trellises and soaking in the lush, grape-growing climate. Benjamin's artisan enophiles hand pluck each of the muscadine, french, and hybrid grapes that blanket this vineyard. The grapes are escorted into the afterlife inside fermenting barrels where they live on as red and white wines for every taste—from dry dinner varietals and sweet country classics to seasonal bouquets. The whole creative process is observed by spectating visitors who wind through the idyllic facilities on self-guided tours—often including picnics on the winery's covered porch, or perusals of of local art at the gift shop.
As an ecofriendly facility, Benjamin Vineyards & Winery employs sustainable practices, such as composting agricultural products, recycling bottles and other reusables, and growing plants with nightly bedtime reading instead of pesticides.:m]]
6516 Whitney Rd.
Graham
North Carolina
336-376-1080
Railhouse Brewery founders Mike Ratkowski and Brian Evitts both did stints in the armed forces before they met while working the same job. The two shared an interest in the effervescent qualities of a good beer, and in 2009, they turned that passion into a business. Brian, a homebrewer for 20 years, oversees the production of the company's five main beers—oatmeal stout, brown ale, pale ale, honey wheat, and barley wine—and Mike handles operations, sales, and the number of bottles of beer on the wall. Together, they help bring Railhouse brews to 14 restaurants and bars in the Sandhills.
The Railhouse Brewery also frequently hosts concerts and festivals, and holds cornhole tournaments every Thursday from 6:30 p.m. to 9 p.m. For more information, check out the event page or send a pack of investigative hops to visit the brewery.
105 E South St.
Aberdeen
North Carolina
910-783-5280
---
---
Beer, Wine & Spirits Deals - Recently Expired
---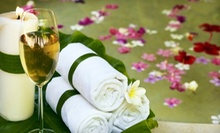 Tours illuminate winemaking with tastings of wines produced from 120 acres of muscadine vines; a mini facial and makeover pamper wine lovers
---
---