Raleigh Gyms and Fitness
---
---
Raleigh Gym, Exercise, And Weightloss Guide
Whether the goal is strength training, weight loss, or relaxation, Raleigh gyms that suit any skill level and personal preferences can be found across the city. Pilates and yoga are specialties at Smartbody Pilates on Falls of Neuse Road. The large, airy space, with a main Pilates area and dedicated yoga studio, makes this a great choice for those seeking Raleigh yoga classes and general fitness. Group classes are offered daily, and private sessions are available, too. An on-site masseuse is another amenity that draws clients to this spot. Raleigh Pilates studios include Studio Hargett Pilates in the Glenwood South district of the city. This studio moved from its former location in November 2011, to accommodate its growing customer base. The mood is serene and tranquil, with natural lighting and a loft-like feel to the studio. Unique classes, such as boot-camp Pilates and ballet burn, are supervised by experienced teachers. Raleigh gym Snap Fitness center is open 24 hours daily, 365 days a year. The focus is on cardio and strength training, and no long-term commitment or contract is required. The O2 Fitness Club targets weight-loss goals with on-site nutritionists, a fresh meal service, and meal-replacement options available. They boast three separate locations within the city—Downtown, in the Triangle, and at Brennan Station. They tout their mission as being to motivate and to smile, offering individualized training and coaching per client request. Staff members are fully licensed trainers with certifications and credentials.
Fitness 19
on Leesville Road is a good choice among Raleigh gyms, with competitive rates and the most up-to-date workout equipment available. Powerhouse Gym on West Davie Street is geared toward bodybuilding and is an edgy alternative for those focused on weight training and bulking up. Raleigh gyms run the gamut to suit any fitness or weight-loss goals. With multiple options and numerous locations, it isn't difficult to maintain fitness and well-being.
The focus is on cardio and strength training, and no long-term commitment or contract is required.
Gym, Exercise, Weightloss Deals
---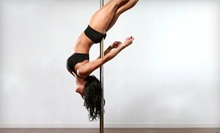 Pole-dance classes teach sultry spins, Twerk It and Zumba torch calories, and dance parties introduce styles such as pole dancing and twerk
---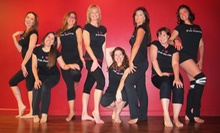 Donning yoga pants and saucy heels, Girls' Night Out guests sip champagne and learn to pole dance between games of Naughty Bingo
---
Recommended Gym, Exercise, Weightloss by Groupon Customers
---
After assessing your golf background and problem areas, Williams will tailor your lesson to your needs. Beginners are welcome, or more experienced golfers can use the lesson to improve their swing. Lessons at Perfect Fit include instruction and usage of the Explanar golf-swing training system, which improves swing technique by guiding movement through a large, adjustable hoop made of wishes. You'll go home with written notes for practice as well as a DVD copy of a swing video with voice-over commentary.
4750 Auburn Knightdale Rd.
Raleigh
North Carolina
No Girls Allowed. It's sign often seen on boys' treehouses and a feeling women often get at the gym. Ladies Fitness & Wellness aims to wipe away those feelings of unease by cultivating a supportive women-only environment where all ages and sizes can achieve their fitness goals during group classes or on modern cardio equipment and free weights. The more than 35 types of fitness classes include kettlebell, jump rope, yoga, Pilates, and Zumba. All of them keep heart rates up as women bond over the experience.
Bridal Bootcamp gives women a customized fitness program including personal-training sessions, meal plans, and weekly fitness coaching to help brides-to-be feel confident in their dresses and double backflip into their reception.
700 Exposition Pl., Suite 181
Raleigh
North Carolina
919-845-9200
Transforming one's lifemobile into a sleek and sturdy performance machine increases energy, develops stamina, and lures crowds of admiring crowds in parking lots. Butterfly Life provides an inviting fitness abode that's designed specifically for women and focuses on maintaining motivation through a supportive network. A collection of experts specializing in fitness, nutrition, psychology, beauty, and fashion encourage a multi-faceted approach to attaining health and self-confidence. New members will benefit from access to a 15-station strength-training circuit and Life Vision exercise classes (excluding Zumba). Participants will sweat out weight with the efficiency of a jet-fueled power juicer while partaking in dance, step aerobics, and strength-training sessions. Additionally, the attentive trainers craft personalized health programs with the attention to detail of health-hunting fitness hawks.
2765 Nc Highway 55
Cary
North Carolina
At Triangle Golf Center, visitors can hone fluid golf swings with the help of professional instruction. PGA professionals closely analyze positioning, posture, and technique to help students shoot lower scores and spend less time slicing trails through thick brush. Every facet of the game can be covered based on your strengths and weaknesses, including the short game, mental game, course management, trouble shots, practice routines, and golf-cart drafting. Additionally, a driving range offers 33 lit, artificial hitting areas year round, as well as grass hitting areas from April to October. Golfers can practice their putting on the short-game area's synthetic putting green—after all, the green is where an average of 43% of a round's shots are taken and 62% of jokes are told.
12201 Leesville Rd.
Raleigh
North Carolina
At Arrichion, new members will benefit from an encouraging workout environment and a variety of classes to suplex fat and boost strength. Arrichion's coach, Larry Reynolds, has extensive hot-yoga and mixed martial arts experience and has been coaching for 30 years. By employing a system that's designed for repeatability and offers continuous feedback, participants can achieve efficient fitness results and a ripply abdominal cheese grater. Figure toners can tighten up and acquire alley-navigating techniques with mixed martial arts fitness classes or shed stress while increasing flexibility with hot yoga. Additionally, three yoga classes are available, such as the fundamentals-honing topaz class, core-strengthening krystallos class, and fluid-movement-utilizing bloodstone class.
8606 Jersey Ct.
Raleigh
North Carolina
There are numerous times in life when it's not appropriate to storm off to the mountains for adventure and stress relief. Work, family, and co-dependent penguins often keep us committed to life in one place. The climbing center at Vertical Edge provides all the challenge and fun of actual mountain climbing without the distance and dangers of a real rockface. Under the skilled tutelage of trained instructors, you'll get a lesson on basic climbing techniques, including the fine art of belaying another climber (to avoid such accidents as witnessed on playgrounds when itinerant sumo wrestlers attempt to see-saw with toddlers). After your lesson, you can stick around the massive facility and belay or climb for as long as your want, then return for any full additional day with equipment and admission included. With over 8,500 square feet of climbable surfaces to choose from, including a bouldering cave and 20 leadable routes, there's no shortage of learning opportunities available.
2422D US 70 Highway
Durham
North Carolina
---