Raleigh Gyms and Fitness
---
---
Raleigh Gym, Exercise, And Weightloss Guide
Whether the goal is strength training, weight loss, or relaxation, Raleigh gyms that suit any skill level and personal preferences can be found across the city. Pilates and yoga are specialties at Smartbody Pilates on Falls of Neuse Road. The large, airy space, with a main Pilates area and dedicated yoga studio, makes this a great choice for those seeking Raleigh yoga classes and general fitness. Group classes are offered daily, and private sessions are available, too. An on-site masseuse is another amenity that draws clients to this spot. Raleigh Pilates studios include Studio Hargett Pilates in the Glenwood South district of the city. This studio moved from its former location in November 2011, to accommodate its growing customer base. The mood is serene and tranquil, with natural lighting and a loft-like feel to the studio. Unique classes, such as boot-camp Pilates and ballet burn, are supervised by experienced teachers. Raleigh gym Snap Fitness center is open 24 hours daily, 365 days a year. The focus is on cardio and strength training, and no long-term commitment or contract is required. The O2 Fitness Club targets weight-loss goals with on-site nutritionists, a fresh meal service, and meal-replacement options available. They boast three separate locations within the city—Downtown, in the Triangle, and at Brennan Station. They tout their mission as being to motivate and to smile, offering individualized training and coaching per client request. Staff members are fully licensed trainers with certifications and credentials.
Fitness 19
on Leesville Road is a good choice among Raleigh gyms, with competitive rates and the most up-to-date workout equipment available. Powerhouse Gym on West Davie Street is geared toward bodybuilding and is an edgy alternative for those focused on weight training and bulking up. Raleigh gyms run the gamut to suit any fitness or weight-loss goals. With multiple options and numerous locations, it isn't difficult to maintain fitness and well-being.
The focus is on cardio and strength training, and no long-term commitment or contract is required.
Gym, Exercise, Weightloss Deals
---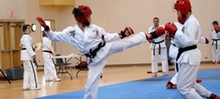 Use Monday 1:00pm - 4:00pm
---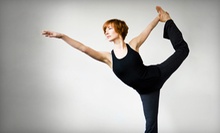 Resistance and strength training, cardio, and Thai kickboxing techniques taught at a school run by two married tae kwon do black belts
Use Tuesday 2:45am - 5:45am
---
Recommended Gym, Exercise, Weightloss by Groupon Customers
---
A 36-month-old strokes his arms through clear water as his mother gently holds him afloat with her hands. Over the past few swim sessions, the little student has learned to submerge his face in the water and float on his belly as well as his back. After he and his fellow swimmers finish their parent/baby swimester, it's likely they may never experience the fear of swimming that many children begin to encounter around age 3. This type of insight into the developmental importance of swimming is what informs the instruction at Swim-U, Leesburg's child-oriented swimming school. The school's curriculum opens its lessons to newborns as young as 6 months old and to kids up to age 12 to instill water skills and the joys of fitness swimming from a young age. The Swim-U team comprises upbeat swimming professors who are the brains behind the company's special brand of instruction in swimming, as well as in child CPR and first-aid training and dunk-tank pitching.
6210 Plantation Center Dr., Suite P113
Raleigh
North Carolina
919-261-7120
Drawing from her training in dance and yoga and the Pilates certification she earned in 2001, owner Ashley Hayes leads fitness classes that emphasize mindful movements. She animates a hands-on mentality during Pilates and barre dynamics sessions, which require students to consistently monitor their range of motion. Ashley imparts this approach to help her students increase stamina and muscle tone through the repeated execution of the proper technique, as opposed to brute repetition. Her elegant exercise regimens can build long, lean muscles over time while encouraging the kind of posture that makes a drill sergeant feel like Quasimodo.
Richland Mall, Floor 2
Columbia
South Carolina
US
803-800-6726
---