Raleigh Health and Fitness
---
---
Raleigh Health And Fitness Guide
Raleigh fitness methods take many forms, from boxing to yoga and from cardio to massage. Exercise and health-maintenance classes, programs, and guidance are easily found in this diverse metropolitan area. For those looking to meet weight-loss goals but who are wary of long-term contracts and commitments, Snap Fitness centers in the Plantation Point and Six Forks districts of the city could be a good match. This Raleigh fitness center is open around the clock, every day of the year. Planet Fitness and Curves chains also provide convenience and consistency from location to location.
O2 Fitness Club, with three sites in Raleigh, incorporates weight loss and nutrition into their regimens. They offer a fresh-meal service that provides healthy, ready-made meals for busy clients watching what they eat. An unusual program O2 Fitness endorses is Visalus, a meal-replacement option with a unique promotion called Body by Vi--a 90-day weight loss challenge to get people off to a running start in their weight loss efforts.
Raleigh doctors have long endorsed fitness programs offered by Gold's Gym in North Hills, due to the careful monitoring they perform over their clients' workouts. However, many people lean toward the less-structured, edgy environment found at Powerhouse Gym, where members focus more independently solely on weight training and bodybuilding.
Prospective health club or gym members should not overlook what the many day spas found in Raleigh can provide when targeting their health goals. Spas more and more are expanding their services to include massage treatments, body-fat indexing, and body detox, which provide valuable preparation and information before embarking on a health and fitness program. Whether the aim is to shed pounds or to contour existing curves, the options Raleigh fitness centers and gyms offer are abundant. Determining priorities, garnering feedback from members, and touring facilities are valuable steps to take before committing to a membership.
Whether the aim is to shed pounds or to contour existing curves, the options Raleigh fitness centers and gyms offer are abundant.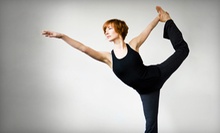 Use Today 5:30pm - 7:30pm
---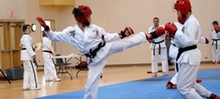 Use Tuesday 6:30am - 9:30am
---
Recommended Health & Fitness by Groupon Customers
---
At Ananda, each person is guided along the journey to healing and blissful existence by the experienced hands of Anisha Desai, a licensed acupuncturist, yoga teacher, and medical Qi Gong therapist. Patients first receive a consultation that addresses their health concerns, teaches them about Chinese medicine, and evaluates their wellness level through a physical examination. Then, during a comfortable 90-minute acupuncture session, stress is relieved by the loving energy manipulations of small, thin needles. For no additional cost, patients may request cupping, which places vacuum suction cups that would put even the most talented octopus to shame on qi pathways in the back for five to ten minutes in order to diminish pain, or Qi Gong therapy, a movement technique said to aid in restoring the balance of all-important qi.
4610 Altha St.
Raleigh
North Carolina
Named among Golfweek magazine's Best New Courses and Best Campus Courses in 2010, Lonnie Poole Golf Course tests players of all skill levels with 18 challenging holes spread over 250 acres of Raleigh woodlands. Designed by the Arnold Palmer Design Group—including two North Carolina State grads as architects—the landscape features several shifts in elevation as the greens meander around large buffer areas. In its abundant turf grass and stormwater runoffs, the course also facilitates research from the College of Agriculture and Life Sciences while taking extra care to preserve the streams and wild golf balls native to the Neuse River watershed.
As both the NC State men's and women's golf teams can attest, Lonnie Poole challengers golfers from the very first tee, which taunts drivers with bunkers on both sides and a sharp fall-off past the green. From there, the fifth hole ups the ante with a dogleg to the right and tall trees, whereas the 12th hole sends shots hurtling down a downhill fairway that narrows as the green nears and primes its anti-air missiles.
Course at a Glance:
18-hole, par 72 course

Total length of 7,358 yards from the back tees

Course rating of 74.8 from the back tees

Course slope of 145 from the back tees

Five sets of tees per hole

Scorecard
1509 Main Campus Dr.
Raleigh
North Carolina
919-833-3338
With an expansive knowledge of the game and plenty of experience and accolades, golf instructor Mike Sullivan's teaching philosophy is quite simple: "I don't believe that any one teaching method is best for every golfer. I teach players the essential skills that are required to play great golf."
Private lessons, which take place at 401 Par Golf, often incorporate some form of video analysis, a fitness and equipment evaluation, and a study of course management, which breaks down when to attack the flag, when to lay up, and when to discreetly throw the ball down the cart path. Short-game clinics focus on a different approach shot each week, rotating among such skills as short putting, lag putting, pitching, and a contest out on the par 3 course. Mike also teaches specialized lessons for women, juniors, and cyborg 7-irons looking to enroll in the online academy.
5715 Fayetteville Rd.
Raleigh
North Carolina
919-772-5261
At HealthSource Chiropractic and Progressive Rehab, staff members work with clients to develop written individual action plans to treat joint and muscle pain. A tailored treatment can blend attention from chiropractors, massage therapists, and progressive rehabilitation staff to leverage the diverse benefits of a variety of modalities in the same visit. All staffers are trained to educate clients about chiropractic care's role in overall physical well-being, using a nifty song that helps you remember what the hipbone is connected to—a USB port.
258 Towne Village Dr.
Cary
North Carolina
919-336-5681
South African native Corne' Rutherford, the certified Pilates instructor who owns Pilates 4 Poise, teaches precise flowing movements that fortify the body's core region. Rutherford draws from more than a decade of experience to craft one-hour routines filled with time-tested muscle-isolation exercises developed by boxer, circus performer, and fitness innovator Joseph Pilates. Appropriate for all levels of strength and flexibility, classes incorporate deep-breathing exercises so that students can pump oxygen throughout their bodies and exhale pent-up giggles before they erupt mid-wedding vow. In addition to demonstrating the movements, Rutherford observes the group, sharing tips on form, technique, and alignment to promote safety and maximize the exercises' benefits.
8320 Litchford Rd., Suite 118
Raleigh
North Carolina
919-740-9664
As one of the oldest courses in the Raleigh area, Raleigh Golf Association's 18-hole course retains the same expanse of lush greenery as its 1929 prototype while benefiting from a number of refinements made during a 1998 renovation overseen by David Postlethwaite. Fairways arch over emerald waves of grass, connecting to form a 6,088-yard course dotted with mature trees and waterways. The club also encompasses a nine-hole course that is occasionally open to the public and always open to Arnold Palmer doppelgängers. A pro shop stocked with the latest golf gear and accessories beckons to golfers in need of new equipment.
Course at a Glance:
18-hole, 6,088-yard course

Course rating of 68.8 from the farthest tees

Slope rating of 123 from the farthest tees

Four tee options
1527 Tryon Rd.
Raleigh
North Carolina
919-772-9987
---