Raleigh Indoor Activities
---
---
Raleigh Indoor Activity Guide
When the weather in Raleigh is less than ideal and precludes enjoying outdoor recreation options, Raleigh's indoor activities offer diversion, entertainment, and sociability, day or night. Going out to Raleigh movies isn't the only option for an outing on an inclement day. Dancing is a popular pastime in this city, and Raleigh dance clubs feature diverse musical genres for their patrons. Ambis1 NightClub on Atlantic Avenue has a club-scene vibe, and its DJs spin music that keeps the clientele moving. To prepare for the dance floor, Dance Attitude on Garvey Drive teaches classes in all types of tap, jazz, ballet, and hip hop, with the added dimension of creative dance instruction. Dance Attitude also offer summer dance camps for those seeking more focused tutelage. Classic couples dancing has made a comeback, and A Step to Gold International Ballroom's experienced teachers provide group and private dance instruction in ballroom dancing at their Glenwood Avenue studios. The Progress Energy Center for the Performing Arts' auditoriums and theaters are regular venues for Raleigh shows of all kinds, with comedians, musicians, and dance troupes among the entertainers at this arts center. Theater offerings range from the classic to the experimental, and the North Carolina Symphony has its home here. Still, a new movie can be enticing, and there are many Raleigh movie theaters showing new releases. Regal North Hills Stadium 14 at 4150 Main offers the latest movies in the comfort of stadium seating. The
Raleighwood Cinema Grill
provides fine food and spirits to complement the films they show. The Carmike Blue Ridge 14 Cinema goes to the other end of the film-going spectrum, with $1.50 admission for a budget-friendly way to spend an afternoon. Whether it's dancing the night away or escaping into a fantastic movie world, the weather won't sabotage fun and relaxation in Raleigh.
Theater offerings range from the classic to the experimental, and the North Carolina Symphony has its home here.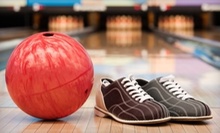 Up to six players obliterate pins during starlight bowling Friday & Saturday from 11 a.m. to 1 a.m. at 32-lane bowling center
Use Today 10:15pm - 11:45pm
---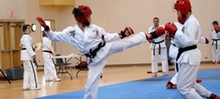 Use Today 4:00pm - 7:00pm
---
Recommended Indoor Activities by Groupon Customers
---
Named the Best Place to go Bowling in Indy Week's Best of the Triangle 2011 and 2012, The Alley exhibits a genuine retro charm with 24 original hardwood lanes and classic paper scorecards. They also seek to appeal to night owls with a 1 a.m. closing time Friday and Saturday. After spending hours toppling pins, bowlers can divert their attention with flat-screen TVs showing laneside sports and a state-of-the-art sound system blasting toe-tapping didgeridoo drones. They can also purchase lunch and dinner fare from the expanding menu at The Balcony, which replenishes famished bowlers with savory burgers and fries.
2512 Hillsborough St.
Raleigh
North Carolina
In 1947, the North Carolina Museum of Art made its initial acquisition, hauling in 139 works of European and American art purchased with state funds. In the 65 years since, the museum's collection has continued to balloon, and today features pieces that range from Egyptian funerary art to sculpture and vase paintings from Greece and Rome. The 164-acre campus surrounds visitors with creativity around every corner, including across the museum park, where more than a dozen works showcase inspirations that were culled from the natural world or extracted from the brains of scarecrows who donated their bodies to science.
During summer months, the Arts in the Museum Park festival series organizes week after week of music and film events. On the weekends, rather than sewing their socks together, siblings can get closer with Family Fun Saturdays. Free guided tours weave guests through the museum's halls daily. Visits can be capped off with a stop at the museum gift shop or at the elegant Iris restaurant, which dishes out contemporary American cuisine with regional and international twists.
2110 Blue Ridge Rd.
Raleigh
North Carolina
From an adults' area equipped with free WiFi, parents and guardians watch their socks-clad youngsters amble about Jumpin' Beans' inflatable playground, where they can scale, slide, and bounce on the facility's air-filled structures. Seattle's Best coffee and espresso drinks keep grownups alert as kids reenergize with pizza or drinks from an onsite concessions stand or munch on their own snacks. In addition to open-play sessions, parties gather groups in Jumpin' Beans' play space, where the facility's party hosts oversee each soiree's arrangement of inflatables sidled up beside big-screen TVs, DVD entertainment, and cakes that turn back into cupcakes at midnight. When not busy with playing and partying, Jumpin' Beans' Jump Start programs, helmed by a veteran elementary-school teacher, teach pupils motor skills and offer social enrichment via lessons, games, and physical activities.
1839 South Main Street
Wake Forest
North Carolina
919-521-4445
Rainbow Lanes Family Fun Center invites pin shattering on more than 30 automatic scoring lanes. Between frames, patrons can crack cue on one of the alley's eight pool tables, improve motor coordination in Rainbow's arcade, try the miniature Himalaya ride, or chat with an experienced pro-shop worker about the days when balls rolled uphill both ways.
850 NC 42 West
Clayton
North Carolina
919-553-4386
As a young girl, Boni Arendt was rarely found not fiddling with pencils, paintbrushes, and canvases. Her enthusiasm for creating inimitable works of art was brought into focus when she began honing her skills with formal education in the '80s, focusing her studies on painting and drawing techniques before earning a Bachelor of Fine Arts degree from East Carolina University. Arendt's journey to find her artistic voice led her to the U.K., where she tried her hand at interdisciplinary design, photography, and faking an English accent. Since then, she's showcased her works at numerous exhibitions around the globe and opened Red Rooster Gallery in 2007.
At her homey studio and gift shop, Arendt shares the knowledge she gained throughout her many travels with aspiring artists of all ages during her private painting and drawing lessons. She also curates a selection of decorative items and art supplies for sale and produces highly realistic pencil drawings for commission.:m]]
306 S White St.
Wake Forest
North Carolina
919-741-0818
When a new exhibit comes to Contemporary Art Museum Raleigh, it transforms the entire space. In warehouse-style rooms, pieces spill out of the traditional boundaries of the wall like marshmallow cereals spill out of rainbows, sprawling over the floor or engulfing visitors totally. The multi-level gallery takes on six exhibitions each year, immersing visitors in an ever-changing landscape of installations, sculptures, and paintings by local and national artists.
409 W Martin St.
Raleigh
North Carolina
---