Theme & Amusement Parks in Raleigh
---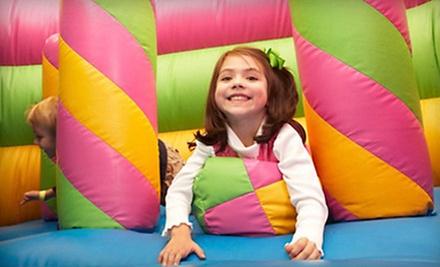 ---
Theme & Amusement Park Deals
---
Recommended Theme & Amusement Parks by Groupon Customers
---
Fun Fun Fun's mini metropolis of arcade games and family-friendly activities engages guests across its 12,000-square-foot grounds. Whirring lights and buzzing sounds emanate from 100 games at the arcade, where players can slap and tilt their way through a classic game of pinball or try their hand at more modern alternatives, such as Guitar Hero or Deal or No Deal. Success at the arcade reaps material returns in the form of the center's various prizes, and Fun Fun Fun's indoor laser-tag arena rewards winners with the competitive pleasure of besting frenemies in futuristic combat. Outdoor revelry awaits at two 18-hole miniature golf courses, which meander around rocky outcroppings and a central pond, as well as at the batting cages, where a system of nets keeps sharply struck balls from sneaking away for a slice of pizza or a snow cone at the snack bar.
4670 Cumberland Rd.
Hope Mills
North Carolina
At the main attraction of Putt-Putt Fun Center's assortment of family-friendly activities, golfers of all ages hone their swings on an 18-hole miniature golf course, where flowers and trees surround the verdant fairways and Putt-Putt's signature metal rails. In the Game Zone arcade, lights flash as the machines dole out tickets for players to exchange for prizes. Birthday party packages nourish revelry with fizzing sodas and Domino's pizza, inspiring kids to finally learn science by peering at mini golf balls through the microscope instead of constantly hiding them in the course's holes.
1340 N Church St.
Burlington
North Carolina
336-228-6217
Seasoned tour guides at the nonprofit Conservators' Center acquaint guests with 19 species of rare, rescued, and endangered animals during tours, educational programs, and special events. The conservatory's mammals reside in enclosures, allowing observers to safely watch their behavior and critique their sense of interior decoration. During tours, a 3/4-mile walk down outdoor paths and roads acquaints visitors with lions, tigers, wolves, and lemurs as guides list each animal's backstory and role in the ecosystem. On treat-feeding and enrichment tours, guides carry scents, snacks, and toys to coax out timorous creatures and foster close-up views of the animals eating, playing, or arguing the merits of Austrian economics. Photography tours grant shutterbugs backstage access as they enter areas off the regular path, and twilight tours afford views of normally inconspicuous nocturnal species, such as the genets and kinkajous.
In addition to interactive tours, three membership levels net supporters discounts on special events, a photograph of one of the resident lions, and Member of the Pride gear. Membership also supports the center's commitment to rescuing animals in need, breeding animals responsibly, and stressing the importance of conservation through community education and demonstrations of animals turning off faucets while brushing their teeth.
676 E Hughes Mill Rd.
Burlington
North Carolina
336-421-0883
Since opening its doors in 2009, Elite Zone has entertained adult gamers with computer- and console-based amusements. Equipped with Turtle Beach headsets, gamers play the latest Xbox releases on LCD televisions while chatting wirelessly with Xbox Live account holders and truck drivers on the wrong CB channel. A high-speed Internet connection facilitates glitch-free gaming for PC users and ensures quick page loads for web surfing. Elite Zone also carries a bevy of caffeinated beverages to fuel round-the-clock gaming and enliven sleep-deprived avatars.
1916 Skibo Rd., Suite 332
Fayetteville
North Carolina
910-826-3661
In a 2011 interview with the Rocky Mount Telegram, George Millar reveals he has been a facilitating fun for a long time. "Soccer wasn't in existence when we started," he points out, and neither were home video games. Noticing a dearth of places in his hometown where kids and families could safely enjoy themselves, he put his skills as a professional contractor to work. In 10 outdoor batting cages, he installed pitching machines that sling baseballs and softballs from T-ball speeds up to 80 miles per hour. Next, he and his crew of five guys—all of whom are still operating the business today—built an 18-hole mini-golf course modeled after those in Myrtle Beach, designing a path that winds past waterfalls, natural plantings, and tricky bunkers filled with saltwater taffy. An arcade blares with games and the crack of pool balls ricocheting inside, and an elephant-shaped inflatable bounce house bobs with jumpers inside until they come zipping out down its slide.
1265 Independence Drive
Rocky Mount
North Carolina
252-442-4774
Throughout the week, Bounce-N-Around buzzes with activity as kids scramble and jump over the springy landscapes of inflatable bouncers. Arcade games test hand-eye coordination and aptitude at space invading, and electric kiddie rides—such as horses, cars, and helicopters—bob back and forth in their own area. A mini movie theater provides a scaled-down, all-ages cinema experience, complete with tiered seating.
2451 N Wesleyan Blvd
Rocky Mount
North Carolina
US
---