Professional Services in Ramona
---
Professional Service Deals
---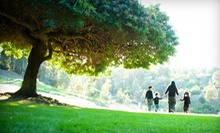 Use Sunday 10:00am - 6:00pm
---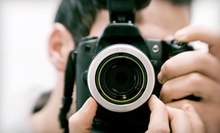 Classes capped at 20 students explore digital concepts, from Session I's equipment rundown to Session VI's exploration of editing software
Use Monday 3:00pm - 6:30pm
---
Recommended Professional Services by Groupon Customers
---
Photo shoots can cost hundreds of dollars and millions of dollars. When you factor in the cost of prints and the valuable time spent poring over complicated print packages, the loss of money and sanity adds up. Today's Groupon delivers you from such woes with an unbeatable package from Life by Kate. For just $50, you get a one-hour photo shoot and a DVD of more than 60 high-quality digital images for you to keep and make prints of as you please. Schedule that long overdue family portrait or get your modeling portfolio off the ground with today's deal. Mark your high-school senior photo session off the to-do list, get your engagement photos without the inflated cost, or capture the memories of your dog learning to read without borrowing from the dog's college fund.
136 Via Morella
Encinitas
California
US
The laundry gurus at relaxx Dry Cleaning remove stains and freshen fabrics with eco-friendly Green Earth Cleaning. Opt for free pickup and delivery, and gallant raiment rescuers will swoop in to retrieve soiled duds such as business shirts ($2.10), blouses ($4.45), coats ($7.45), and gravy-stained suits of armor, or whisk away household linens such as duvet covers ($19.95) and comforters ($19.95+) for a restorative trip to the laundry spa. Later, garments reappear on clients' doorsteps on recyclable hangers, looking bright, smelling fresh, and humming Ethel Merman show tunes. In addition to laundry services, relaxx Dry Cleaning cossets clothes with full tailoring, shoe-repair, and leather-cleaning services.
2240 San Diego Ave.
San Diego
California
US
619-233-0980
Backed by decades of squeaky-clean tradition, both locations boast services for a range of fabrics and garments. Drop off a shirt ($1.95+), a slick pair of pants ($4.95+), a manly matching tie ($3.95+), or a womanly dress aching for a breezy spin on the dry-cleaning carousel ($9.95+). To view a complete pricing breakdown, click here.
2221 Las Palmas Dr. , Suite F
Carlsbad
California
US
Time can warp our memories, just as proximity to an active volcano can warp treasured collections of action figures. That's where DVD Your Memories comes in to permanently preserve photos, videos, film reels, or cassettes in a variety of high-quality digital formats. When customers step into any California or Colorado DVD Your Memories location, a lab coat–clad technician gently walks them through the preservation options, which include CDs, DVDs, Blu-ray discs, or hard drives. As per company policy, that very same technician will return the original source material, along with a digital replica of the customer's choice. DVD Your Memories can also take media to the next level with additional services, which include basic video editing, photo restoration, chapter creation, and superimposing your favorite president into your birthday party.
8305 Vickers St., Suite 206
San Diego
California
Julie Diebolt Price, president of JDP Photography, puts friendly faces on websites and brochures by crafting portraits for corporations, entrepreneurs, and organizations. In addition to helping clients such as Standard Pacific Homes, Women Helping Women, and Orange County Rescue Mission, Julie chronicles programs and events for the National Association of Women Business Owners, and she rubs elbows with august institutions such as the Professional Photographers of California and the Professional Photographers of America. Despite a successful professional career—her portfolio is filled with group portraits, product images for advertisements, and stock photos—she has not neglected her artistic side: a piece she dubbed "Tableau at Badling" landed a spot in the PPA's 2010 International Photographic Competition general collection. When she isn't snapping photos, she teaches others how to use cameras such as DSLR, point-and-shoot, and camerae obscurae.
17145 Von Karman Avenue, Suite 108
Irvine
California
714-669-4537
Providing full-service dry cleaning to the Orange County area since 1950, Kona Cleaners has tidied more than a semi-century worth of suits, space suits, jeans, space jeans, pope robes, dresses, and sticky gorilla costumes. Prices vary by location; pants, on average, cost $5.35, a dress is $9.96, and shirts run around $2.65. Specializing in cleaning unusual materials such as caviar sequins and bread-bowl hats, Kona also expertly performs alterations ($10 average for a pant hem) and employs environmentally conscious cleaning methods. Their use of wet cleaning when possible and high-tech cleaning equipment is buttressed by a sophisticated sorting system and a well-trained staff that ensures each garment is restored to its fresh-off-the-particle-assembler condition.
333 E 17th Street
Costa Mesa
California
---