Things to Do in Ramsey
---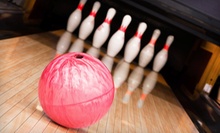 Use Today 9:00am - 9:00pm
---
Recommended Things to Do by Groupon Customers
---
For years, Bill Ahmann mastered the complex inner workings of piston and turbine aircraft as an aviation mechanic. In 1997, he finally achieved his dream by founding his own aviation company out of Anoka County-Blaine Airport. Initially a small venture with a staff that totaled three, Bill's penchant for providing aviation-related services with a personal touch led to rapid growth and a second Twin Cities Aviation location in Saint Paul. In 2008, Bill's veteran squad of flight instructors helped the company achieve Part 141 certification, distinguishing it as a reputable flight school. Today, TCA's staff numbers more than 20 industry professionals drawn from military, commercial-airline, and other aviation backgrounds. Flying a tiptop fleet, the team boasts varied expertise in charter flights, FAA-certified flight instruction, and aircraft sales. The staff's experienced mechanics also service pilots and plane owners with repairs that range from routine safety inspections to refueling propeller hats.
8891 Airport Rd., Suite A-2
Blaine
Minnesota
763-780-4375
The Director of Instruction at Edinburgh USA Golf Academy and PGA-certified instructor Adam Guili teaches swing-honing wisdom and results-oriented practice techniques accrued through a 14-year teaching career. Adam's teaching philosophy is based on the notion that a sound short game and a simple golf swing are crucial to achieving success on the course, and he helps golfers develop a tension-free motion. During lessons, Adam can address any on-course concern, such as how to add length to drives or how to extract shirttails from ball washers.
8700 Edinbrook Crossing
Brooklyn Park
Minnesota
612-599-9586
Bead Basics lavishes jewelers of all skill levels with the necessary equipage and abilities to craft their own bead masterpieces. Instructors string together a monthly calendar of more than 25 classes that teach up to 16 students at a time techniques or specific projects such as Beading Basics, Tila Spiral Bracelet, and Viking Knit. The online catalog's virtual glass cases brim with exquisitely crafted pieces and the requisite tools for shaping bracelets, stringing necklaces, and swapping out the queen's jewels with decoys.
455 99th Avenue NorthWest
Coon Rapids
Minnesota
763-717-4200
Minnesota Helicopters' Robinson R22 hovers like a hummingbird high above the St. Croix River, an ideal vantage point for scouting the surrounding bluffs for bald eagles. The craft then swoops toward St. Paul, darting past skyscrapers and the state Capitol. Tours such as this spotlight Minnesota's natural and urban splendor from a singular perspective. In addition to the St. Croix River, pilots trace routes up the Mississippi and over Lake Minnetonka, and can even customize flight routes for passengers.
Those not content to cruise in the passenger seat can sign up for Minnesota Helicopters' flight school and eventually chart their own courses for friends or stowaway ostriches.
8891 Airport Rd. NE, Suite 13E
Blaine
Minnesota
Action Packed Paintball's arsenal of combat settings include two outdoor and two indoor locations. Each outdoor field features an urban combat course that conceals opponents behind plywood structures, and a speedball course dotted with inflatable obstacles. After differences are settled on the field, outdoor combatants can retreat to onsite grilling and picnic areas. For those who prefer indoor face-offs, Action Packed Paintball keeps its well-lit Maple Plain location, like the well-orchestrated battles of the Gallic Wars, at a steady 70 degrees year-round. The location's course is set up for speedball, and it also boasts a private party room for friendly revelry. Alternatively, the indoor Minneapolis location invites paint slingers to spar on an urban combat field that dots green turf with stony structures. All locations offer free CO2 and compressed air fills.
14160 James Rd.
Rogers
Minnesota
952-492-6776
A tall painted portrait, illuminated from above, shows a woman standing barefoot holding a lamb. Follow her glance downwards and sideways, and you'll sight row upon brightly colored row of carefully stacked skeins of yarn from brands such as Blue Sky and Spud & Chloë. Classes teach tender-footed knitters to wield these materials with care, and more advanced offerings cover refined and specialized stitching skills. The shop also carries its own line of all-natural soaps, household cleaners, and moisturizers designed to soften hands toughened by efforts to wrestle needles away from uncooperative porcupines.
2010 2nd Ave. N.
Anoka
Minnesota
US
763-434-7453
---