Day Spas in Rancho Cucamonga
---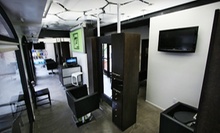 Aesthetician use Eastern art of threading to extract errant hairs from brows with less mess and irritation than waxing or tweezing.
Use Friday 10:00am - 6:00pm
---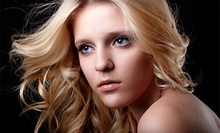 Use Saturday 10:00am - 7:00pm
---
Day Spa Rewards Deals - Use Anytime
---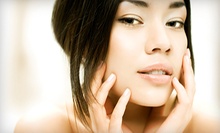 Ayurvedic foot massages and bamboo-extract exfoliation begin a menu of holistic spa services that refine skin and ease muscular tension
---
Recommended Day Spa by Groupon Customers
---
The stylists, skin soothers, massage therapists, and nail and makeup artists at Lavish Salon and Day Spa have seen their fair share of media buzz. So has owner, master stylist, and senior Goldwell hair-color educator Samantha Murguia, whose color-correction skills found themselves under the spotlight on ModernSalon.com. In 2010, OCFamily.com editor Susan Belknapp blogged that not only was her Brazilian Blowout with Murguia "a relaxing, fast-moving treatment," but also that she found the result to be "fantastic." Murguia and her team have also been featured multiple times in Inland Empire Magazine and, in 2011, graced CBS's list of LA's Best Blow-Drys.
Perhaps the high praise is a result of the expertise with which Murguia's crew performs their services. Or perhaps it's the fact that they keep a close eye on the latest youthful trends. The staff includes a teen blogger who has her finger on the pulse of the beauty industry, and the salon has been accepting donations of gently used dresses, shoes, and accessories to help girls attend the prom in style. They have even offered teen makeup tutorials that explain how to complement natural facial features and use a smartphone's blush-administering app.
473 Alessandro Blvd., Suite B
Riverside
California
951-780-6008
Guests searching for Essentials Day Spa and Salon will find it discretely nestled at the foothills of the San Gabriel Mountains inside the DoubleTree by Hilton Claremont hotel. Calming music fills the air as staffers enhance clients' natural beauty in equally elegant rooms enhanced by rich, dark wood accents and ornate, gold-framed mirrors. Hair stylists and color specialists create new looks with products such as Redken and Pureology, and aestheticians exfoliate and hydrate skin during facials, pulling complexion-revitalizing tonics from the highly customizable Dermalogica line. Massage therapists ease muscle tension with four different modalities and reflexology treatments, and the team also soothes the nerves of clients hearing wedding bells or suffering from tinnitus with all-encompassing bridal packages.
While devoting countless hours of their creativity and skill to making human beings more beautiful, Essentials' staff also remains mindful of the health and beauty of both the environment and the local community. Day-to-day efforts include recycling all possible materials, recycling or donating old equipment, and using only biodegradable laundry soap. They frequently donate to local schools and charities, and collect hair for the Matter of Trust Foundation, which uses shed strands to help clean up oil spills and build toupees for balding walruses.
555 W Foothill Blvd.
Claremont
California
909-624-7886
The team at True Beauty Aesthetics specializes in noninvasive procedures, from laser hair-removal and elos skin-tightening treatments to photofacials and Botox injections. Consultations precede treatments, so clients have a chance to discuss their envisioned results and warn the staff of any allergies to hearing the word "laser."
11843 Sebastian Way, Suite 101
Rancho Cucamonga
California
909-657-2210
Under Mosaique's dark wooden rafters, an asymmetrical mirror fringed with fractured glass reflects a wall of spa products from brands including Dermalogica, glo, Euphora, and Pureology. The spa's specialists merge these nourishing concoctions with their extensive training to enhance appearances and fight signs of aging for both men and women. To customize the serums for upcoming facials, aestheticians use a specialized face-mapping technique that reveals each client's skin type and condition by examining the cheeks, nose, and forehead for underlying issues and antifederalist literature. As hairstylists color strands and liberate split ends at wood-accented salon chairs, massage therapists beckon weary bodies into private treatment rooms to treat muscles with one of seven diverse modalities.
222 W Foothill Blvd.
Claremont
California
909-398-1383
The skilled team at Karen Allen Aveda Salon & Spa cares for clients with skincare, hair, and nailcare services that promote inner and outer beauty in an atmosphere that celebrates wellness, diversity, and laughter. The salon operates under the Aveda umbrella, tending to clients with products known for their high-quality, plant-derived ingredients.
Guided by socially conscious principles for more than 30 years, Aveda produces a full line of natural beauty products carried at nearly 7,000 salons and spas. Popular gorgeous-makers such as shampure shampoo and witch-hazel hair spray deliver on Aveda's commitment to well-rounded, earthly beauty with eco-friendly packaging, cradling ingredients derived from the world's finest and least selfish plants.
3639 Riverside Plaza Dr., Suite 521
Riverside
California
united states
951-788-4737
Every element of Tranquility at Doral contributes to its status as a great place to relax. The 2,000-square-foot facility looks every bit the part of a harmonious sanctuary: it's filled with feng shui–inspired decor, elegant plants, and Buddha statues, and even includes a lotus garden and a patio for special events. Flickering candles illuminate the center's 10 treatment rooms, where aestheticians brighten and firm dry, oily, and aging skin with a handful of facial treatments and body wraps infused with chocolate, sea algae, and black pearl. The spa also offers advanced ultrasound therapy and electrical stimulation for the skin, as well as tanning sessions in a standup SunDash 252 Radius booth. To relax before or after their treatments, clients can sip a glass of house wine as a technician sings a really slow version of "Bohemian Rhapsody."
720 S Ramona Ave., Suite 102
Corona
California
US
---