Restaurants in Rancho Cucamonga
---
Recommended Restaurants by Groupon Customers
---
Toro Sushi Bar invites you to join the bite-sized culinary festivities in a chic modern setting. Its menu features a wide variety of hand-made flavorful treats, from sushi to sashimi to full entrees to tapas. Enjoy the geometric perfection of a Creole Roll with crab, veggies, and seared Cajun tuna ($15) or the insistent adoration of the Loveulongtime Roll, which unites shrimp tempura, crab, avocado, masago and tobiko with a duo of eel and dynamite sauces ($15). If you've chosen to don your "Me and My Sushi and Sashimi – No Two Ways About It" custom tee-shirt, head straight into a carefully orchestrated array of blue fin tuna Maguro, octopus Tako, Hawaiian white tuna Ono, Japanese Red Snapper Carpaccio ($15), and the Kobe Beef Tataki with green onions, garlic chips and crispy red onions ($25). For even smaller eats, peruse the tapas menu for calamari, monkey balls (tempura style mushrooms stuffed with cream cheese, spicy tuna, and avocado), and edamame. You can complement your meal with specialty drinks, sake, wine, and beer.
1520 N Mountain Ave., Building D
Ontario
California
Eddie's Pizzeria & Eatery answers an ancient culinary dilemma: do we go out for pizza or stay in for Mom's meatloaf? Serving New World fare, the restaurant satisfies cravings in a single sweep. Even its pizzas champion this culinary marriage—New York–style pies arrive speckled with traditional toppings as well as premium options, such as rosemary ham. Yet, despite such culinary fusion, the pies never lose sight of their roots. Margherita pizza recalls the dish's Italian heritage, whereas a 10-inch gourmet Bada Bing represents pizza's modern stomping grounds with sausage, gorgonzola, and a mini "I Heart NY" shirt.
The menu also explores a large landscape of pasta entrees, from four-cheese ravioli to penne sautéed with mushrooms in a tomato-cream sauce. Meatier plates continue to span continents, with chicken parmesan prepped near st. louis ribs and handcrafted Angus burgers. As patrons strip tangy wings bare, they can watch the venue's eight televisions, two of which boast 70-inch HD screens.
8153 Aspen Avenue
Rancho Cucamonga
California
Iron Chef Café uses the heat of the wok, grill, and frying pan to creatively fuse the diverse flavors of traditional Asian cuisines. The menu is peppered with dishes made with the freshest possible ingredients, never with added MSG. Start with an order of crispy Asian lettuce wraps with chicken ($6.29) or shrimp ($7.49) or a plate of crab wontons ($3.95/four), and cleanse your palate with a warm bowl of egg-flower soup ($2.29/small). Specialty dishes from the Japanese grill, served with your choice of brown or white rice, satisfy savory seekers with teriyaki and hula bowls topped with chicken, steak, shrimp, or tofu ($5.49–$7.29) and mixed tempura ($6.79). Meanwhile, a wide variety of fresh wok bites delights with classic stir fries including crispy orange-peel chicken ($7.25), Thai-basil tofu ($6.69), and Mongolian beef ($7.95). For lighter fare, throw back a few fresh sushi rolls ($3.99–$7.49), or indulge in an Iron Chef signature dish such as the honey-walnut shrimp ($9.95) or spicy eggplant ($7.45), both served with brown or white rice. The café also offers a selection of low-carb and dim-sum bites.
4275 E Concours Dr., Suite 130
Ontario
California
Nestled at the base of the San Bernardino Mountains, Le Rendez-Vous Restaurant's scenic locale certainly lends the restaurant the romantic edge. But Le Rendez-Vous still strives to match its idyllic surroundings with an equally picturesque dining room—glittering chandeliers glint off dark wooden flourishes, and crisp white tablecloths furnish coy games of peek-a-boo. Once dining companions have honed in on an award-winning entree from the French-inspired menu, servers can happily recommend wine pairings such as chenin blanc, gewürztraminer, and bordeaux.
4775 N Sierra Way
San Bernardino
California
909-883-1231
Guests enter the luxurious dining room and revel in the aroma of grilled steaks and lamb chops. After sidling into a comfy chair at a table decked in a white tablecloth, they peruse the menus dotted with juicy cuts of black Angus beef and king crab legs. Diners welcome steaming plates of food to share table real estate with glasses of wine, consulting the hospitable staff for pairing recommendations and advice on which wines are the best conversationalists. If not partaking in a full meal, guests can recline in the lounge and sip cold beer while watching sports on the plasma TVs. Larger parties commune in the expansive banquet hall, munching on customized menus built to accommodate parties of 20–140.
2345 S Grove Ave.
Ontario
California
Everyone loved visiting the Macias household. Antonio and Sara's hospitality was matched only by their elaborate Mexican dinners. After years of wildly successful dinners and parties, the duo decided to spread the good word and start their own restaurant. In 1974, they opened the first Mi Ranchito in Ontario, California, packing the tiny space with six tables and stocking the kitchen with fresh produce, meat, and seafood.
Decades later, and Antonio and Sara's small eatery has replicated itself into three locations across California. Their children and grandchildren join them in the kitchens, where they fold fresh ingredients and handcrafted sauces into traditional enchiladas, chili rellenos, and tacos. Meanwhile, bartenders blend top tequilas into a variety of innovative margaritas and specialty drinks. In the dining rooms, hand-painted murals of tropical birds, colorful Mexican artwork, and the party-hat wearing condors who serve the food create a festive atmosphere. The restaurant's uncompromisingly fresh and delicious cooking, innovative drinks, and welcoming environment have been lauded by a slew of press publications and won the restaurant the award for Best Mexican Food from Inland Empire Magazine.
152 W Foothill Blvd.
Upland
California
909-949-1633
---
---
Restaurant Deals - Recently Expired
---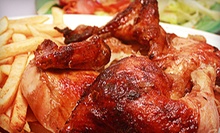 Peruvian-style rotisserie chicken shares a menu with sautéed beef dishes, spicy seafood, and vegetarian specialties
---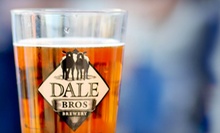 Brewery tours take place on Thursday evenings or Sunday afternoons and culminate with each participant receiving four 4 oz. beer samples
---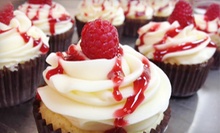 Former Food Network Cupcake Wars competitors offer six mix-and-match cupcakes for pickup in more than a dozen flavors
---
---